Poll: What text messaging app do you typically use?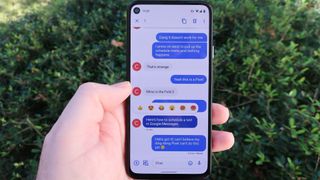 (Image credit: Jeramy Johnson / Android Central)
Messaging has been a hot topic lately, mainly due to the conversation around Google hoping Apple would adopt RCS support in iMessage. In a recent poll, most of our readers indicated that they would rather have Apple support RCS than have the company create a separate iMessage app for Android. We also explore why it's hard for Google to create a true iMessage competitor and own its green bubble cult.
However, it's also clear that not every Android user uses Google Messages as their default for texting. That got us wondering about what our readers prefer to use for their primary text messaging apps.
There's definitely a lot to choose from among the best messaging apps, and of course, users are likely going to have more than one to converse amongst family and friends. In the U.S., at least, SMS has been the favored method, with RCS slowly gaining popularity, and users generally stick to whatever default their phone comes with, whether that's iMessage (for iPhone users) or Google Messages (for anyone on the best Android phones). Of course, that's not always the case, and these are far from the most used or most popular messaging apps around.
That crown goes to the Meta-owned WhatsApp, which has amassed more than 2 billion global users. Because it works over the internet, it makes it easy to message users in other countries and has features like typing indicators, high-quality media, end-to-end encryption, and more.
Telegram and Signal are similar to WhatsApp and are great alternatives for those of you that prefer not to be tied to Meta, especially after last year's controversial privacy policy change.
However, for those that don't mind being tied to Meta, Facebook Messenger is also a good option. You don't have to have an active Facebook profile to use it, and you can set it as your default app to receive SMS messages as well.
Let us know what you use as your default messaging app, and comment below if your favorite isn't listed.
Derrek is a long-time Nokia and LG fanboy who loves astronomy, videography, and sci-fi movies. When he's not working, he's most likely working out or smoldering at the camera.
If/when Textra supports RCS, I'll start using it again.

I really miss Textra. They just haven't kept up.

Textra. Although I could argue it's Your Phone these days-- that's just kept getting better, and if I'm at home, the phone stays in a pocket.

Chomp SMS is a great one. I'll probably go back to it if they ever support RCS.

This. I love the customization on Chomp.

It depends on who I'm texting with -- my messaging has become segmented. In general, for SMS/MMS/RCS is on Google Messages if I'm on Android (and on iPhone, I'll use their default Messages/iMessage app). But-- I have groups (mostly work) on Slack.
I have groups on Discord.
I have groups on Telegram.
I have groups on WhatsApp.
I have groups on Facebook Messenger.

The question is which Test Messaging app :).

Where's the actual poll? Google Messages but I barely ever use it, mostly it's businesses sending text reminders for appointments. Last text looks to be October, ironically telling my folks WhatsApp was down 😂. Moved to Google Messages because it's kind of the de facto Android SMS app now. Even Samsung preinstalls it (except in North America). Wish I could disable/remove Samsung Messages.

Has Samsung given a reason why they moved to Android Messages except for North America?

Textra. Whatsapp after that because it is forced in me.

I've managed to keep all my family on Skype. Several reasons: runs on anything, does everything, can be logged in on all one's devices all the time... And having a separate pp for family comes in quite handy too, to spot and manage notifs...
Of course we're also using texts and whatsapp and hangouts. But it's really Skype's demise that puzzles me: it has always Just Worked, run on everything, and avoided silly limitations like whatsapp's two-device limit.

It's demise came after Microsoft bought it and weighted it down with bloat, then let it languishing for years with horrible bugs. Many of us just gave up on it after that. Now there are so many better more seamless options like Duo or Meet.

Textra. Only thing it's lacking is RCS, but that's because Google have kept it for themselves, have been promising to make it available to other messaging apps on Android for years, but haven't. They're almost sabotaging other apps on their own platform to force Messages on people. Got no sympathy for them regards their Apple complaints as a result.

You understand RCS is not a Google proprietary thing, right? It's an international standard, and anyone can implement it. Doing so requires effort, and is limited in utility unless carriers also support it. Messaging apps exist to attract a user base with their own features. If everyone followed the standard there would be no benefit to using any one messaging app over another. Google's interest in RCS is to have something competitive with iMessage that is not available on iPhone, regardless of their rhetoric. Even if Apple called their bluff and implemented RCS on iPhone, they would need to implement Google's extended RCS to have the broadest compatibility, bolstering Google services.

Google hasn't kept it for themselves. The code is available for any of the messaging apps to use. Samsung implemented it some time ago.

Google Messages, it's incredible.

What's "incredible" about it?

Samsung 'Messages' app...

I love Samsung's default apps for most things. However, I can't stand the fact that I can't write out long texts without the "view all" break. It's very annoying for some reason!

I left Android for iPhone about 4 years ago, here in the UK. I'd say about 70% of my friends/family use Apple Messages.. and all the rest are on WhatsApp. In fact, all the iPhone peeps have WhatsApp too for their non-Apple friends... but Apple messaging is sooooo much better

Good to hear of another iPhone user here in the UK using iMessage with other Apple users. It bamboozles me how many UK iPhone-to-iPhone users blindly entrust Mark Zuckerberg to handle their personal messaging requirements. On a related point, Apple is banging the nails into its own messaging coffin in Europe by not supporting RCS, and driving people to use Meta for their free cross-mobile operating system instant messaging needs.

Textra. Hands down, one of the best apps I've ever downloaded. So customizable and versatile...

I still like and mostly use voice. Otherwise messages is fine.

It's funny of you would do this poll i guess on a site where it would be mostly filled in by people from europa, Google messaging would be nowhere... My guess works be 70+% Whatsapp. The rest split up by telegram some signal and Facebook messenger

Textra. Wife and I have been using it for years

Im using Google messages but just as a text app. I have chat features disabled.

I use LINE as my main messaging app and telegram for the odd friend. By the way the poll doesn't show up if you're using Firefox on Android for some reason, had to dust off Chrome to see it.

I'm using Google Message with RCS chat turned on. Works great.

Oh God, where is the "way too freaking many" option? General SMS - Google Voice
Old number SMS - Messages
Non-SMS - Facebook Messenger
Nom-SMS (privacy concerned people) - Signal
My cousin - Google Chat

I run my own Matrix homeserver and mainly use that but for anyone who's not on Matrix it's Signal or WhatsApp. Here in Canada, having WhatsApp is pretty much a requirement. No one really SMS up here anymore unless for emergencies (signal too low for data), for MFA codes, automated messages or it's spam.

I only do SMS/MMS, and I use Textra on my S20 FE.

WhatsApp for overseas friends and family. Also with family members here and close friends.
Google Messenger for others
Google Chat for work

Samsung Messages or Google Messaging depending on the phone

For sms I use Android message and for instant chat I use WhatsApp. All of you claiming to use RCS I don't know who you are chatting with on the platform. In my country I'm like the only one that have it turned on.

Pretty much everyone I communicate with on Android uses Google Messages with RCS turned on. Everyone else are iPhone users via iMessage and the communication is via SMS fallback. I live in the US.

Textra. I always come back to it when I go check how Google Messages is doing lately. Textra.

Recently switched from Google messages to Blue bubbles and it has made texting life much easier. Recently got into the beeper beta as well so I will have to see which one I end up liking better.

How has blue bubbles made texting life much easier?

Happy to see Signal in fourth!

Google Voice, which I use from the phone app, from my web browser, and from email.

Looks like I'm in the minority here, but I use Yaata. I've tried most of them, but that's the one I seem to keep going back to.

Pulse SMS. Been using it for years and haven't had a reason to switch.

What'sapp/group with fam message and Google messages for everyone else

I use Chomp SMS premium (paid to get rid of the ads). I have used it on every Android phone I have had (Samsung, LG, Google). I just like the customizable features of colors, being able to pin as many messages in place as I want. That way, I know exactly where to scroll to depending on who I am texting. I love the pop up feature for my incoming messages as well.

Usually just Google message and Facebook Messenger for group chats

I use WhatsApp to chat with almost everyone and also companies, I use WhatsApp Pay for payments too, but it's so limited in a lot of ways, I use modded WhatsApp for invisibility, I also use Telegram for chat with some people and I have lots of groups there, I can share big files and original quality photos with it and the bots are very useful.
SMS is useless, obsolete for chats here in Brazil, we use only for receiving marketing sms and verification codes.

I did like Signal messaging app for a while because of privacy features, but now it's turned into Facebook. Switched back over to Googles Messenger app on the pixel 6 pro. Waiting for something better to come along. 🥲

I used to use Textra and still love it's flexibility. But I moved to Google messages with the Galaxy Watch 4 for compatibility cooled with Gboard for the watch as it works really well. Didn't use texting on my previous Galaxy watches due to poor keyboard choices.

I use Verizon's Message+. I love it cause of how much you can customize it.
Android Central Newsletter
Get the best of Android Central in in your inbox, every day!
Thank you for signing up to Android Central. You will receive a verification email shortly.
There was a problem. Please refresh the page and try again.