Pokémon Go users on Android can soon redeem promo codes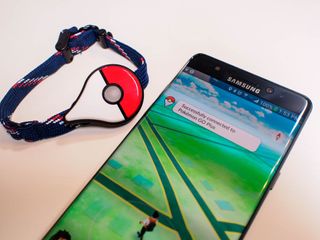 There are still a ton of Pokémon Go masters-in-training out there attempting to virtually catch 'em all. And there is good news specifically for those playing the game on Android: not only is there a Pokémon Go update rumored to arrive this week, but apparently there's a promo code feature that's coming with the update, too.
Per BGR, a support page on the official Pokémon Go website explicitly points to a walkthrough of how the aforementioned promo codes work.
At present, there are no available codes, but the support page states that they can be redeemed for Poké balls, lures, lucky eggs, and other treats available in the game. Also, the feature is exclusively available to Android users for the time being. No word on when it will make it to iOS devices.
Florence Ion was formerly an editor and columnist at Android Central. She writes about Android-powered devices of all types and explores their usefulness in her everyday life. You can follow her on Twitter or watch her Tuesday nights on All About Android.
Just when we thought the craze and the articles were done...this comes up!!! LOL. It's fine, many of us still casually play this game!

This is already Dead game, maybe on the releasing date was "boom" of installations, but all the past glory. Now 80% from this people don't play Super Mario Run any more..

https://www.gamespot.com/articles/pokemon-go-has-65-million-monthly-acti... 65 million monthly active users. Totally dead.

its been a half year im plying pokemon go im not expecting they boosting spawn in rural place and they didnt put any pokestop and a battle gym in my place i cannot use my pokemon in a battle...but i will wait and wait until they put a battle gym and a pokestop in fatima general santos city...
i love to play pokemon go
Android Central Newsletter
Get the best of Android Central in in your inbox, every day!
Thank you for signing up to Android Central. You will receive a verification email shortly.
There was a problem. Please refresh the page and try again.