Poetic Slimline case for the Nexus 7 (2013) review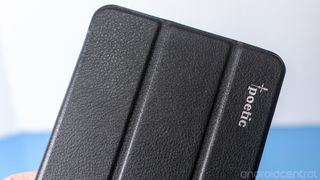 OK, maybe the "Official premium cover" for the new Nexus 7 (and it's premium price tag) isn't your cup of tea. But you still need something to keep things clean and scratch-free while dragging it around in your bag or bug purse. And that something needs to be well built, look good, and from a name you know.
That's where the Poetic Slimline case (opens in new tab) comes in. It will protect your Nexus 7 well, has that look and feel you want without the big price that ASUS has listed for the more official accessory. And Poetic is a name plenty of us know.
Hit the break and see if the budget-friendly model will suit your needs.
(Note: This accessory is for the newer, 2013 Nexus 7 — not the older, 2012 Nexus 7.)
Folio cases are a simple concept. You have a thin plastic shell that connects to the back of your tablet, and a tri-fold cover that goes over the glass. The Poetic Slimline uses a semi-rigid plastic for the shell — it's hard, but it will flex a good bit before it breaks — with a textured coating that feels like the PU cover. I opted for the black this time, but it comes in eight colors — black, navy, baby blue, green, white, red, plum and pink — to suit just about anyone.
Overall, it adds very little thickness to the Nexus 7. With the case on and the cover closed, it's about the same thickness as the original Nexus 7 was without any case on it. You won't feel that it makes things too bulky.
The case grabs the sides of the tablet at the points where the two bevels meet. The top and the bottom (we're talking as if you were holding it in portrait here) edges don't come up over the outside to meet the glass, but the edge where the magnetic closure is does — so the closure magnets can catch, of course.
The way it fits along the edges of the tablet, it almost looks and feels like it's a replacement back for the device. There are no creaky spots where things don't grip tight enough, and overall everything looks like it belongs. We like it when things work as intended and don't look ugly as sin while doing it, and this case does just that.
The cover itself hinges over from the back, and because of the coating of the plastic shell it apperas as if everything is one piece. There are three panels to the folding cover, which means you can fold things to prop the tablet up two ways — one low for typing, one at a higher angle for viewing. Either way works well, and extra magnets embedded in the cover means it will hold its position. The case also has magnets in the right spot so that it works to turn the screen on and off as you open and close it — a must-have for any folio cover I'm buying.
When the cover is open, you can fold it back against the rear of the tablet or it lays flat nicely because of the generous cut-out for the rear edge,
Speaking of cutouts, you've also got all the proper ones for buttons for the speakers, as well as the microphone and camera.
Th​e bottom line
The Poetic Slimline may not have "official" branding, but if I were looking for a good folio case that also turns my screen on and off as a good folio case should, I would be happy with this one.
It fits well, looks good and protects your expensive tablet while you go through life. And it does it all without breaking the bank at $9.95 (as of this writing). Grab one for your Nexus 7 (2013) at Amazon (opens in new tab).
Jerry is an amateur woodworker and struggling shade tree mechanic. There's nothing he can't take apart, but many things he can't reassemble. You'll find him writing and speaking his loud opinion on Android Central and occasionally on Twitter.
Falls apart in a few weeks time according to some people on Amazon.
Nice features at first but lacking quality. Not really a surprise at that price point.

I have purchased Poetic for my HP Touchpad (2 years ago, used daily), Nexus 7, Nexus 7 2013 and I won't purchase any other folio case for my tablets. Quality is great, very inexpensive (4 bucks each for 2 of them) and it does the job. Period. No need to purchase any Asus or Google branding case. Way too expensive and the quality isn't the same as Poetic. For 2 years I have used Poetic, and still do.

I have a Poetic case for my OGN7 and haven't had any issues with it. It gets used daily too.

I have to agree. I have the case mentioned in the article, and today I received the email from Poetic stating that they have identified three improvements based on customer feedback, and they are sending an updated version to everyone who already purchased the case. Who sends out free upgrades on a $10 case!?!? Apparently Poetic does. Very impressed.

Bithooked, Can you tell me where you bought your case from? I just received mine a few days ago in the mail but I have not received any emails about an upgraded case being reissued and sent out!

I got mine through Amazon from Smart Shop Online and I got the same email. I was impressed because I only paid $6 for the case. I have the (non-slimline) Poetic Nexus 10 case too and I like it a lot. It's starting to wear on the corners but it's still holding up well.

I received the same e-mail yesterday as well. Purchased through Smart Shop Online via Amazon. Must say, I am completely impressed - and I didn't think there was anything wrong with the case I received. Always nice to have a backup, though.

+1 Posted via Android Central App

I got the same email and was highly impressed with the company. This was my first purchase of their product and I had no complaints about it. I have read other reviews of their products and what I have seen is that if you call them with a problem they fix it immediately. Great job Poetic! Posted via Android Central App

I have not received any such email from Poetic, Amazon, or the vendor (Smart Shop Online)regarding my N72013 Poetic Slimline Case.
I purchased mine from Amazon on August 2 for $6.43 shipped.
For all those who claim they received an email regarding a free replacement case, how much did you pay? I suspect Poetic contacted (and is sending out revised cases to) those who paid ~$10 for their cases, NOT those who paid $6.43 during the special price period.
Thoughts? I'm basically just trying to figure out how I can get a free case like the 6 people on here who claim they received an email. I'm not sure whether I should contact Poetic, Amazon, or Smart Shop Online.

None of those things. If you aren't having problems, you shouldn't act entitled just to get something for free when you admit you got the product for a steal anyway. Posted via Android Central App

Then what is there to say for the people who, UNPROMPTED, received a free case?

I have heard the same thing about the N10 Case. I have had it since January of this year and it is still doing great. I am not saying there might be some quality control issues, but I have also heard great things about Poetic when it comes to customer service.

I've had two of these for my original Nexus 7. In a couple of months time the plastic around the magnets started to crack and eventually the magnets completely fell out of both of them. I'd say sometimes it's worth spending a little extra money for quality.

Did you utilize the 3 year warranty? That's kind of its purpose.

Call them and tell them your problem. What I have read is they will replace it quickly with no hassle. Posted via Android Central App

This happened to me as well. Poetic replaced the case quickly and without question. I was very impressed.

I have a MOKO case similar and really like it!

I am a fan of OEM cases. It would be hard for me to choose this over the ASUS branded one, even at the cheaper price. Nice breakdown though Jerry.

Really, the OEM case is a joke. I purchased the OEM, the Moko, and the slimline. The OEM case is flimsy and entirely featureless, and costs $19.99. If you prefer OEM, you're exactly the kind of principled consumer that these manufacturers lust over, dishing out inferior products knowing some people will choose name brand accessories despite the fact that obviously superior (in terms of features and value) exist. To anyone reading, the Poetic beats the OEM ripoff, hands down.

I have one of these. Love it so far. $10 and free shipping, can't really beat it.

I have the Moko and the Poetic covers and prefer the Moko myself. The thickness is about the same and both turn the screen on and off as expected. I do think the quality of the Moko is a bit better as I can see some possible issues with the bend point on the poetic cover. Plus I like the two tone coloring of the Moko vs the all black poetic I have. Posted via Android Central App

Really?? The Moko adds far more bulk in my opinion, much as it was my go-to case for the previous model. And I use the Poetic folded back 90% of the time, no issues at all.

Someday I might get to enjoy one. That is, if the USPS decides to deliver it to the right house. It says it arrived days ago but it never has, and USPS's version of fixing it is to "check your neighbors' mailboxes" which is...bleh. At least it was only $10 though. I'll just have to order another one. Even after spending $20 it's still much cheaper than anything Google or Asus is putting out.

I've had this cover for about a week, and for $10 I'm very happy with it. Fits tight and latching magnets are strong so cover doesn't flip open unless you want it to. No complaints.

This is the 3rd time I've read someone say the Moko represents better vfm than this poetic. I'll prob get a Moko when I can find one cheap in the UK

Don't believe every opinion you read... I shelved the Moko the instant I got this case. It's extremely bulky and the auto-wake feature doesn't work 75% of the time. Not to mention the big one: the fit isn't nearly as snug and actually results in the tablet being slightly crooked.

Are we talking about the same Moko case? This one? http://www.amazon.com/MoKo-Google-New-Nexus-Case/dp/B00CKA1IYU?tag=hawk-... I have both the Poetic and the Moko and the difference in thickness is negligible. I really couldn't tell you which one is thicker than the other.

They're cheap enough so I ordered the Poetic and the Moko. The Moko looks slightly better, but my problem is there is no comfortable way to hold either one of them. With the flap flipped around back it makes holding the N7 kinda uncomfortable, loose, wierd, etc. I thought I wanted something less bulky than the Portenzo, but after trying all three the Portenzo provides the best comfort and protection. Yes, I realize the Portenzo is in a completely different price bracket.

i pre-ordered 4 different cases from amazon and this one is the only one worth it. all the others have been given away. poetic for the nexus and invellop for ipad.

I have the Moko and love it and would recommend it over Poetic Slimline. I discovered Moko with my Nexus 10 after seeing many bad reviews of the Poetic (looks great but durability issues). I got the Moko case for my Nexus 10 and therefore also got it for my Nexus 7, and it looks and feels great. Plus, Moko has a lifetime warranty on their products.

I guess I'll give this a try, because I got my "official" ASUS cover today from Amazon and it doesn't fit (just like everyone said it wouldn't - they weren't lying, guys). I cannot get the top-left corner to "snap" on to the tablet.

I've got the Moko here, too. Currently using it, so expect a review in a couple days.

someone buy one for me in Canada! Canada really sucks for Technology sometimes. This cases goes for 30 bucks on Amazon.ca

It's your lucky day. jerry@androidcentral.com email me and tell me where to send this one :)

Awesome! That's very nice of you, Jerry. I knew there was a reason I've stuck with AC all these years. Cheers. Posted via Android Central App on Nexus 7

I ordered this for my 2012 N7 after your review of the OEM case spawned many comments about the poetic and it's value. I've had it since the day after that, and I love everything about it. Bear in mind, this is my first N7 case, so I have nothing to compare it to.

The Poetic bumper cases for the Nexus 4 break in about 3 weeks so I'd hope the quality of the N7 case is a little better. Posted via Android Central App

Wouldn't it be easier, faster, and less confusing to just call it the Nexus 7.2 and Nexus 7.1?

Personally I'd rather 7/12 and 7/13. I think Model years subconcoiously encorage upgrades more than decial points. .1 to .4 seems insignificant where as 4 years feels an eternity. Further more with the decimal point what happens with the 10th version? I understand how this works in Software revisions, however the general public view it as math 7.10 is < 7.2 . I think it is safe to assume the Nexus 7 will be long gone before by the time we reach a 7/99 version.

I've got both the Poetic Slimline and the Moko Ultra Slim. My Moko doesn't grip correctly on the left side (in portrait). Also, with the cover folded behind the N7, it sticks out on the right side about 3/4". The Poetic only sticks out 1/4", which makes holding it less awkward. Also the Poetic has three magnets and holds firmer than the Moko's two.

I own both this case and the Moko UltraSlim. The Poetic definitely has a more premium feel. It's a lot sturdier and the material on the back is much more grippy. The magnets are strong and work very well. On the other hand, the Moko has a more premium LOOK. The metal thing on the front of the Moko gives it nice finish. You can't go wrong with either case. Both are great value for the money.

Just a heads up to everyone considering this case. I received an email from Amazon earlier today. Maybe wait for the revised version! Poetic has had three common issues as reported by user feedback: 1.Case causes tablet to go to sleep when case is folded back.
2.Tight fit around tablet causing difficulty removing the case
3.Magnetic strength on closure causing difficulty to open - We will be removing the middle one of the three magnets. We apologize for these issues, but are appreciative of your feedback. To resolve these issues we will be releasing an improved final version of this case. You don't need to contact us, we will automatically send out the new design for you.
Thank you for your patience and understanding on this matter.

Poetic is very impressively standing behind their product! How many companies proactively do something like this?

They did something similar with their Nexus 10 cases...how about quality checking BEFORE release?

Thanks Obama Posted via Android Central App

I have one of these for my 2012 N7, and it protects pretty well. I accidentally sat on my N7 a few days ago and it suffered no damage. It looks good at first, but it does hold up; the fake leather-look coating on the outside started to peel off, the edging of the cover also started coming off, and it gets dirty easily. It's a good case, at a great price, I just wish it didn't start to look trashy so soon.

This seems to be an economical and interesting option. Soon there will be more options, then more. Remember when Android tablets were hopeless and cost the earth? Strangely Android just keeps evolving and improving; whilst emulating the path of a drunken loony in the ceramics department of Harrods. Experience suggests that such chaotic development must lead to disaster; but somehow, it just works. I like it here - its exciting. Posted via Android Central App

I've tried both the ASUS "official" premium cover as well as the poetic - both arrived via Amazon today (thanks Jerry for the tip on the premium cover last week). I had a Poetic cover for my 1G N7 and loved it so I was hopeful the poetic case for my new 2G N7 would work well - I was not disappointed. The cover is very thin and most importantly to me it activates the screen on/off on the 2G N7. Unfortunately, I was disappointed in the ASUS "official" cover - at $40 I expected it to be significantly better than the Poetic cover and it actually had several shortcomings vs. the $10 Poetic cover. 1) it did not magnetically activate/turn off the screen; 2) I did not like that 1 of the panels on the ASUS was not "flocked" material - I'm worried it will pick up dust/dirt and ultimately scratch the device - and while it's a little thinner than the Poetic, both covers are too thick for the Qi charging to work. Since it just doesn't seem to be worth 4X the price - I'm shipping it back to Amazon tomorrow. I will use the Poetic when I travel and no cover at home so I can do Qi charging there.

I just got my Poetic case today and it is one of the best fitting, nicest cases I've ever seen. It charges perfectly with the case in place using my Nokia DT-900, so I don't know what's wrong with your charger.

The wake/sleep function works only when the tablet is connected to Wi-Fi. If the tablet is on airplane mode, the wake/sleep function is not working properly. The manufacturer sent out an email right after the order has been placed on Amazon and warned about this issue. They also call it a "normal" behavior and advise the customers to keep their tablets connected, so the cover will work properly. Here I was thinking that a smart cover should work any time, all the time. How wrong of me...

You can't blame the accessory maker for the functionality of the tablet. Posted via Android Central App

Mine works when both Wi-Fi is off, or Airplane mode is on. No issues. They must of made changes since this date you posted this.

Got this case for my nexus2013 about two weeks ago and I gotta say its pretty nice thin,covers great and wake's mine up as it suppose to. Well worth the buy.

Shipping to Canada is $18 which is pretty lame, the case is only $9.95!

Ordered mine earlier in the week, but unfortunately I dropped my new Nexus (had for about a month) and shattered the screen, rendering it unusable! :sad: Picked up a new one instead and looking to repair my first when parts come out. Posted via Android Central App

Excellent product Posted via Android Central App

To clear up some confusion about people who have this product with no issues and the obvious contradiction of people who have nothing but problems: I ordered one of these (black) shortly after the OGN7 arrived at my house and months later I ordered a red one for my wife's. They're stated as the same product, but they are entirely different. The first one has glued seams and the second one has pressed seams. The glued seams fall apart - badly. The pressed seams have held up for months and the case still looks like it's brand new. This is what warranties are for.

Additionally, immediately after writing the above comment I sent an email to the company. They have already confirmed my address and are shipping out a new one promptly. Their customer service really *is* that good.

I just got one, and I love it. Highly recommend it.

It should be mentioned an upgrade from the prviogen Poetic case, when you fold the trifold cover to use the case as a tablet stand, the magnet in the cover locks it into the triangle config so it doesn't slide and collapse, unlike some other cases, which is brilliant. Posted via Android Central App

Just got mine today. Love it so far. Hope it lasts. Posted via Android Central App

For those who received an email from Poetic (?) stating that an unprompted, updated free case would be mailed to you:
How much did you pay for your 2013 Nexus 7 Poetic Slimline Case? $10? $6? Thank you. I ordered mine from Amazon (Smart Shop Online fulfilled the order), and I never received an email about a replacement case. Thank you.

I paid $9.95 plus tax from Amazon. I got the replacement notice e-mail before I received the case in the mail.

Thanks, Doug.
I'm guessing I did not receive an email (or a replacement case) because I paid ~$6.50 for mine during a sale. No biggie; my case has been doing great with daily use for the past 3 weeks. No issues at all.

This case is just wonderful Posted via Android Central App

Have to agree with everyone about the amazing quality of Poetic cases. Bought mine for my 2012 Nexus 7. Has been in constant use for 9 months, in and out of backpacks, pockets, dropped on the floor from meter heights, it still looks and works like it is brand new. Best $10 I ever spent. Liked it so much I held off on getting a new Nexus 7 until Poetic made a case for it. Yes, it's that good.

I have had this case for about 3 weeks and have nothing but praise for it! Mine is holding up very well and it is used all day long.... perfect alignment on all the controls and ports... could not ask for a better case for the price (I paid $12.99 with free shipping on Amazon) I will definitely purchase another in a complementary color!
Android Central Newsletter
Get the best of Android Central in in your inbox, every day!
Thank you for signing up to Android Central. You will receive a verification email shortly.
There was a problem. Please refresh the page and try again.