Android Central 271: Pimp my phone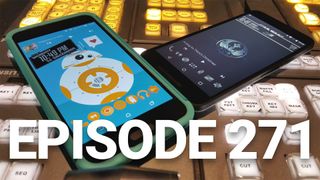 On this very special episode of the Android Central Podcast we take a look at what it means to apply themes to your phone — and whether you'd want to do that in the first place. (Hint: Old Man Phil likes it old school.)
Plus, Phil takes a look at a couple newish travel tricks on a recent trip, and we answer your questions live on air.
This better be good or else...harumph Posted via the ACA on NEXUS 6

If that was the edited version, it's certainly not worth the delay.

Thanks for your feedback. But it was out earlier than if we did things the way we did before. (And, no, the ones I edited didn't sound nearly as good.)

Hmm, strange then. I suppose if you're going to edit, why not take out everything before "Heeey everybody...." because most of that was just awkward. And however long it was before Ara got her sound on was also prime for the chop, I suppose. Or perhaps I just misunderstood what the hopes were for the new edit scheme. I think I understand what you mean by "earlier than before" because I can download the audio at noon on Friday, and not wait until the commute home (Pacific Coast). Of course, because I saw that it was recorded yesterday, I refreshed all night hoping to listen on the way home or on the way in this morning. Anyhow, thanks for listening and keep striving to make our experience better.

Audio. Not video. The video is ancillary and isn't worth editing. Posted via the Android Central App

Right on, thanks for the helpful explanation. I will listen to the audio version on the way home this evening and pretend like I didn't already watch the video.

I enjoyed "Let me just mute my mother".

If you're going to replace the traditional podcast ads with more indirect advertisement (like with Silvercar for this episode) I think I personally preferred the previous method.
But that's up to you, obviously. Posted via the Android Central App

Silvercar isn't an ad. It's just a thing I tried. Spent my own money and everything. Posted via the Android Central App

Oh, I thought because you said something about a discount code that they're a sponsor.
Never mind then! Posted via the Android Central App

I asked them if they could provide one for our readers. But this was just me trying their service while I was on vacation for a couple days. Posted via the Android Central App

Oh okay, that makes sense. Thanks for clearing that up. Posted via the Android Central App

Ara is right! The Google Now launcher DOES put your home screen back in the same design as long as you have the same apps installed (sans widgets). (And it was great to have her on - I'd love to hear her more!) Posted via the Android Central App

I was right! Yay me! It had to happen sometime, I guess! I never use Google Now Launcher (I need my themes, man!)

Nice to finally hear Ara Dam It Feels Good To Be A Google Gangster

Where can I find the articles for the star wars theme that was talked about on this show. Can't find it, show notes would have been appreciated

it got a really easy to remember link: phon.es/starwars I did it last month before the premiere.

Sounds pretty good with the editing. Way to go dudes! Posted via the Android Central App

In response to Timothy's qestion: Nova launcher lets you keep Google Now screen.
You add google now as a shortcut to any gesture or the home button in the settings (under the gestures and input page)
Adding it to the home button allows you to flick between the default Nova home page and Google Now with the home button.

That's not quite the same though. You can do things like that in a lot of launchers, but it isn't as smooth and simple as Google Now launcher. Posted via the Android Central App

Ara,
You are an a great asset to AC and we suggest that AC place you in the line up more often. We appreciate the female perspective and opinions on subjects. You appear to have a well balanced background to bring more substance to AC! Keep up the great articles you write and, most importantly, appear more frequently on AC vids! Posted via the Android Central App

Great show as always, and good to have Ara on. Posted via the Android Central App

Nice show. And I enjoyed Ara's contribution. What happened to the rest of the crew? Posted via the Android Central App

Thanks! And Thursdays are odd days for the podcast, so fewer people could make it.

I like that bb8 setup where did you find it at? Posted via the Android Central App

I kind of like the chit-chat before the beginning... makes me feel like part of the gang! I used to change my wallpapers regularly, even before smartphones ruled, but I did not get much into the themes until recently. For clarity, the HTC theme engine lets you independently change:
Lock screen wallpaper
Home screen wallpaper
All apps wallpaper
Message detail wallpaper
General color theme
Icons
Ringtone
Notifications
Alarms
Of course you can just pick a theme and apply everything, then go back and make adjustments, but the message detail wallpaper portion appears to be broken and does not change. It may be because I have a custom wallpaper already assigned, but whatever. My biggest problem is getting lost in what seems like thousands of themes and wall papers, but you can bookmark ones you like, and save your own modified versions. Posted via the Android Central App

I'm in Portugal, and I can install Facebook Lite from Play Store. Did you search for it? Maybe it's available as well in the US.

Facebook life has to be sideloaded if your phone is from the United States the Play Store tells me it's not available in my country Posted via the Android Central App

I've found Pixolor helpful for theming. I can grab a color off the wallpaper and use it for the folders, app drawers, and sometimes widgets. Really cool. Posted from my Nexus 5 via Android Central App

I stopped installing 3d party launchers and theme packs with the release of GNL. I use a black background and use a minimal number of apps and widgets on the screen. Not counting the Google screen I'm down to just two homescreens. Posted via the Android Central App

Where can we find the themes? Posted via the Android Central App

Enjoyed the podcast. Is there a way to change icons on Google Now Launcher?

I'm so down for this new style of recording, sounds great! Didn't miss much before but it's higher quality. Posted via the Android Central App
Android Central Newsletter
Thank you for signing up to Android Central. You will receive a verification email shortly.
There was a problem. Please refresh the page and try again.