Android Central 241: Phil's Fault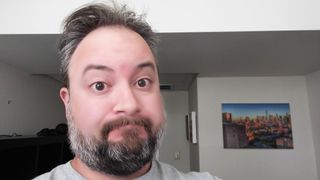 On this week's show — we break down the Great Samsung Keyboard Exploit Of 2015 That You Probably Don't Really Need To Worry About, check in on Jerry's time with the, erm, Pebble Time, weigh in on the awfully named Dell Venue 10 7000 Series, and we answer more of your questions live on air!
Thanks to this week's sponsors
Thanks guys for answering the spam question, I guess I got a 'bad' google voice number. The #'s were a mix of unknown callers and mistaken identities calling for Julie, Lawrence, etc. After dealing with people calling for "Crystal" from 2001 to 2010 with my previous mobile number, the additional google voice mistaken identity calls were just the @*!%? on top. I decided to switch the 'do not disturb' off (after being set to on since 2011) after blocking and marking a lot of numbers as spam (despite the filter catching 300+) and maybe I'll get around to linking my gvoice # back to my mobile again.

Great podcast guys. It's turned into a Friday ritual for me. The weekend doesn't officially begin until I listen to the Friday podcast. Posted via the Android Central App

So any world on 5.1 for the note 4? I feel that one guys pain. Posted via the Android Central App

Best line of the Podcast "I don't care anymore...I'm tired of this home crap" Russell Holly

I enjoyed the Note 4 question. My Note 4 was great but janky from the outset with KitKat. Then the excessively long wait for Lollipop dropped a turd in my punch bowl. Now the Note 4 was painstakingly slow and janky for everything. I'm glad my Jump was available and onto the GS6 went I. Fantastic device with a cap battery. Google must get the memory leak fixed as even with 5.1.1 daily restarts are necessary. Too bad HTC can't do cameras right, the Sense on my One M8 provided a flawless experience. Posted via Gold 64GB Galaxy S6

My wife's note 4 is fast and running perfect on KK. She won't let me upgrade her to Lollipop which seems to basically be a Beta for Android M.

I read in the podcast summary that Jerry talked about the pebble time but for the life of me I can't find it on latest podcast? Posted via the Android Central App

Wow, is being sponsored by vaporware a new thing?
Android Central Newsletter
Get the best of Android Central in in your inbox, every day!
Thank you for signing up to Android Central. You will receive a verification email shortly.
There was a problem. Please refresh the page and try again.