Please stop playing Pokémon Go in cemeteries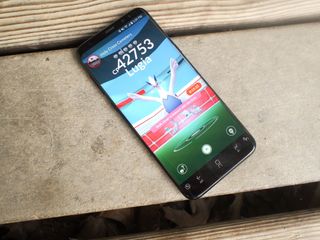 You smile for a moment as a cherished memory flutters by. A tear falls from your face as the hole this person has left in your life swells a little larger than usual. Just as you go to kneel down and straighten the floral arrangement next to the tombstone, this peaceful resting place is interrupted by the last thing you imagine hearing right now.
Turning and facing the interruption, you see 18 adults with a handful of children next to over a dozen cars. These people are playing a game in the cemetery, standing in a cluster right next to a row of someone else's family members. A minute or two passes, and this caravan of noisy people roll out together in hunt of the next place to play the game.
Unfortunately, this isn't a hypothetical. It's happening all over right now, and in my personal opinion, it's something that should stop.
We do not consider playing "Pokemon Go" to be appropriate decorum on the grounds of ANC. We ask all visitors to refrain from such activity.We do not consider playing "Pokemon Go" to be appropriate decorum on the grounds of ANC. We ask all visitors to refrain from such activity.— Arlington Cemetery (@ArlingtonNatl) July 12, 2016July 12, 2016
Niantic is no stranger to this particular topic. People have been playing in "off limits" places since the first day of Ingress, including someone getting caught setting up a portal on the 50-yard line of a big football stadium. We've seen warning messages about playing these games where there are rules prohibiting you being there, but a cemetery during the day is frequently not on that list. The gates are open, the Gyms are lit, and occasionally there are raid events that randomly appear in these locations.
Why is this all of a sudden such a big problem? Coupled with the the Year 2 update with Raids, the folks who attended Pokémon Go Fest unlocked the new Legendary Pokémon. These creatures are bigger than the other raid events by far, and they're much harder to catch. This means people are gathering in large groups again for the first time since the start of the game last year. The launch of these elite Pokémon includes a warning to play with at least 19 other people when attempting the Raid, and in many areas multiple groups are running at the same time. Over this last weekend, I saw upwards of 80 people playing at the same time in areas that really weren't built to hold that many people or that many vehicles.
It's not hard to understand why this is a problem for cemeteries. Not only is it widely considered disrespectful to be playing a video game where others are in mourning, but the insane increase in vehicle traffic actually interferes with people coming to the cemetery for its intended purpose. If the Pokemon Gym is in an area far away from the parking lot, you frequently see massive lines of cars on the roads of the cemetery, which are frequently not wide enough to really do that while normal cemetery operations are underway.
While this irritates me personally, especially when the local Facebook groups for Pokémon Go in my area try to avoid the conversation by only giving an address instead of the name of the Gym when trying to rally people to a Raid, there are some who suggest this behavior is the natural evolution of how people have always used cemeteries. From Keith Eggener speaking with The Atlantic:
Its fantastic that so many people are outside, interacting with new people, and getting exercise with this game as a foil. The only problem I have with this mentality is how much extra work it puts on cemetery operators, which is an extension of a larger issue in general with the way Niantic is able to shirk responsibility for the way its users behave when playing this game. There's a tool for unregistering your business or landmark as a PokeStop or Gym, but it's not an instant process and puts all of the onus on the people who didn't ask for this in the first place. The same could be said for creating new rules and putting them on new signs and then enforcing these rules inside a cemetery. It's not that the idea is without merit, it's just a lot to ask of people who probably have no idea what a Pokémon is to begin with.
In my opinion, Niantic should exempt cemeteries from these Raid events with an opt-in option for maintainers of these facilities. Until something like that happens, it's up to you as the players of this game to take up a little personal responsibility and go hunting for your Legendary Pokémon elsewhere.
Be an expert in 5 minutes
Get the latest news from Android Central, your trusted companion in the world of Android