Plague Inc. Mutation 1.6 infects Android in August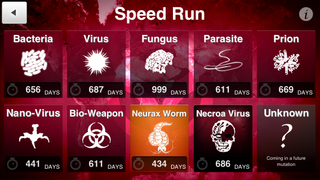 Plague Inc. -- a longstanding favorite here at Android Central -- will be bringing its latest "mutation" to Android come August. The update for the strategy game, in which your goal is to kill every last man, woman and child on earth, adds options for speed runs, official content from the Centers for Disease Control, translations for Korean, Japanese, Chinese and Russian, and a few other in-game enhancements.
The update will be free when it lands in Google Play. (It'll hit the iOS version of the game first.)
We've got the full rundown after the break.
Speed Runs:
How quickly can you kill the world? - Speed Run mode challenges you to beat the game as quickly as possible and lets you compare your record against friends
Time Changes Everything - In order to eradicate the world quickly - you will have to explore radically different strategies to give an edge over the pesky humans
QuaranTIME champion - Disease specific global leaderboards on GameCenter and Facebook let you show off your strategies to the world and challenge friends
Official CDC content:
In March - the CDC invited me to meet them and give a Director's Seminar to CDC employees - talking about how Plague Inc. models the spread of disease and how games can be used to engage with the public on serious issues.
As a result of the meeting - CDC news headlines will be added to the game and in-game story will see CDC teams attempting to track down Patient Zero in order to accelerate development of the cure
Other things in the update:
New government actions - e.g. shutting down internet/mobile networks to control the population
Track how many people you can infect with Plague Inc. in real life using facebook integration. (If people like this - will expand this in the future)
Rebalanced the 'Not Another Zombie Game' achievement and added another Zombie Origin story
Localised into Korean, Japanese, Chinese, Russian
And many more minor enhancements / tweaks
Release date and price:
July (iOS) July/August(Android)
All the content added in 1.6 is free
Plague Inc. birthday notes:
In its first year - 10 million+ downloads, 200 million + games. 0.15% of world infected.
The zombie themed Necroa Virus added in update 1.5 is the most popular plague type ever
It was the 15th/18th most popular paid iPhone/iPad game in the US of 2012
Get the Android Central Newsletter
Instant access to breaking news, the hottest reviews, great deals and helpful tips.