Plague Inc. Mutation 1.6 infects Android in August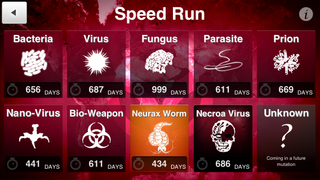 Plague Inc. -- a longstanding favorite here at Android Central -- will be bringing its latest "mutation" to Android come August. The update for the strategy game, in which your goal is to kill every last man, woman and child on earth, adds options for speed runs, official content from the Centers for Disease Control, translations for Korean, Japanese, Chinese and Russian, and a few other in-game enhancements.
The update will be free when it lands in Google Play. (It'll hit the iOS version of the game first.)
We've got the full rundown after the break.
Speed Runs:
How quickly can you kill the world? - Speed Run mode challenges you to beat the game as quickly as possible and lets you compare your record against friends
Time Changes Everything - In order to eradicate the world quickly - you will have to explore radically different strategies to give an edge over the pesky humans
QuaranTIME champion - Disease specific global leaderboards on GameCenter and Facebook let you show off your strategies to the world and challenge friends
Official CDC content:
In March - the CDC invited me to meet them and give a Director's Seminar to CDC employees - talking about how Plague Inc. models the spread of disease and how games can be used to engage with the public on serious issues.
As a result of the meeting - CDC news headlines will be added to the game and in-game story will see CDC teams attempting to track down Patient Zero in order to accelerate development of the cure
Other things in the update:
New government actions - e.g. shutting down internet/mobile networks to control the population
Track how many people you can infect with Plague Inc. in real life using facebook integration. (If people like this - will expand this in the future)
Rebalanced the 'Not Another Zombie Game' achievement and added another Zombie Origin story
Localised into Korean, Japanese, Chinese, Russian
And many more minor enhancements / tweaks
Release date and price:
July (iOS) July/August(Android)
All the content added in 1.6 is free
Plague Inc. birthday notes:
In its first year - 10 million+ downloads, 200 million + games. 0.15% of world infected.
The zombie themed Necroa Virus added in update 1.5 is the most popular plague type ever
It was the 15th/18th most popular paid iPhone/iPad game in the US of 2012
Android Central Newsletter
Get instant access to breaking news, the hottest reviews, great deals and helpful tips
I can't be the only one that thought this was a zombies game before seeing the images....

Zombies were added in later after the game released as optional content (i.e. micropayment) The base game itself has nothing to do with zombies.

This update sounds really cool. Wish that it would come sooner though.

I love this game. I grabbed is shortly after it hit Google Play. It's simple but requires some strategy when using the more advanced plagues. When the Necora virus became available, it was my first IAP for the game. I haven't beat it using Necora yet but the replay value keeps me coming back. I can't wait to see the new stuff in v1.6.

Greetings.... My name is maddad1000 and I have a strategy blog to beat all leves in brutal mode. Go to maddad1000.blogspot.com

Ooh I love this game. Can't wait for the update. But it feels like such a long time. I'm sure nothing is gonna happen while we wait. :)

This is probably the game I have played most on iOS and then Android when I switched. I have purchased everything I can within the game to help the developer. It's such a great game.

More freemium crap on the Play Store, ooh joy.

Then I'm guessing you've yet to play this "crap." Judging by the responses here and the overall score on the Play Store, this game is far from crap. I'll also throw my personall experience with this game and vouch for it being quite far from crap. The IAP for this game only add to the experience. The game's free experience in itself is fantastic. Sorry you personally aren't being catered to.

This is by far one of the best games I've played on my phone. If you haven't given it a try, you should.

Dude seriously the only people that think this game is crap are the people that have never tryed it or are to stupid to figure it out so shut ur trap and try it before u call it crap but face haha.

Dude this game is so cool I even installed androidx86 Asus 4.3 on my PC just so I could play this game on the bigger screen with a faster prosseser ya there are other games out there that are more detailed and intricate but nothing come close to this game it takes me back to my younger days when we would sneek out to the computer lab in high school and play epademic 2 but this simulater is far better than that and u don't haf to sneek out a class to play it lol

I hate to nag, but it's September now...

Seriously I could have sworn that dead august I mean it can't take that long to translate 50mb of code to only four other languages idk I'm thinking about uninstaling it and seeing if the update will be there when I reinstall or maybe its just not avalible on Google play yet I'm going to try getjar and Amazon app store to I would advise anybody to do the same. Damn I just don't have the patients for this

Greetings.... My name is maddad1000, and I have a strategy guide to destroy mankind in all levels in brutal mode. Go to maddad1000.blogspot.com
Android Central Newsletter
Get instant access to breaking news, the hottest reviews, great deals and helpful tips
Thank you for signing up to Android Central. You will receive a verification email shortly.
There was a problem. Please refresh the page and try again.