Ditching a dual-screen Surface Duo 3 for a foldable is a smart move for Microsoft
The dual-screen form factor is pretty much dead.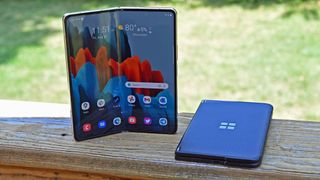 (Image credit: Daniel Rubino / Windows Central)
Microsoft may be done with the Surface Duo lineup as we now know it. The company has been the only major OEM to commit to the dual-screen form factor, but the latest rumor indicates that the company is looking to switch things up with its next Surface Duo model.
According to Windows Central, Microsoft is abandoning the dual-screen form factor, instead opting for a device with a foldable display. According to their source, the company aims to build a phone that mimics some of the best foldable phones on the market, with an internal folding display and an external cover screen. Apparently, this new foldable phone will replace the dual-screen Surface Duo 3 that was reportedly set to launch at the end of 2023.
Of course, this news may disappoint Surface Duo fans who prefer having two separate displays over one singular folding panel. After all, the former is arguably a more durable setup than the still fragile folding displays found in devices like the Galaxy Z Fold 4. And while I never used the device long-term, I appreciated Microsoft's efforts to continue carving out a space for the form factor that was seemingly underappreciated.
Last year, I wrote about how I would like to see more dual-screen phones on the market as an alternative to the large-screened foldables. It's a form factor LG tried to popularize with later device launches and one that only Microsoft seemed fully committed to. But with the news that Microsoft is possibly abandoning dual screens, it seems like the form factor is pretty much dead, at least for smartphones.
Anshel Sag, principal analyst at Moor Insights & Strategy, says dual-screen phones never really found their footing in a world increasingly focused on foldables. "I think dual screens never really took off because, except for Microsoft's design, they were pretty cumbersome and weren't as sleek as a lot of foldables, and the software was optimized for foldables, not dual-screen devices."
Windows Central's Daniel Rubino, who explained why he prefers the Surface Duo 2 over the Galaxy Z Fold 4, says while it may not be the desired course for Microsoft or its fans, the decision to switch to a foldable display is a necessary one, as it may make components easier to source by no longer relying on custom parts. "A single-screen foldable is clearly where the rest of the market is heading, and Microsoft already has a massive uphill battle to convince consumers to buy its phone," Rubino tells me. "This change in design will lessen that burden and make this Surface phone more 'normal.'"
The report also notes that Microsoft is looking into other form factors, such as a more traditional slab smartphone, which may boost its hardware efforts. Microsoft was unable to provide a comment on its plans for future Surface Duo models.
Rubino explains that the Surface Duo community is relatively small compared to the growing number of consumers buying into Samsung's foldable phones. This is partly due to the Surface Duo's position as more of a productivity device, whereas Samsung's focus is more on entertainment, which benefits from the large, singular display. Contributing to the device's lackluster reception is the lack of a major marketing push from Microsoft, which seemingly left its much-improved Surface Duo 2 to linger on store shelves until it runs out of stock.
Still, I can't help but be disappointed by the idea of there no longer being a viable dual-screen option. The Surface Duo 2 is not a bad phone by any means. It features a pair of great-looking OLED displays, an upgraded triple-camera setup, a functional stylus pen, and a great software experience. That said, it always seemed like Microsoft was playing catch up with each iteration of the Duo, even though the Duo 2 minimized its technology gap with a now-aging Snapdragon 888 chipset.
Fortunately, the Surface Duo 2 seemed to lean on its great software experience, which may be the case for the Surface foldable, whatever it should be called. Windows Central notes that there is reportedly "a larger software effort ongoing internally" that aims to differentiate Microsoft's foldable from the competition. It's not entirely what this looks like, but it could blend Microsoft's productivity features with an enhanced focus on media and entertainment. This effort, reportedly dubbed "Perfect Together" (not to be confused with Google's "Better Together), may also lean further into the growing connection between Android phones and Windows PCs, something we're seeing more of lately with devices like the Lenovo ThinkPhone by Motorola.
"One path that fans of Surface Duo are hoping Microsoft chooses is to implement a virtual dual-screen-like experience," says Rubino. "On Fold 4, a single screen/single app experience is the default, with users optionally splitting the screen to have two adjacent apps. Instead, Microsoft could set the default experience as running two apps side by side with users needing to drag the app to the center to 'span' it." This is essentially what users experience now on current Duo models, but the separation between screens would be solely software-based.
Sag says that Microsoft has a chance to differentiate itself in a way that Samsung hasn't really taken advantage of. "For Microsoft, it would definitely have to come from AI capabilities and deeper integration with its existing products like Office 365 and Xbox xCloud. Samsung has already taken a lot of the Microsoft goodness with the Fold series, so the best way to differentiate will have to be in places that Samsung hasn't like AI." With supposed plans to integrate ChatGPT into Bing, Microsoft could definitely leverage this in its software.
As for the UI, we already saw a lot of improvements on the foldable front with the Android 12L update, which introduced features like improved multitasking and a taskbar. On the Surface Duo, the update included a more Windows-like UI and new pen functionality. Microsoft may just have to lean more into these improvements while walking the fine line between preserving the experience Surface Duo fans have come to love and creating a device that will appeal to more users.
For now, there's no launch time frame for the new device, but hopefully, we won't have to wait long to see what Microsoft comes up with, lest the company find itself falling even further behind.
Get the Android Central Newsletter
Instant access to breaking news, the hottest reviews, great deals and helpful tips.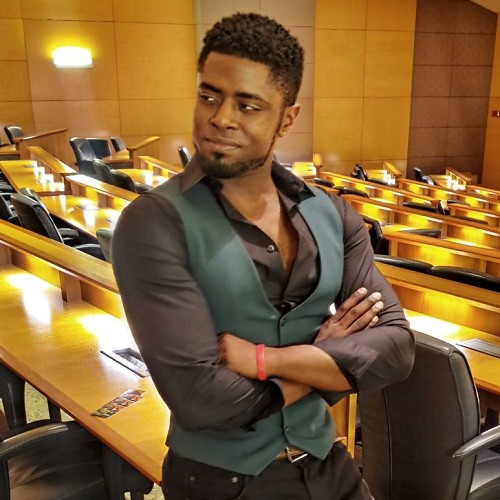 Derrek is a long-time Nokia and LG fanboy who loves astronomy, videography, and sci-fi movies. When he's not working, he's most likely working out or smoldering at the camera.