Panasonic Flag Tags review - free and easy Olympic patriotism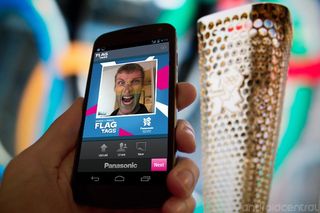 Panasonic Flag Tags is another one of the handful of official London 2012 Olympics apps available for Android. Simply put, it takes any portrait photos and transposes a national map on top, to make it look like the subject is wearing patriotic facepaint. It's simple, but the timing is perfect for hardcore Olympics fans that want to show their pride in social networking profile pictures.
There are a bunch of Olympics apps out there - feel free to take a look at our roundup if you're looking for more, particularly for live video streams or catching up on the latest scores.
Style
Panasonic Flag Tags has a to-the-point interface with minimal noise. Even the Panasonic sponsorship is subtle, only taking over a bar along the bottom. The steps are
In the grand scheme of the Olympics, I could see there being more than a few Olympics fans cooking up custom Twitter and Facebook profile pictures to show their pride. Although there are sharing options both on Panasonic's global gallery as well as to the system-wide Share menu, there aren't any plug-ins for changing social networking profile pictures; it would be great if users could make the swap after a quick log-in and permission pass.
Function
Flag Tags offers quite a few functions in order to make sure the face painting looks believable. First off, a circle is drawn around the face, then holes picked for eyes and mouth. This part can be tricky since ovals and maps can't be tilted, so make sure your face is more or less vertical, when taking the picture. After that, the flag is applied, at which point users can fine tune in a bunch of different ways. The mask can be resized and repositioned, the opacity can be cranked up or down, and erased or painted in as needed.
As mentioned there's the full spread of sharing options, but there are other things the app could easily do, such as custom paint-in backgrounds, or object overlays such as putting medals around the neck, the Olympic torch in the hand, pedestal under the feet, or sports-themed props.
Pros
High appeal value for Olympics fans
Simple, quick, and effective
Cons
Faces can't be tilted
Simple, limited novelty value
Conclusion
For those that are really gung-ho about the Olympics, I'm sure they'll find use out of cooking up one or two profile pictures with their national flag on their face, and if they've got friends or family that are just as pumped for the London 2012 games, the app could cook up pictures for them too.
Beyond that though, it's hard to imagine this app lasting long on any phone after that first wave of utility is expended; get your picture, post and share where you need to, then it's just taking up room on your home screen. For free, you can't ask for much more.
Android Central Newsletter
Get instant access to breaking news, the hottest reviews, great deals and helpful tips
Simon has been covering mobile since before the first iPhone came out. After producing news articles, podcasts, review videos, and everything in between, he's now helping industry partners get the word about their latest products. Get in touch with him at simon@futurenet.com.
Android Central Newsletter
Get instant access to breaking news, the hottest reviews, great deals and helpful tips
Thank you for signing up to Android Central. You will receive a verification email shortly.
There was a problem. Please refresh the page and try again.