Out of Milk review - now you have no excuse for forgetting groceries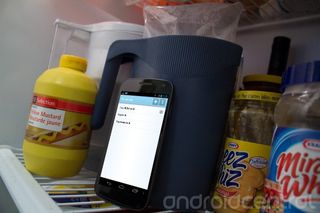 Out of Milk has been providing a clean, feature-rich task management app for some time, and earlier this month they started offering list sharing and syncing for free, along with having a major UI overhaul. We decided to take a look because hey, who doesn't have trouble keeping track of all the stuff they have to do?
The core functions of Out of Milk are just about what you would expect: make shopping lists, and mark them as done. There are dedicated interfaces for the pantry and more generic task lists, but groceries are really the main thing. If you're willing to pay $1.99 through an awkward separate app download, you can get even more, such as additional themes, fonts, home screen widgets, coupon tracking, and customizing tap and long-press actions.
Functionality
Items can be added to lists either by manual text input, voice recognition or barcode scanning, which is handy when someone in the house is rather particular about their brand of mayo. There are plenty of sorting options as well as mass-clearing of individual lists, as well as color-coded categories for keeping everything straight. Things can get pretty specific when you drill into individual items, and can set unit prices, quantities, and even set a globally-applicable tax rate to all of your shopping items. Scheduled reminders can make sure you get notified when you need to pick something up.
The web interface is even more nuts. You can export lists as CSV files for the intense micromanagers that want to have their shopping lists in spreadsheets, and display or print QR codes for quickly accessing them on phones. On the web, you can mass manage categories, and use a much wider variety of colors for them.
There's collaboration tools built in so users can share lists. This is a bit tricky, since it means new invitees have to register for an account, but once done, they can do everything from the web interface without having to get the mobile app.
Style
Though Out of Milk makes use of taps and long-presses, swipe gestures are sorely lacking - that's the definitive movement for crossing things off your list. The home screen widget isn't particularly elegant; while it shows what's on any indicated list, any real interactivity requires
It's easy to knock Out of Milk for horning in on Remember the Milk, a popular and venerable task app that started on iPhone and iPad. Out of Milk was just providing Android users with solid task management while Remember the Milk was making do with iOS, but a few months after Out of Milk was released, Remember the Milk made their Android port, and the two have been fiercely competing since.
For me, it's a close race between the two; Remember the Milk does a better job of sticking to Android UI guidelines has a boggling number of web and app plug-ins, but Out of Milk has a better web interface and doesn't try to ding you with a subscription fee.
Pros
Extensive options
Simple, easy interface
Barcode scanning to add items
Cons
Awkward upgrade process
Getting new collaborators to register can be a chore
Conclusion
Out of Milk will most definitely take care of your core task management on a day-to-day basis, and the extensive additional functions will likely meet the needs of the serious busybodies out there. The upgrade process was a bit wonky, and getting friends to register to check out shared lists is a bit of a hassle, but overall, Out of Milk is an excellent task management system. I can't wait to see more tailored categories like the pantry that offer specific spheres of task management - even if they're IAP additions.
Download: Out of Milk (opens in new tab) (Free/$1.99 upgrade)
Get the Android Central Newsletter
Instant access to breaking news, the hottest reviews, great deals and helpful tips.
Simon has been covering mobile since before the first iPhone came out. After producing news articles, podcasts, review videos, and everything in between, he's now helping industry partners get the word about their latest products. Get in touch with him at simon@futurenet.com.
Ha! Milk in bags. I haven't seen that since I left Canada.

I know, right? It's so weird. Why only in Canada?

MEH, Mighty Grocery seems more full functioned, but at a higher price, but more professionally done if you ask me. (I've tried a lot of these before settling on MG. I went thru the Grocery IQ melt down where they couldn't keep their servers running). Nobody is interested in tracking prices on a phone for half a million grocery items that have price changes seemingly every 5 minutes. Nobody will do that amount of book keeping, and not many grocery stores care to publish that level of detail. I just want to sync lists between family members. All of these things need better bar code scanners. They all seem to rely on external bar code readers, but these to a hit or miss job because they never let you utilize the full capabilities of the camera. Most don't know how to close focus well, and most don't allow zoom.

This does the list syncing quite well. I'll occasionally get the wrong item when using the barcode scanner; maybe 3 out of every 100 items, and entering the prices does make it easier to use. Sure, it may change, but a lot of the things I buy don't change in that price hardly ever so it takes a lot of the work out of entering prices every time.

The free version of Mighty Grocery is worse than Out of Milk's free version (OOM has list syncing in the free version) and MG's pay version is more expensive.

I've been using springpad's check lists. Works great, and it's stored online so I can access it just about anywhere.

I've always been a fan of Our Groceries, myself.

I realized I've had this on my phone(s) for about a year and have probably used it only twice, I've been using Taskos for just about every reminder.

Big fan of Out Of Milk. After switching from iOS to Android, I wanted a few basic, clean features: - Good web interface
- Fast, reliable sync (not something that generates duplicates all the time)
- Solid, flexible import/export features
- Clean phone UI that's easy to navigate while wandering around the store with your hands full I didn't think that was too much to ask for and figured there would be a bunch of Android apps that fit those requirements, but boy was I wrong. Remember The Milk was the most frequently recommended candidate, but that failed at the first hurdle with an arcane import process that required me to reformat and *email* my lists (exported from an iOS app) back and forth. Out Of Milk was the only one that matched each of my requisite features, and well. The web interface is very good. Sync is rapid and reliable, and has never caused any hiccups for me (no dupes or lost items)... knock on wood. The CSV import/export feature is solid and was a godsend for me, importing lists of a few hundred items (not just groceries!) from iOS. The developers have been very responsive on the couple of occasions I've sent feedback, which is encouraging. I'm not a huge fan of the reminders feature -- that could definitely use some work. But it's basic and functions as expected, without missing alarms or screwing up the times and waking you at 3am... which I've had happen with a couple of other to-do apps. There's actually a lot more functionality in the shopping list and pantry list than I use, but I still use the app every. single. day. -- and would pretty much be lost without it. Or, well... hungry.

Always preferred "rShopping List" myself. If you've ever used HandyShopper, you'll be right at home.

I am also a fan of OurGroceries. Simple and functional, it automatically and immediately syncs such that my wife can be in the next aisle and I know she has picked items up. It also supports recipe and ingredient management. Lists can be accessed and edited via web. Oh yeah, and it's free.

Might be time for me to take another look at what's out there. Coming from Palm and HandyShopper, I finally settled on Grocery IQ and was very happy and loved having a web interface. After rooting and a custom rom and maybe app update, Grocery IQ was no long compatible with my device :(. Went looking again and now use ToMarket paid but still miss the web interface. Eventually I'd also will probably need multiuser syncing.