Our readers have spoken: a new 5G BlackBerry is a must-have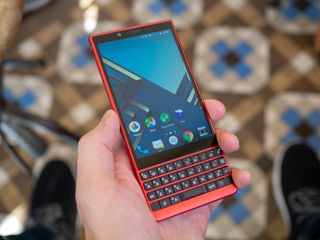 (Image credit: Android Central)
What you need to know
Our readers overwhelmingly voted in favor of a new BlackBerry smartphone.
Some readers reminisced over older BlackBerry phones like the Priv and KeyOne.
Some of our readers have no interest in a new BlackBerry, while others see the merit in one.
Earlier this week, we asked our readers if they were interested in a new BlackBerry smartphone. After all, it's been a few years since the fairly impressive BlackBerry Key2 launched, and OnwardMobility reinvigorated interest in a new device by launching a waitlist. We don't know anything about the upcoming device, but fans may be able to help influence its development to some extent.
However, we received an overwhelmingly positive response, with 1,514 participants (76%) voting in favor of a new BlackBerry device. 12% of participants had no interest but saw the merit of a new BlackBerry, while 11% thought that the company should just bow out.
One reader, Stephen Severino, made a case for why they think a phone with a physical keyboard is necessary in this day and age of all-screen slabs:
Nothing is more annoying than watching a software keyboard pop up and fill half my screen real estate or move the content I was just about to tap.
We spend a lot of money on nice screens, only to have them smeared and smudged. The capacitive keyboard on my Passport always kept my screen clean.
Hotkeys to open apps instead of flipping through app drawers is a time saver.
Touch typing without looking is something I've never mastered on a software keyboard, and I don't always feel comfortable using speech to text in public.
Copy and paste with a trackpad, ball, or capacitive keys is way better than dragging the flag. Yes, there's a software option in Gboard, but it takes too many taps to get to.
Typing on keys feels better. Period.
Some of the comments were a little less enthusiastic about a new BlackBerry but saw its merit. Jruasap says they have no desire for a phone with a physical keyboard but "would love to see this just to get more and different phones out there. The loss of LG is huge and too many phones are similar these days." R.I.P. LG.
Jimmy Hallmark believes a new BlackBerry would be a niche device, particularly as a flagship phone, and probably wouldn't succeed against the likes of the best Android phones. "I do think they might find some success as a midrange Android maker sans the keyboard. They would have to be willing to compete and be a high value for money proposition. If they come out with phones that cost $1000 then forget it."
On Facebook, readers seemed less interested, although one commenter, Will Colon, had a yearning for past hardware design with today's specs. "Give me the last blackberry bold updated with today's OS and I'd be happy."
Some users on Twitter were also yearning for the past:
If the new mystery phone is a Priv-style device, I'm pre-ordering. I loved that phone, it just needed better softwareIf the new mystery phone is a Priv-style device, I'm pre-ordering. I loved that phone, it just needed better software— Nighttiger (@Nighttiger314) July 28, 2021July 28, 2021
With this kind of response, it seems there is a place for a new 5G BlackBerry smartphone, after all. Let's just hope OnwardMobility can deliver one soon.
Android Central Newsletter
Get the best of Android Central in in your inbox, every day!
Derrek is a long-time Nokia and LG fanboy who loves astronomy, videography, and sci-fi movies. When he's not working, he's most likely working out or smoldering at the camera.
For a very tiny niche market

Question is will you be willing to pay the premium this totally outsourced phone, with some 3rd party security software and a BlackBerry sticker? No doubt in my mind that several tens of thousands would buy a $500 PKB phone with good specs on it. But make that same phone $800 with a $25 ongoing subscription, and that changes the whole thing.

Wtf are you talking about. Blackberry is partnering with OnwardMobility not completely outsourcing. Blackberry will be handling the secure software like they always do. Not some bs third party. Also where was there ever a 25 dollar a month subscription fee? Even at the height of BES? If it's 1000 and under with decent specs and a great camera I'm buying 2. Can't take this garbage iPhone 12 for another second. God I miss Blackberry 10. I WOULD PAY 25 A MONTH IF THEY WOULD BRING IT BACK!

That's incorrect. The only thing BlackBerry will do if this device ever sees the light of day is to provide a sticker to slap on the device.

And possibly keyboard/design patents.

I just think the screen would be too small for many tasks that we have become accustomed to doing...like maps while driving? I guess it's what some people want...I just don't think they will sell enough to make a go of it anymore.

How do you know it would be too small? On a device the size of the KEY2 they could shrink bezels and give it a 4.8" screen or so. On a Priv style slider they could go 6".

I declare shenanigans. Where have all of these hardcore blackberry fans been for the last 10 years if they weren't buying them before? Did they all somehow time travel to now from 2007? If they sell over 100 of these things I'll be shocked.

The KEYone/KEY2/LE are rumored to have sold around 1.3 or so million devices from 2017 to 2020. Since there hasn't been a new BlackBerry in three years, there should be some accumulated demand. But the goal would be to pull back in some who moved on to a slab but are open to come back to BlackBerry. A slider like the Priv would be most effective at that.

If it's not made by BlackBerry, it will never be a Blackberry and that will NEVER happen.

So those iPhones that were made by Foxconn a few years back are not real iPhones? Same for every device that's outsourced?

I have grave doubts given the supercilliousness of BlackBerry and the circle-jerk impression OM projects, I retain zero expectation for anything beyond vapor. Nothing to see here aside YouTube style clickbait. Sadly…

Uh-huh. Too little, too late. I have a drawer full of old BlackBerries- it's called Nostalgia. Quit expecting a comeback and Salute to what was once Blackberry.

Those Berry's in your drawer are most likely old BBOS dinosaurs, with huge bezels and chunky plastic frames.
Obviously a new Berry in 2021 would be far sleeker and offer a much bigger screen than those.
Even the Priv did that way back in 2015.

Well, I've already said what I needed to in the comment section of the previous article in regards to a new BlackBerry device. I guess I fall under the category of seeing the merit of a new BlackBerry smartphone but can't see buying anytime soon. Then again, let's see what happens. Let's see the actual device, specs, pricing etc. One BlackBerry device I'm sorry I didn't get my hands on was the Motion. It reminded me of the Leap which was a favourite of mine.

Your readers have spoken. Loyal BlackBerry users on CrackBerry have spoken. Know who hasn't spoken? OnwardMobility. It would be nice if they would update their press release from August 19, 2020, which promised to have a new device "publicly available" in the first half of 2021 . . . .
Android Central Newsletter
Thank you for signing up to Android Central. You will receive a verification email shortly.
There was a problem. Please refresh the page and try again.