OtterBox Commuter Series case review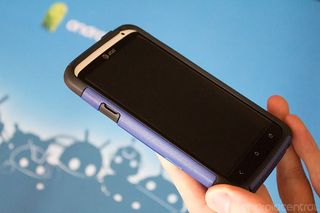 The Commuter Series OtterBox is a slimmed-down version of its big brother, the Defender case. Instead of a full three layers of integrated protection, there is just the internal soft silicon core and an external hard plastic cover (though the package comes along with a run-of-the-mill screen protector for good measure). MicroUSB and headphone jacks are protected with flaps, while the hard power and volume keys are accessible through the skin, and the camera and speaker are open.
Style
The OtterBox Commuter case for the HTC One X is available in straight black and black/purple combos, but availability will vary depending on your device. Personally, I'm a fan of the two-tone look, though it really depends on the color of your device; the black/blue doesn't really go well with the white on my device.
The rear of the hard case has a curvy design, alternating between smooth and slightly rough textures. The lines are sharp and definitely stylish enough to catch the eye (though it's bound to be a bit more subdued if you're going with a solid color for both parts of the case). Of course, the hard plastic exterior doesn't provide quite as much grip as a silicone one.
Function
Installing and removing the case is a bit of a hassle because it fits so tightly. Sometimes this means the silicone skin gets bunched up during installation, but after a bit of wrestling, it tends to get evened out. Otherwise, the tight construction ensures that everything stays in place,
As for protection, the OtterBox Commuter Series offers a solid mix of scratch and impact protection. A screen protector is included to handle the front face, while the silicone covers the corners with the support of an internal membrane. I definitely felt more confident with a soft core rather than the hard one in the Defender Series case - more cushioning directly next to the device, after all.
The camera and speaker openings have slight ridges to keep sound flowing out when the device is placed rear-down. The rubber skin makes the first contact on the front of the device with some solid support from the plastic casing, and keeps the screen amply raised from whatever surface it's resting on. HTC One X owners will want to keep in mind that the rear charge/sync contacts are covered up, which could be a deal-breaker if that's something you use regularly.
Pro
Good balance of size and protection
Con
Bottom line
The OtterBox Defender Series case offers a nice mix of protection without adding an obscene amount of thickness to your device. The case fits a little too tightly to make installation and removal particularly easy, but odds are that's not something you're going to be doing too often.
You can pick up the OtterBox Commuter Series Case from ShopAndroid over here for $34.95 (currently on sale for $8.00 off).
Simon has been covering mobile since before the first iPhone came out. After producing news articles, podcasts, review videos, and everything in between, he's now helping industry partners get the word about their latest products. Get in touch with him at simon@futurenet.com.
great review. Would be even better if the video wasn't private.

Could swear I switched it on... Fixed.

Have it on my EVO 4G LTE and I love it.

I do too. I wish they would sell different colored hard plastic portions of this so we could swap them out if we wanted. (without buying a wholly different rubber/silicone part)

I am missing having a belt clip, but if you're not interested in a belt clip it's seriously a great case.

Just ordered one and will be here Friday!

I have a Galaxy S3 phone and returned my Commuter case after a few days of use. The S3 was very slippery in my hand and operating the S3 one-handed was difficult to impossible. Also, at this time it is almost impossible to find a holster that will fit the S3 and Commuter combo. I'm not new to the Commuter since I had it on my Blackberry and Atrix.

I am using the Seidio Active holster with my GS3 Commuter. This combination gives me protection and a belt clip without the bulk of a Defender.

Thanks for the idea of the Seidio holster with the Commuter. I just picked up a GS3 last week and had a Commuter case waiting. It fits width wise in the holster case I was using with my iPhone 4 but the flap won't close because of the height. I have been using the Defender on my iPhone 4 for a couple of years and while it offers great protection, it makes the phone pretty thick. While I've only had the Commuter case a few days, I really like it so far.

I always recommend the commuter over the defender (or anything really) to my clients. It's slimmer, it will slide in and out of your pocket when you want it to. Otterbox has recently changed the compound of the rubber they use on their Defender products so that they can slide in and out of your pocket easier - but I wouldn't feel comfortable saying it's always going to be like that. It's rubber. It's going to give eventually. I would rock the commuter myself if I could get them with extended battery covers - alas, the market is not big enough.

Have it on my Photon. LOVE it! It's saved my phone countless times when I've dropped it. DH has it on his EVO (my old 1stgen) and he's managed to drop then punt the phone across the shop and the phone has come through unscathed. Just wish there was a way to get it to fit the dock without having to disassemble half the case to do it.

Where have we seen otterbox reviews before?

See that's what I thought. New people are picking up Android every day though, and may not understand that otterbox makes protection for most every smartphone available. After hanging around here for a while these reviews do kind of seem like filler material though. I suppose they don't have to endure this type of stuff over on imore with 1 phone per year.

Love the commuter for my Gnex. Its slightly overkill for my needs (toying with getting a simple TPU case instead) but it has cushioned my phone from a number of spills (all waist high or so) onto ashphalt, concrete, carpet, hardwood.... so I know the product works, and works well!!

Love it on my GS3. I actually like the screen protector that came with the case as well. It is better than run-of-the-mill to be fair. Prospective buyers should be aware that this case fits VERY tightly on the edges of your phone. As a result, any screen protector that covers the screen flush may not work well with this case. I had to remove my Zagg HD (which IMO is much improved from the original Zagg but that's another topic altogether) because the edge started to peel. After that I put on the included screen protector just to try it out and I have to say I'm quite impressed. It doesn't scratch easily like some of the cheap screen protectors. It is designed to be slightly smaller than the screen so that the snug fit of the case would not cause any ill effect. The screen protector is of the dry applied variant and I had no problem with dust particles or bubbles.

Otterbox commuter + Flygrip = best combo ever!

Warning!
Otterbox damaged phones!
the damage shown in the photos was determined from the case Otterbox!
And the Company not respond! http://imageshack.us/photo/my-images/21/p1010168t.jpg/ http://imageshack.us/photo/my-images/59/p1010171sb.jpg/
Android Central Newsletter
Thank you for signing up to Android Central. You will receive a verification email shortly.
There was a problem. Please refresh the page and try again.