Orange San Diego video walkthrough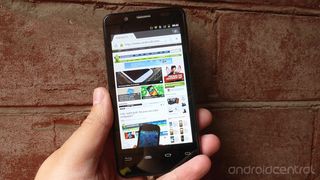 So, we finally have an Intel powered Android smartphone in our hands. Having gone on sale earlier in the week, we went and got hold of one so we can take a proper look at just what's what.
We got a quick hands on at the launch event in London, at which the San Diego impressed upon its first public outing. Yes, it runs Gingerbread, yes it's 'only' a 4.03-inch display, and yes it's "only" a single-core 1.6GHz processor. But Intel is making big shouts over what they can do, so naturally it falls to us to put those claims to the test. The full review will be coming over the course of the next week or so, but in the meantime we've put together a slightly more in depth hands-on with the device. First impressions are good, there might just be something to this Intel thing.
Android Central Newsletter
Get instant access to breaking news, the hottest reviews, great deals and helpful tips
Standard Android phone, small screen, great battery life, nothing that intel has that exites me... Just looks like the samsung instint... Lol but overal living in San Diego, it would be cool to have a San Diego phone... But this phone is not for me...

Make it core i3 then we'll talk Intel :)

Why is British phone named after an American city that is named after a Spanish saint?

Cool, will this be more widely avaiable?

In Europe quite possibly, but there's no mention of outside there yet. North America might have to wait for the Motorola/Intel stuff to appear

Why would you release your new flagship platform on an OS that is about 2 years old at this point...

It's not an "Intel" flagship phone, if that's what you're thinking. They're just getting their feet wet. Intel is entering into the smartphone realm slowly and surely. The first thing they are trying to show is that Android can run on an x86 platform, and run well. I am impressed by the performance of this single core phone. It's no slouch. Their dual-core Atom SoC will start showing up early fall and I'm sure that they will quickly become a serious player. And they'll be moving into Android tablets as well, although obviously they're storming the field with Windows8. By the way, stay away from WindowsRT if you value your life. (jk but it's not really useful compared to Win8.)

For a first try, I must say I am impressed so far, especially with the speed and smoothness of this single core phone, in the days of multi core beasts. Although an entry model, I think it may be priced too high to attract most PAYG customers, but might fare better on low priced contracts instead.

I'm impressed with this entry phone. Damn that's gingerbread moving like that, smooth n fast!? No lag showing. Imagine what Intel has instore with their stronger processors and ics!? This could get very interesting. Competition benefits us all. Good job Intel and Orange. Looking forward to seeing what you drop next.
Android Central Newsletter
Get instant access to breaking news, the hottest reviews, great deals and helpful tips
Thank you for signing up to Android Central. You will receive a verification email shortly.
There was a problem. Please refresh the page and try again.