Twitter for Android gets easier to navigate with new design and swipe gestures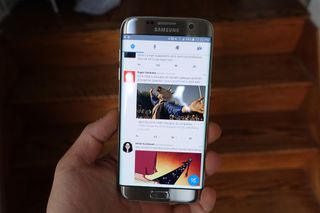 The official Twitter app for Android has received a bit of a visual refresh that should make navigating the app easier overall. Currently rolling out as part of the app's latest update, the refresh sees a new tab bar at the top of the app that lets you swipe between sections. There's also a new slide-out navigation menu and more.
Here's the full skinny on what's new, from Twitter:
Tab bar at the top of the screen with swipe functionality so you can quickly move between your Home timeline, Notifications, Direct Messages, and more.
Navigation menu that slides out from the side for access to your profile, Highlights, lists, the Connect tab, and settings.
New floating action button so you can always easily send a Tweet.
As Twitter notes, the update is currently rolling out to everyone, and you should be able to snag it on Google Play (opens in new tab) now.
Just can't work out how to use Twitter. AC needs to do a Twitter 101! Posted via the Android Central App

So basically like the Windows Phone app the last few years. Unreal.

It looks a little more like the Windows 10 version the the Windows Phone version. I was on WP for about 4 years and was never really able to get on board with the Android app.

Windowsphone app used to be horrible, after W10 version it was great but it doesn't have these touch gestures. It has dark theme tho, waiting for that to come for android. Posted via the Android Central App
for LG G3

It was pretty crap but it still had swipe. Plus the Windows 10 app only has a dark theme if your system theme is dark. There's no toggle for it.

That's weird, I have the version 6.0 which in the playstore it mention the new layout but I still have the old one. I don't know if it's because I'm on Android N or not. I already cleared my cache and app...

I'm on lollipop and have the same issue. Same thing with Instagram Posted via the Android Central App

They are jsut telling you they are updating it today. It was last updated yesterday. Go look at when the app was last updated it will say the 6th. They are pushing update out today as it states in the description. Posted via the Android Central App

I got the change UI this morning.

I had old UI after update too and it just changed like "POOF" :D Posted via the Android Central App
for LG G3

Better than Falcon Pro aside from missing a dark theme?

Unless it's got a dark theme, no "sponsored" tweets and a way to mute hashtags I'm not interested.

I saw the announcement of this and thought "Great! Finally a good Twitter app"... then realised it's just same as the Beta I was already using, and was disappointed. It's still horrible. Posted via the Android Central App

Interesting... I had this UI for a few weeks already (no app update) and then suddenly a week back or so it went back to the old UI just as sudden as I got the new UI. Posted via the Android Central App

I honestly don't see a huge difference. I still don't know how to see most recent tweets, and not those from 22 hrs ago...

In Settings -> Timeline, there should be a checkbox for Show me the Best Tweets First. Uncheck that if it is checked.

Nice update! Its now more like a android os menu. Posted via Edge+

I'm bloody sick of the app refreshing on me when I'm scrolling. Anyone else have that same problem. Posted via the Android Central App

Shut down and reboot after update to see the changes. Blaq is still the best.
Android Central Newsletter
Get the best of Android Central in in your inbox, every day!
Thank you for signing up to Android Central. You will receive a verification email shortly.
There was a problem. Please refresh the page and try again.