Semi-official Gingerbread 2.3.3 for Samsung Captivate leaks out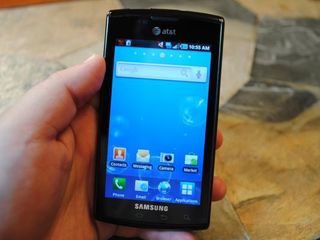 For Samsung Captivate owners it was a struggle just to even get Froyo, let alone Gingerbread but thanks to some leaks -- there is now a pair of official-looking Gingerbread 2.3.3 leaks available. Both have different build dates with the later build addressing minor fixes over the older build.
I897UCKE3 - Build date of May 26, 2011
I897UCKF1 - Build date of June 8, 2011
As folks have been ripping through them to find changes, it's been noted that AT&T bloatware is present in each in one and both appear to be making use of a new bootloader similar to that of the i9000. As with all leaks -- you'll have to exercise some caution should you go messing with these, they're not meant for everyone and just because they are labeled "official" does not mean they're ready for prime time. Until released by an official carrier -- they're still just leaks.
That said; if you're into dealing with the nitty gritty details and comfortable going hands-on with Odin in order to get either one of these files loaded up you can hit the source links for more details.
Source: SamFirmware; via: XDA Thanks, to all who sent this in!
Android Central Newsletter
Get instant access to breaking news, the hottest reviews, great deals and helpful tips
So semi-offficial that offficial is spelled with three f's.

Wow Samsung, just releasing build numbers to keep us from complaining huh? Galaxy S getting Gingerbread any time soon isn't even realistic to me....

whys that? European galaxy s already has an official gingerbread update. and a leaked 2.3.4 build.

i meant U.S. Galaxy S devices

Or you could just run the Continuum ROM. It's fabulous, and doesn't come with AT&T bloatware. http://continuum.pcriot.com/

The UCKF1 rom is good but it seems to be missing a few features that were in Froyo so it's probably not the "official" release. My thoughts are it's probably not too far away but it will not be UCKF1. Hopefully we will see 2.3.4 as the release version like Europe.

On the xda site there is thread with an Odin one-click version that is easy to install. It is at http://forum.xda-developers.com/showthread.php?t=1127249 So far so good, it is smooth and responsive. If this is what AT&T is planning to release, then I think most will be happy. It does have all of the AT&T bloatware installed of course. It also includes the ability to install from unknown sources as AT&T has promised.

The KF1 Captivate ROM builds are pretty awesome, highly recommend them.

Just in case anyone lands on this page long after it was originally posted, like I happened to, there have been some good GB roms created for Captivate on XDA and cyanogen. However, an excellent GB rom has recently been released called dlev. Screaming fast, highly configurable, stable, and, amazingly, great battery life. Look for it on xda. This is only for people who understand what bootloaders are, though. If you do not, stick with official carrier released builds.

Who likes to wait anymore. Frustrating as it is. I take your caution warning very seriously. Thanks I really want these newer features. Best to wait. Before ruining my phone. Ugh.waiting
Android Central Newsletter
Get instant access to breaking news, the hottest reviews, great deals and helpful tips
Thank you for signing up to Android Central. You will receive a verification email shortly.
There was a problem. Please refresh the page and try again.