NVIDIA Shield Tablet review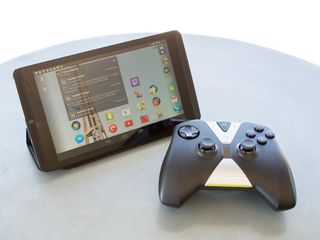 If you're willing to go all-in with some extra accessory purchases, you can have one of the most flexible and capable Android tablets out there today
NVIDIA has won over many consumers' hearts and minds in the desktop computer space with its high-performance graphics cards, and is looking (once again) to parlay that success into the consumer electronic space with the Shield Tablet. Drawing on intense brand recognition within the gamer community, NVIDIA wants to sell a device that's a great overall tablet, but with gaming features unmatched by the competition.
It's fighting an uphill battle outside of the most hardcore of potential gaming buyers, though. General consumers definitely don't think of NVIDIA when it comes to making their next tablet purchase, and even those who know the name may already have brand allegiances with Apple, Samsung, LG or Google when it comes to tablets.
Luckily NVIDIA has more than just brand recognition to work with. Read on as we break down the merits of NVIDIA's Shield device, the Tegra K1-powered Shield Tablet.
More: NVIDIA Shield Tablet hands-on and first impressions
Video review
Internal specs
We've run through the complete specs of the Shield Tablet in a separate post, so there's no need to repeat things here. Nevertheless, the star of the show is the Tegra K1 processor, which brings extreme performance for a whole range of tasks, but really shines in graphically-intensive applications and multitasking.
The processor has no problem pushing around the 1920 x 1200 resolution of this screen, regardless of the application. It's clocked at 2.2GHz here, and backed up by 2GB of RAM and 16GB of storage (32GB if you go with the LTE model).
More: NVIDIA Shield Tablet specs
Hardware and build quality
The predecessor to this tablet, the Tegra Note 7, wasn't actually manufactured by NVIDIA and honestly wasn't going to win any design awards. With the move to in-house management of the hardware, the Shield Tablet looks and feels like a more premium product. Making use of a metal frame with a soft touch-plastic coating, the Shield Tablet looks sleek and stylish — in keeping with the Shield Portable stylistically — while maintaining great usability.
The 8-inch tablet has moderate bezels around the screen that make it easy to hold, while allowing room for two front-facing speakers and a 5-megapixel front-facing camera. The screen glass is surrounded by a slick trim of shiny black plastic that flows elegantly into the matte plastic sides. Around the back, there's a soft touch back plate with a shiny SHIELD logo across the middle.
The right edge houses the power button, volume rocker, microSD slot, SIM card slot (on the LTE version) and stylus holder, while the top edge holds the USB port and HDMI port. The left edge is bare aside from two slots that help the magnetically-attaching Shield Tablet Cover align on the side of the tablet. (More on this later.) You'll notice two large cutouts on the top and bottom edges, which are air ports that help enhance the sound coming from those stereo speakers.
There are really only two complaints that I can find with the Shield Tablet hardware, the first being weight. At a hefty 390g (0.86lb), this 8-inch tablet is rather dense, and it's heavier than all of its competitors by a good margin — the Nexus 7 (2013) is just 290g, while the 8.4-inch Galaxy Tab S weighs 294g. The Shield Tablet is even heavier than the 7.9-inch metal-clad iPad Mini Retina, which weighs in at 331g. Front-facing speakers, heatsinks for a powerful processor and magnets for the Shield Tablet Cover all add weight. I understand why the Shield Tablet weighs this much, but that doesn't make it any easier to hold.
The tablet's buttons are also problematic. While every device has its own feel, and pressure level necessary to depress the hardware power and volume keys, the Shield Tablet's seem exceptionally mushy. Of course this means they're far harder to accidentally hit, but it just takes an extra long time to get used to how hard you have to push the keys to get them to register. You may adjust to this over time, but it's something of a sticking point in the early days of use.
Image 1 of 9
These two minor issues aside, there's really not a whole lot you can complain about with the Shield Tablet's hardware. It looks absolutely fantastic, is built with sleek joins, and offers some unique features in terms of sound, display and accessories.
Display, speakers and stylus
Front-facing stereo speakers just make sense on a media-focused tablet such as this, and the pair included in the Shield Tablet sound fantastic. Between the large speaker grilles on front and the ports out the top and bottom, you get rich sound through the entire midrange and bass — plenty to keep you engrossed in a game when you're somewhere that doesn't require headphones. It's worth noting that the speakers aren't particularly loud, meaning you won't be filling up a room with sound, but they sound perfect all the way to 100 percent volume — something that can't be said for most mobile devices.
The Shield Tablet's 8-inch display comes in at a dense 1920x1200 pixels (283 ppi), and looks pretty darn good — as you'd expect in a modern LCD panel. It's bright, crisp and has excellent viewing angles, but comes up short of being perfectly color-accurate to my eyes. The entire display is a tad on the warm side, leaving whites to have a very slight yellow hue to them, but it's something that's only noticeable when setting it next to a better-calibrated device. This is also something which is potentially fixable with a software update, and I don't rule out the possibility of NVIDIA pushing an OTA that addresses the display tuning.
NVIDIA continues to see stylus input as important in its tablets, and the Shield Tablet steps up pen performance over the Tegra Note 7. DirectStylus 2 offers even better precision, all without having an active stylus that requires batteries or a connection directly to the tablet. While I'm not much of an artist myself, I can appreciate the value a stylus adds for some people. I can draw a few neat pictures in the Dabbler app or use the handwriting recognition instead of the keyboard from time-to-time, but for those who think visually the DirectStylus 2 tech will be a boon.
Shield Tablet Cover and Wireless Controller
The Shield Tablet really shouldn't be considered as much of a standalone device, as it really needs to have these two accessories nearby to make it a complete package. Both the Shield Tablet Cover and Shield Wireless Controller are optional accessories, but each adds something special to the experience of using this tablet whether or not you're gaming.
For $39 you can pick up the Shield Tablet Cover, a magnet-laden piece of magic that makes the Shield Tablet drastically more usable and functional. It attaches to the left edge of the tablet with strong magnets and a pair of prongs to align things properly, saving you from having a bulky case wrapped around your whole tablet just to give you some protection and function. The tri-fold style cover has a soft microfiber lining on the inside and a tough woven exterior destined to protect both sides of your tablet.
When you lift the cover off the screen the device wakes up (and vice versa), and as you fold it over to the back of the Shield Tablet the cover stays put with magnets once again — hallelujah, no floppy cover to deal with. It also folds three different ways to prop up the Shield Tablet for gaming, movie watching or typing, again holding in place with magnets so your tablet isn't at risk of moving around when the table you're using is bumped. I really can't say enough about how well this cover is integrated into the design of the tablet — I wish every manufacturer did something like this.
Image 1 of 7
The second major accessory is the Shield Wireless Controller. In contrast to your average mobile controller that uses Bluetooth, the Shield Wireless Controller connects to the tablet (or Shield Portable) over Wifi Direct, which offers both lower latency and higher data throughput. Low latency means faster device reaction to your controller input, and high data throughput lets the controller offer two-way audio (via a headphone jack on the controller) with your tablet.
The controller is basically a slimmer and lighter version of the Shield Portable, with great ergonomics and all of the right buttons and functions you expect from a device-specific controller. You get a large capacitive area in the center of the controller that works as a touchpad for controlling your device, paired up with physical volume keys and a set of capacitive buttons for back, home, start and Shield Hub. It's also rechargeable over microUSB and rated for 40 hours of gameplay (20 hours when passing audio through the controller).
Image 1 of 6
Spending $59 on this controller may not seem like the best investment at the start considering how much cheaper rival Bluetooth controllers cost. But if you're serious about gaming with your Shield Tablet, or have any intention at all of using it in Console Mode while connected to a TV across the room, you just have to go with the Shield Wireless Controller.
Software and experience
In a refreshing (but not unexpected) move, NVIDIA has stuck to offering basically stock Android KitKat on the Shield Tablet, focusing its software development time instead on making sure the stylus, controller and game support is top notch. The phrase "we love Android" was said more than a few times by folks at NVIDIA when I talked to them about the Shield Tablet, leading to this "if it ain't broke, don't fix it" mentality with the software.
The Shield Tablet looks and acts the same as your Nexus or Google Play edition tablet, and that means performance is great, there's little bloat getting in your way and the software is generally intuitive. There's no weird launcher paradigm to learn, no multi-window mode to get in the way or media-focused modes to enter. You'll notice small tweaks that NVIDIA has included, but never in a negative way. The Shield Tablet makes it simple to toggle into a "full screen" mode for games and certain apps, as well as manage connected controllers and choose how you want your tablet to show up when plugged into an external display.
There's also a settings pane to let you manage power consumption and performance on the Shield Tablet, which is a real concern when you plan to use it for high-end gaming. You can choose to set the system to four different levels — Max Performance, Optimized, Battery Savings and My Power Mode — based on how you want to manage battery life. My Power Mode lets you even set the max clock speed, number of cores and max frame rate, if you'd like. You can also set the power mode to change automatically at a certain battery percentage — I set my Shield Tablet to Optimized full time, then switch to Battery Savings at 20 percent.
Battery life was pretty good on the Shield Tablet, easily making it through a couple days on a charge with a mix of light usage and intense gaming, split up by long periods of idle time — the case with most tablets. It's also blatantly clear that the Tegra K1 can handle basically anything you throw at it, and I can't say I remember a single slowdown in my time using the Shield Tablet. Even at 1920 x 1200 resolution, everything ran fantastically without stepping up to the Max Performance processor mode.
I like the fact that NVIDIA didn't spend time or energy mucking up a good system here, and everything that has been added feels like it could fit right in with stock Android. Everyone knows NVIDIA can sometimes go overboard with some black and neon green branding, and it has shown a great level of restraint with the Shield Tablet software. This is how it's done.
Gaming
NVIDIA knows gaming, of course, and it's trying to convince folks who want to game on the go that the Shield Tablet is for them. In many ways NVIDIA will have a much easier time convincing people this time around, as the Shield Tablet has real value as a device for much more than gaming. But it still has to convince people that this tablet plays games far better than anything else out there in order for anyone to actually care. Luckily, NVIDIA has a few tricks up its sleeve.
The first is Shield Hub. The artist formerly known as TegraZone has a new name and look, and it is the one-stop shop for high-end games that look and play best on NVIDIA-powered devices. A simple press of the NVIDIA button on the Shield Wireless Controller and you're taken into a well-curated list of games that will show off the Tegra K1's power. You'll have to shell out $5 to $10 per game in most cases, but for someone who loves to play games that'll seem cheap compared to consoles — and the titles are worth the dough. 11 new Tegra K1-optimized games were announced alongside the Shield Tablet, and that's a real differentiator. These games really do look and play better than on any other tablet, and in some cases they wouldn't run at all on any lower device.
Second, there's GameStream. For those who are truly all-in with NVIDIA, you can now stream games from your (properly-equipped) home computer to your tablet. Now there are plenty of caveats here in terms of PC system requirements and internet speeds on both ends, but when GameStream works it feels like the future. Have a PC turned on at home and hardwired into a good internet connection, and you can launch and play any number of games on your Shield Tablet — all over the internet. Headshot people in Team Fortress 2 from the coffee shop, drift around a corner in Grid 2 from your backyard, or fly through the night in Batman: Arkham Origins while you wait for your train home.
Now it helps that I have a 100Mbps download and upload home internet connection, and never tested GameStream on anything less than 15mbps download on the tablet end, but that this works at all is kind of amazing. Input latency was only noticeable in very fine-tuned shooting games, but wasn't a deal-breaker in any case. While I think GameStream is more of a gimmick and just LAN party show-off fodder, the technology is quite amazing.
The third gaming-centric advancement with the Shield Tablet is the ability to stream to Twitch.tv, something previously reserved to full-blown computers. While NVIDIA can't make any promises on the quality of gameplay or streaming, if you have the right conditions it's quite amazing to be able to livestream your gameplay, a video from your front-facing camera and your commentary through your microphone, all at once from a tablet with no additional hardware.
Luckily you don't have to buy an expensive gaming PC to have a great gaming experience on the Shield Tablet. Playing locally-installed Android games that are optimized for Tegra processors will make you start to think you actually do want to carry around that Shield Wireless Controller, and of course every single one of your favorite Android games will play at break-neck speed as well. The only downside here is that not all games are ready for controller input, and as good as the Gamepad Mapper software is, you really only get the best experience with controller-specific games.
Just like the Shield Portable, the Shield Tablet packs the same Console Mode experience that turns your device into a set top box of sorts if you want to expand your device's experience. Plugging your Shield Tablet into a TV and turning on Console Mode shuts down the tablet's display and puts the full power up to the big screen. Use the Shield Wireless Controller to navigate a distance-friendly Shield Hub UI and stream movies, show something off to your friends or just play any of your favorite games on a larger display.
Bottom line
There's no doubt that NVIDIA has done a whole lot right with its second tablet effort. The Shield Tablet takes the gaming DNA that kicked off with the Shield Portable and makes it dramatically more accessible by putting it in a device that's a great fit even for non-gamers. For $299 you're getting a fantastic tablet no matter how you intend to use it, and the fact that it's one of the best devices for gaming on the go is just icing on the cake. At the same time, hardcore gamers will clearly see value in condensing down their current Shield Portable and other tablet into a single device with a couple of accessories and actually get an upgrade in experience.
Unfortunately, the Shield Tablet may prove to be a tad too much of an investment for some potential buyers. While it's great on its own, the Shield Tablet really only shines as a complete package when you add the $39 Shield Tablet Cover and $59 Wireless Controller. Throw in an HDMI cable to connect to your TV and we're (un)comfortably over $400 (or $500 if you opt for the LTE model) for a gaming-capable 8-inch tablet — and we're not even bringing in the hardware necessary for GameStream. This setup looks primed and ready for a bundle discount when you purchase all of the items together, but it's just not available that way right now.
If you're looking for something a little different in a tablet, and think that you'd take advantage of the huge gaming potential available in the Shield Tablet, this may be one to take a look at. As long as you're willing to go all-in with the accessories and spend a little money on games as they come out, this is a better value proposition than picking up a gaming device and tablet separately. But if your tablet budget is $299 and not a penny more, you'll likely be better served by something that's cheaper and simpler — just be sure keep your gaming aspirations modest.
Get the Android Central Newsletter
Instant access to breaking news, the hottest reviews, great deals and helpful tips.
Andrew was an Executive Editor, U.S. at Android Central between 2012 and 2020.