NVIDIA Shield Tablet hands-on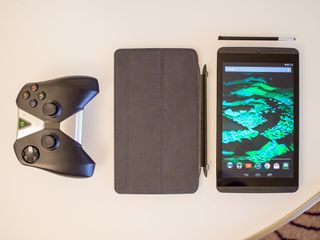 There's something for everyone here, but gamers get the absolute best features out of this tablet
NVIDIA has unveiled its second Shield-branded device and spiritual successor to the Tegra Note 7, the Shield Tablet, and it's shaping up to a be a pretty interesting player in the Android tablet space. With its 192-core Tegra K1 processor on board, the Shield Tablet has some pretty serious gaming ambitions, but it doesn't make any compromises — this is still a fully-functional tablet for reading, drawing, streaming and networking.
The Shield Tablet looks and feels great, while packing all of the right specs and features to make it a contender in the 2014 tablet space. And with the addition of two first-party accessories, it turns into a fantastic mobile gaming rig that could be a go-to choice for gamers that are serious about what they do. NVIDIA is building its Shield device family today, and we have a full look at it — read along with us and see what the Shield Tablet is all about.
Hardware and accessories
The Shield Tablet is a lovely bit of hardware, particularly when paired up with the first-party Shield Tablet Cover and Shield Wireless Controller. If you've ever held an original NVIDIA Shield (now known as the Shield Portable) you know NVIDIA can do great consumer-facing hardware, and the Shield Tablet takes that to the next level.
Shield Tablet
Image 1 of 14
Image 2 of 14
Image 3 of 14
Image 4 of 14
Image 5 of 14
Image 6 of 14
Image 7 of 14
Image 8 of 14
Image 9 of 14
Image 10 of 14
Image 11 of 14
Image 12 of 14
Image 13 of 14
Image 14 of 14
While the Shield Tablet caters to gamers, it follows a familiar tablet recipe to what's already on the market. The Shield Tablet offers an 8-inch 1920x1200 IPS display, surrounded by nicely small bezels and a pair of front-facing speakers for a more immersive media experience. There's a 5MP camera on both the front and back of the Shield Tablet, with the front-facing camera being of particular importance considering that the tablet is capable of streaming to Twitch.tv with live video of you to accompany your gameplay.
More: NVIDIA Shield Tablet specs
The sides of the tablet are a nicely-beveled metal, with the left edge holding cutouts for a power button, volume keys, Micro SDcard and the standard stylus. The left edge is kept smooth save for two slots that help the tablet attach to the optional Shield Tablet Cover (more on this later), and the top has ports for headphones, HDMI out and your USB charging cable. The back of the Shield Tablet is a lovely bit of soft touch material, which gives just enough grip in the hand.
The Shield Tablet looks and feels incredibly nice, which comes as no surprise considering its $299 starting price and who's making it, but is refreshing considering the corners that could have been cut to only focus on gaming performance.
Shield Tablet Cover
Image 1 of 11
Image 2 of 11
Image 3 of 11
Image 4 of 11
Image 5 of 11
Image 6 of 11
Image 7 of 11
Image 8 of 11
Image 9 of 11
Image 10 of 11
Image 11 of 11
What takes the Shield from being a "regular" tablet to a gaming system is the addition of the two first-party accessories from NVIDIA — the Shield Tablet Cover and the Shield Wireless Controller. The Shield Tablet Cover enables you to prop up the Shield Tablet at three different angles to best sort whatever you're doing — gaming, video watching, typing — and attaches to the side of the tablet with strong magnets.
What NVIDIA was able to do with the Tablet Cover is a great example of what first-party accessories offer, as it makes clever use of magnets to provide a great experience. There are embedded magnets in the back of the Shield Tablet that link up with the Tablet Cover at each of the three angles, as well as with the entire cover when it's flipped back and you're using the tablet. That means no more awkward dangling cover when you're trying to read a book, and no more tipped-over tablet when someone bumps the table it's sitting on.
The Shield Tablet Cover isn't cheap at $39, but you're getting something worth your money in terms of quality and functionality that you just won't get out of a third-party case down the road.
Shield Wireless Controller
Image 1 of 7
Image 2 of 7
Image 3 of 7
Image 4 of 7
Image 5 of 7
Image 6 of 7
Image 7 of 7
The optional $59 Shield Wireless Controller is the second part of turning the Shield Tablet into a mobile gaming rig, and it offers familiar styling with some high-performance design and features under the hood. It's basically a smaller and more ergonomic take on the Shield Portable's controller, with a full layout of standard buttons, as well as Android-specific capacitive navigation keys, volume controls and a built-in microphone. There's even a capacitive touchpad area that you can use to navigate the interface with.
In contrast to traditional one-size-fits-all Bluetooth controllers, the Shield Wireless Controller connects to the Shield Tablet over Wifi Direct, offering 20ms latency (half of what Bluetooth offers) and drastically higher data throughput. The lower latency is noticeable when playing intense games, particularly when streaming from your PC with GameStream — something that already introduces some latency on its own.
The improved throughput gives the Shield Wireless Controller the unique advantage of streaming any audio that would normally come to the tablet out to the controller's headphone port, and lets you plug in a headset with a microphone for two-way communication in games. It also has a microphone built into the controller so you can feed your Shield Tablet voice commands — or talk smack in games — from afar.
The Shield Tablet supports connecting up to four Shield Wireless Controllers (of course, that's a $235 proposition in itself) for multiplayer gaming as well, which can turn it into a real console-level experience when plugged into a TV in Console Mode.
Software and gaming potential
Following the same route as the Shield Portable, the Shield Tablet is loaded with an extremely familiar build of Android 4.4.2 to what you'd find on your Nexus 7 today. NVIDIA really hasn't messed with anything unless it improves functionality — you'll simply find a few changes in the settings related to GameStream, controller connection, DirectStylus 2 and Shield Hub (formerly known as TegraZone), but everything else is just as you'd expect.
NVIDIA is rebranding TegraZone to Shield Hub, making it more of a place where you find all things related to NVIDIA rather than just finding Tegra-optimized games. You can pin and launch non-game media apps from the Hub, as well as shop for devices and accessories from NVIDIA and of course still find all of the games you're used to seeing in the store.
To show off the potential of what the Tegra K1 processor can do, NVIDIA is launching 11 games through the Shield Hub alongside the Shield Tablet that are optimized for the new chip. These join over 400 Tegra-optimized games available today, and really show off what this hardware is capable of:
Anomaly 2
Chuck's Challenge 3D: Reloaded
Dungeon Defenders Eternity
Flyhunter: Origins
Half-Life 2
Portal
Pure Chess
Rochard
Trine 2 (pre-loaded on Shield Tablet)
The Talos Principle
War Thunder
The Shield Tablet also takes better advantage of its built-in stylus than the Tegra Note 7, with preloaded Dabbler and Evernote apps that can really show off what the new DirectStylus 2 capabilities are. The tablet also is one of the few 1080p streaming certified Netflix devices, which is a big plus when putting the device in Console Mode, where it turns off its display in order to output full resources to your TV (up to 4K resolution) over HDMI.
I haven't spent nearly enough time with the Shield Tablet to give any definitive impressions on the software or gaming performance — particularly with advanced features like GameStream at Twitch.tv streaming — but I can tell from my short time with it that this tablet is no slouch.
More to come
I'll be giving plenty of time to the NVIDIA Shield Tablet in the coming weeks to give it a full review treatment, and you can be sure it'll be put through its paces as a gaming machine and daily-use tablet. Keep your eyes on Android Central for continuing Shield Tablet coverage.
More: NVIDIA Shield tablet pricing and availability
Andrew was an Executive Editor, U.S. at Android Central between 2012 and 2020.
Wow looks super interesting

This tablet matches the M8. HTC owners make sure you take a look, this is probably the most powerful tablet on the market. Posted via Android Central App

So do I get this tablet or see if there is a Nvidia Shield successor? Because this tablet alone makes me want to put Nvidia everywhere in my life. I wish there were more phones with their processors. Posted via Android Central App

This tablet is the Shield successor, otherwise they wouldn't be selling a controller with it.

Well, I added it to my wish list on Amazon so the waiting game begins. Posted via Android Central App

Actually it's not, nvidia is marketing this as the shield and the OG shield as the shield portable
Posted via Android Central App

Yea.. Like to see these processors availability to smartphone markets Posted via LG G3 Sprint

Same. I want a K1 phone on Verizon with a 4.7 inch display and 2-3GB of RAM. Preferably made by Motorola. Posted via Android Central App

You won't. NVidia has left the phone market. Posted via Android Central App

can Nvidia please buy out Nintendo?

No. Posted via Android Central App

Even Sony can't buy out Nintendo, remember Nintendo has 125 years in industry, there cash flow is bonkers Nvidia can't even think about buying them out Posted via Android Central App

Andrew: will you be reviewing the Wifi version or the LTE version of the tablet? I'm curious if the LTE version will do true telephony or will it be like the 2012/2013 cellular Nexus 7 and do data only with VoIP apps. I'm especially interested in the 32GB/LTE versrion - this could replace my beloved 2012 Nexus 7 Wifi/3G.

The 32GB LTE will be priced at $429 CDN vs. $329 CDN for the 16GB Wifi only version. For the $100 delta I'd rather get the 32GB/LTE for both the additional storage and the cellular connectivity option. It's personally how I'd roll.

LTE on tablets is used for data only. No telephony here.

Hmmm...I believe the International Sony Xperia Z2 LTE tablet does true telephony but that is a 10" tablet. Otherwise, other than the OG International Samsung Tab 7.7 and the International GSM Samsung Note 8 there are no "true telephony" tablets per se. No matter, VoIP is an option as well I suppose.

Likely the Wifi version. The Shield Tablet will support Band 1 voice in some markets, but not inside the U.S.

Really tempting. Then again, I might hold out and see what happens to the Nexus tablet that HTC is rumored to be making. A tablet with BOOMSOUND!! is interesting.

LTE model coming to T-Mobile? Looks like a pretty awesome tablet. Posted via Android Central App w/G2

Its compatible with T-Mobile. But they're not talking about any possible carrier store offerings. You'd buy it and bring your own SIM.

Does it have an actual digitizer built in for good stylus support? Or is the stylus the usual (worthless) capacitive type?

Hmmmm.... Kind of makes me wish I had waited about 3 weeks, instead of buying my Tab Pro 8.4.... I do like the stylus functionality on my Note 10.1....

Confirmed my next target. But I'll wait for couple of months later. And maybe price drop will happened again :) Posted via Android Central App

Yep I'm going to wait for a price drop on this bought to many toys like the G watch and one plus one to pull the trigger on this . Posted via Android Central App

Hey Phil! Your website has gone all wonkey. When I open it up on the Safari, Chrome, and Internet Explorer browsers on 3 different computers at my office, the entire Web page disappears and shows a black background with part of some Nvidia Shield advertisement.
You may need to fix that. I can't see jack on Android Central right now.
I had to use my app to leave this message.
Posted via Android Central App

I know I can't get this site to work in Internet Explorer 5 Posted from my Nexus 7 2013 running Android L or Samsung galaxy S5

Provided remote gamestream works well enough through LTE, I'm sold. It'd be like having a tablet with the power of a high-end GeForce GTX GPU. What's not to like?

+1 Posted via Android Central App on LG G2

This and nexus 9 are going to have a run for my money Posted via Android Central App

Same, I'm not sure if I should spring for this or wait Posted via Galaxy Note 3, OnePlus One, or Nexus 7 (2012)

I'm assuming the Game stream works through Wi-FI. Can you use Gamestream on Wi-Fi, and the controller on Wi-Fi at the same time?

Yes. GameStream works over WIfi or LTE, and the Wifi Direct connection to the controller doesn't change that at all.

I was actually having this discussion with someone the other day. Many people seem confused about WiFi vs WiFi Direct. They are two different things and can operate simultaneously.

According to Gizmodo UK the battery is 1975mAh. I can't imagine that that's true considering that's small for a phone much less a gaming tablet. Has anyone see any other info on the battery size? http://www.gizmodo.co.uk/2014/07/nvidia-shield-tablet-hands-on-steam-gam...

No no, it's 19.75 Wh, not mAh. Divide Wh by volts (I don't know what the voltage of the battery is), but then multiply by 1000. You're going to be looking at considerably more than 1975mAh with that.

does the stylus do anything special? This is like the Sony Z2 Tablet with a PS3 controller, minus the games and stylus.

The stylus uses NVIDIA's new DirectStylus 2.0 tech, which brings in better sensitivity and more features, including the ability for apps to better sense the stylus and its relation to the position of the tablet.

Has anyone noticed an LTE availability date anywhere? The nvidia site and Amazon both only offer the Wi-Fi model. Posted via Android Central App

Ugly controller is ugly. Posted via Android Central App

Who really cares how it "looks" so long as it works well?

So I'm thinking HTC won't be able to make a tablet now that looks like this? It looks exactly like something they'd design.
Posted via Ash Williams Boom Stick!

Why wouldn't they? I think Apple is the only manufacturer pedantic enough to actually sue over a "rectangle with rounded corners".

The Tegra note tablet had a similar look to it.

are those speakers on the sides of the tablet next to the micro-usb jack?

Got this in sights for blak friday/cyber monday
Not paying $300

What i would like to know is if you can save games on the SD card. If you can then 16GB would be perfectly fine. Dont need the connectivity.

Yes. http://shield.nvidia.com/tablet-faq/ Posted via Android Central App

Yes, if the game developer allows it. Nvidia doesn't put restrictions on moving apps to sdcard in general though. Posted via Android Central App

Thanks Andrew. This little sneak peak was enough for me. I'm sold. It also helps that my gaming PC is running two GTX 550 graphic cards and will be able to stream games.

Except that GameStream has a graphics card requirement.
From nvidia's website:
System Requirements for PC Game Streaming:
> GPU:
- Desktop: GeForce GTX 650 or higher graphics card
-Notebook: GeForce GTX 800M, GTX 700M and select NVIDIA Kepler™ architecture–based GTX 600M GPUs
> CPU: Intel Core i3-2100 3.1GHz or AMD Athlon II X4 630 2.8 GHz or higher
> System Memory: 4 GB or higher
> Software: GeForce Experience™ application and latest GeForce drivers
> OS: Windows 8 or Windows 7

Thanks. I was already tracking my mistake. I have an evga GTX 760 sc with acx cooling coming today. Anyone have a need for two evga GTX 550ti with an ssl bridge? Lol

LOL. Convenient upgrade is convenient ;)

Yeah. Lol. Nvidia got me good.

Very nice tablet, would have liked a QHD screen on it.. Waiting patiently for the next nexus tablet if it ever comes and will make a decision then depending on price. Posted via Android Central App on nexus 7 (2nd gen)

QHD is cool and all... But anywhere near necessary on an 8 inch tablet? Not really. Especially considering the performance hit you'd see pushing those pixels. Posted via Android Central App

Thank you for being the voice of sensibility. All these people "demanding" 4K screens in devices under 10" (who obviously have no idea of the ramifications of all those extra pixels) drive me crazy ;)

This looks brilliant. I want one but I just recently bought a G pad Posted via Android Central App

It is extremely disingenuous to say the processor has 192 cores. The K1 is a penta-core processor. It has a GPU that has 192 cores. The K1 is NOT a processor with 192 cores. Or, unless you'd like to start saying that the Moto X has 8 cores, or the Apple A7 has 6 cores, or so on... Posted via Android Central App

How is the screen quality compared to the Nexus 7 2013? And: How many games support the "move to SD" feature or how its called?

This looks great. I don't even want most of the gaming capabilities, but with the K1 this will be blazing fast, and the stylus will just be icing on the cake. Superb just as a general android tablet! Posted via Android Central App

This looks good but the Xiaomi MI pad is more equipped and has the same tegra K1 stuff.

It's an iPad rip off with a weird aspect ratio for Android and doesn't seem to be available in any country outside of China Posted via Android Central App

Hm only $299? This is a must

I prefer the Mi Pad. It's cheaper :D

Hi Andrew, Would you say the size of the device is the same as the Nexus 7 (2012) ? (Since the Nexus 7 2012 had all that bezel.) Or is it larger?
Android Central Newsletter
Get the best of Android Central in in your inbox, every day!
Thank you for signing up to Android Central. You will receive a verification email shortly.
There was a problem. Please refresh the page and try again.