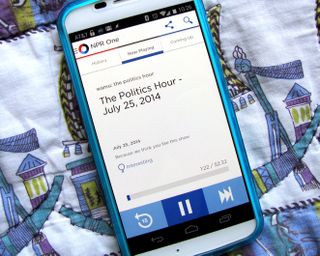 Nap-inducing informational radio at the tap of a button, but is it enough to keep you engaged?
NPR, the gold standard of public radio, has a new web service called NPR One, which launched with a web service and apps for iOS and Android. The service ties in with your local NPR station to help keep you connected with local and national stories. However, in a crowded market with internet radio apps such as TuneIn (opens in new tab) and iHeartRadio (opens in new tab), does NPR maintain its shine? Or is it just another app muttering in the background of the Play Store?
NPR's layout is simple, somewhat plain, and with a slight air of sophistication. White screens, light blue playback controls, and relatively simple interface. You can swipe back and forth to go between your history, current story, and the upcoming stories. You can tap to mark a story interesting, but I haven't seen the suggestions change much during my use.
Seeking is simple but deliberate, and it's very easy to get to exactly the time you're looking for. And that came in quite handy a few times, because sometimes if I paused the app and left, I would find myself at the beginning when I came back in.
This app is where you need to crank it up to 11...
NPR's characteristic quiet is here, and that's bad news to anyone who shifts between media apps frequently. I consistently found myself turning it up over the course of my listen, and then having to rip off my headphones and turn them down when I switched back to Play Music.
There is no widget, so thank god the expandable notification for this app is well done. You have the same three controls you have in the app: rewind 15 seconds, play/pause, and next story. The first time I used the app the notification didn't show up, and it's happened a few times since then. And that's slightly important, seeing as Bluetooth controls are equally hit or miss with NPR One. Half the time it played, half the time it started up Google Play Music instead. Both times, NPR was the last thing that had played, and the notification was still in the shade.
Control situation notwithstanding, there's not much here to actually control because there's not much to listen to. As it stands, you're likely going to run through the current stuff and get into random archives and go listen to something else in about a quarter-hour. Apart from the times I listened to full-length programs like 'Wait Wait... Don't Tell Me', I consistently found myself getting bored after about 20-25 minutes. You can see only five stories ahead (which is five more than their web player), and if none of them interest you, you still have to click through at least one in order to move the playlist forward.
If I went from the default news stream into suggestions - which was almost entirely populated with podcasts, I found myself stuck there until I switched stations and switched back. This was the only way to get back to the traditional stream and current content. Also, content does not vary much between stations, switching between Dallas, Waco, and Austin's NPR stations, but at least if you set your local station you can donate whenever that 'viewers like you' ad comes up. It's not an IAP to donate, if you hit the button they'll send you emails with donation details.
Suggestions do not change much, in part because you can't specify any preferences beyond the 'interesting' light bulb on each post, and more importantly, you can't state any disinterests. So I can't say that I don't care about milk prices or foreign money markets. The search function isn't that helpful either, as it's something of a roulette wheel what older stories will actually show up. It didn't bring up anything for me using several different search terms.
And I hope the headline of your segment is descriptive, because that is pretty much all you're getting. No summaries, no bullet points. Just a headline that may or may not tell you what the whole story/show is. There is no pinning content for offline playback, either, so for those wanting their public radio on a train or plane are out of luck.
NPR One is like that scone you see behind the counter at Starbucks. It looks beautiful, but leaves you feeling empty and longing for something else to fill the void. A beautiful app cannot mask a lack of content, and while NPR One does a good many things right (seriously I wish Google Play Music did seeking this well), there is far more that it does wrong or doesn't do at all. Until there's more to listen to and more control over that, I suggest you head elsewhere for your monotone talk radio.
Ara Wagoner was a staff writer at Android Central. She themes phones and pokes YouTube Music with a stick. When she's not writing about cases, Chromebooks, or customization, she's wandering around Walt Disney World. If you see her without headphones, RUN. You can follow her on Twitter at @arawagco.
I'd like to see more app reviews like this. Maybe a daily article of an app someone may not be able to find with a little coverage.

It is great to see an in-depth review of a news radio app. I think there is s tension between exploding radio news into customized collections of stories and doing a better job of giving people quick access the headlines from lots of sources. My 1 Radio News app - http://1radionews.com - chose the quick and simple route - headlines, shows, and live streams in English from 60+ countries. While my Pro version had a 4.7 rating, it hasn't been discovered by an app review site ... yet! :-)

I'm going to suggest that my friend try this app. Posted via the Android Central App

That's cool. I'm sure everyone cares to know that. Posted via Android Central App

No kidding. People are getting more rude here every day. Posted via Android Central App

Is there an app that allows offline playback of podcasts? Posted via the Android Central App

There are quite a few. Personally I like PcketCasts. Posted via Android Central App

I use pocket cast. It's fantastic. Download all my podcasts on WiFi at home then listen to them at work. No internet needed once you've downloaded them. Posted via Android Central App

If you're talking about NPR podcasts specifically, they have a whole separate app for those. Just search "NPR podcast" in the play store. It's really good, I use it all the time.

The official NPR app for podcasts and stuff is called NPR News. It's pretty good, but I've had some issues with playlists.

Nah NPR news is something different (I have both). This is what I'm talking about. https://www.androidcentral.com/e?link=https2F2F... Now that I look at it, maybe it's not "official" but it's a great app nonetheless.

Ah, yes. That's the same one I use. I like it a lot.

Try Pocket Casts. I am new to Android (2 weeks) and a former iPhone user for many years and just spent a good deal of time searching apps day and night. Pocket cast is nice and does let you download casts. Also had a nice widget. Good luck. Posted via Android Central App from Samsung Note 3

The only thing I really missed when I sold my iPad and got a Nexus tablet was the NPR app for iOS. It was optimized for tablets in a way that the Android version never has been.

Hmm, works in the UK. I didn't expect that. Posted via Android Central App

here a silly question... What device is that on the first picture?

Would appear to be a Moto X I believe. Posted via Android Central App

Definitely a Moto X. Posted via the Android Central App

That's the farthest from the dumbest question or comment I've seen here buddy. No worries. Posted via Android Central App

If my name is on it, it'll be a Moto X until they give me a review unit or I have to go buy a new one.

Thanks for the replies.
(I have never noticed the Moto X in white.) Looks Pretty. And yes, I did liked the review.
:) Keep them reviews coming!

It doesn't sound like that great of an app(and that doesn't really surprise me), but it would have been better to have someone who actually likes, listens or at least knows a little something about NPR do this review without the snide commentary...(nap-inducing?). NPR actually has some good programming, but I know it's not for everyone.

Seemed pretty educated to me. She mentioned she enjoyed the talk radio, just that the app wasn't all that great. Posted via Android Central App

and NPR can be nap-inducing

You have to admit that some of its programming is executed in a way that could put a kid with ADHD into a coma Posted via Android Central App

If I could set a proper playlist, it'd have been fine. Once they went into archives with milk prices and McDonalds business practices, I was reaching for that quilt in the hero shot.

Does the writer listen to NPR regularly? If not, her disappointment with the "monotone" might be generational. As a regular NPR listener, I find the app quite useful. There are a lot of people who can do without the screaming and shouting of current news media.

Good comment. The review sounds like it's more about NPR than about the app. If you don't like the network, you shouldn't be reviewing the app. Posted via Android Central App

I think you guys just picked and chose what you wanted to read from the article. She made a few lighthearted jokes about the monotone-ness of npr, but the vast majority of the review was actually quite informational of the app itself. Posted via Android Central App

The force is strong with this one... And yeah, monotone was a bit of a joke. The podcasts weren't monotone but the newscasts always were. I'm not against NPR, but I am against not having a choice in what I listen to.

If you want "a choice in what I listen to" why review an NPR specific app? There are lots of apps out there that will give you as much choice as you want. Obviously, the NPR app is to listen to NPR content. If you don't like the content, it makes no sense for you to review the program. And the snideness was totally unnecessary. Really not worthy of AC.

There is great diversity in NPR content. I'd like to listen to the hourly news updates, political content, technology content, and a couple of podcasts. If this was just a live stream of the current local NPR radio station, I'd accept not having a choice, but this isn't that.

actually a little less "diversity" now that Tell Me More is gone but I digress

i'm excited for the hosts conversationally whispering into the mic...haha

And with their mouths way, way too close to the mic. I'M LOOKING AT YOU, TERRY GROSS.

whenever I think of NPR. I can't help but laugh over the SNL 'Delicious Dish' bit about 'Schweddy Weiner' with Alec Baldwin

I haven't noticed any distortion, or exploding 'p's. What makes you think she has her mouth too close to the mic?

Yep - really disappointed with this app. (fyi a completely broken version was released to kindle fires via amazon store a while back) .... I love the way it looks and agree with many of the points made in the article. I just wish that the very limited personalized stream feature was just part of the app... example: the front/home/landing page... From there you could swipe over to a truly live feed from the local station of your choosing. Podcasting and the NPR hourly news is odd... Feedly (and Google before it) doesn't seem to poll feeds immediately... and I'm getting the feeling that Pocketcasts also doesn't. I feel like I need to use a standard RSS app if I want to get the NPR Newscast immediately upon its posting. GReaderPro supports a local RSS setup but I'm using that for feedly subs... Wish the DEV would add local RSS to News+ I think doggcatcher is polling each feed upon refresh tho (of course this takes much longer than eg Pocketcasts) I had this idea about seeing if I could use Tasker to update NPR feed hourly - perhaps 8 minutes after each hour - then auto download and play the newscast. Posted via the Android Central App

Good to know I can get my fill of left wing commu-news via this app. I will listen to it all the time while I am kayaking.

There's also CNN for that, or Bloomberg. Posted via Android Central App

So impartial news is automatically left wing now? That's a nasty stance. From Wikipedia: "Surveys and follow-up focus groups conducted by the Tarrance Group and Lake Snell Perry & Associates have indicated that, "The majority of the U.S. adult population does not believe that the news and information programming on public broadcasting is biased. The plurality of Americans indicate that there is no apparent bias one way or the other, while approximately two-in-ten detect a liberal bias and approximately one-in-ten detect a conservative bias."

It is only considered left wing because they choose not to report on every paranoid anti-government conspiracy theory out there. Posted via Android Central App

With all due respect, 90-plus percent of reporters at NPR are self-described liberal Democrats. It might not be as in-your-face as that Maddow guy on MSNBC, but you can't tell me they ignore their own ideology when choosing what to cover, who to interview, etc. It's liberal bias, and that stupid Wikipedia poll means nothing.

Yeah. NPR is pretty weak compared to the intellectual programming on Fox, huh? Posted via Android Central App

Wikipedia didn't conduct the poll - that's evidenced in the quote itself. You're wrong. The reporting NPR does is nearly always impartial. Reporters don't have to have no political affiliation in order to report news without political spin. The "us versus them" mentality is wrong, wrong, wrong. Just because someone doesn't take a conservative stance does not make them your enemy. What you should be wanting from your news is simply to be told the truth without being told what to think.

Thanks for the detailed review! Well done, and I liked the wit in your commentary. I think Ryanmtech's comments were spot-on as to those who seem a bit oversensitive. No one has to defend NPR. As you said at the top, it is the gold standard of talk radio. Thanks for giving me the info necessary to help me decide to wait until the app matures a bit.

Thanks brother. I felt the same way. I'm a fan of NPR all day but this app does not look like the way I would like to enjoy it. Posted via Android Central App

Is there a way to try the app before registering? Paying with my personal info just to