News on Android 6.0 Marshmallow update for BlackBerry Priv coming in later in Q1 2016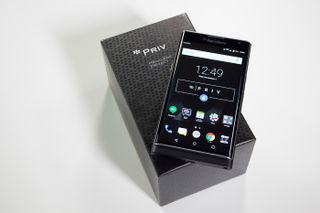 Owners of the BlackBerry Priv will have to wait a bit longer to find out when the Android-based smartphone will be updated to the current Android 6.0 Marshmallow version. During a CES 2016 presentation, BlackBerry executive Ron Louks stated that news about when the update will be released will be revealed sometime in the first quarter of 2016.
Louks also stated there will be news on new third-party accessories made for the Priv sometime in the next few weeks as well. It's possible BlackBerry could use the Mobile World Congress trade show in Barcelona, Spain in late February as the time and location for these new announcements.
Hmmm...sittin pretty here... 6.0.1 and the jan security patch just dropped... Nexus 6p, go figure ;-) Posted via the Android Central App

Pretty sure Priv is 99% Vanilla too, so...

95% haha Posted via PRIV by BlackBerry

Thanks for telling us what software version the nexus are on, we all forgot. Pants

Nice Posted via Nexus 6 running on any data plan I want

What's a Nexus, again? I swear I've heard the name before. Posted via the Android Central App

Interesting that no news is news. Posted via the Android Central App

They should have said nothing, this makes it seem much worse than it probably will be. I'm all likelihood, the Priv will get Marshmallow in mid to late February. And they'll announce it a couple of days before. But by saying they will give NEWS of when the update will come, any time between now and the end of March, they make it sound like you could be waiting until April for the update - which is very unlikely. Posted via the Android Central App

Yea they should have just stayed quiet on this one. Posted via Material AC app running smores.

Agreed LG G3.. waiting for Marshmallow...

Come on kiddo give BB a break they're new to the Android game. Maybe they just got over excited. They'll soon learn to stay quiet until 72 hours out.

I'm sure they will 'kiddo', but the stakes are a bit higher for Blackberry than for most. They need to be careful with their PR. Posted via the Android Central App

I think communicating with your customers is the best bet. Nothing really lost by letting users know that they will announce when the update should be expected. Posted via the Android Central App

Didn't HTC get burned before or was it Motorola for promising a date and not delivering. Then again there is plenty of leeway for this announcement. Posted via Nexus 6 running on any data plan I want

Htc twice. Posted via the Android Central App

HTC did this twice, and it was idiotic. Both times they missed their projected dates by just a few days, and they still delivered in a timeframe that was perfectly acceptable, but because they missed the date that they promised, they looked like ********. Better to just shut up and make the announcement when you KNOW the release is imminent. Posted via the Android Central App

Don't hold your breath Posted via the Android Central App

So, check my comment history, I've talked a lot of crap about this phone on the past. I still think BB is desperate, I still think it's a sinking ship, and I still think the Priv will do nothing to save them. That is a nice piece of hardware though, got to play with it over the weekend and damn. Posted via the Android Central App

I did as well... I'm actually thinking on getting one.... Temptations.... They are evil... Lol Posted via Apple 6s+ or Note 5...

So...Blackberry just announced that the update will not be in Q1?

That's what it sounds like doesn't it? I'm confident (based on no inside info) that it will be out by the end of February, but the way they said it, makes it sound like you won't get the update until April, which seems unlikely to me. Posted via the Android Central App

I think telling your customers an update timeframe is either a great PR thing if you can meet that, or a hopeless disaster if you can't. Just don't give promises that you are not sure you can deliver and you'll have some leeway.

I think I heard Jim Balsillie say it was 60 days. ;)

So this is a news article about news that haven´t come out yet... Talk about teasing.
Android Central Newsletter
Thank you for signing up to Android Central. You will receive a verification email shortly.
There was a problem. Please refresh the page and try again.