Is the new Wear OS a victory for Samsung or Google?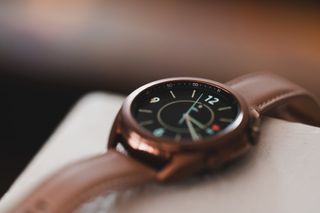 (Image credit: Hayato Huseman / Android Central)
The announcement of a new wearable OS from Samsung and Google was arguably the biggest news from a Google I/O 2021. In the seven years since it debuted as Android Wear, Google's smartwatch OS has undergone major technical, design, and branding overhauls as it's attempted to compete with the Apple Watch. But this will be Wear OS's biggest change yet, effectively hitting the reset switch on a platform that's seen, at best, only modest success.
At the same time, the collaboration with Samsung calls time on what has been a relatively successful run of Tizen-based smartwatches, bringing big changes for an important part of Samsung Mobile's business.
Many factors are responsible for Wear OS's stagnation over the years, from lack of competitive silicon from Qualcomm to Google's failure to attract developers. It's been a couple of years since Wear OS was prominently featured at a Google I/O keynote, leading to speculation around the platform's future.
What's more, Wear certainly hasn't been helped by the fact that Samsung, which sells the lion's share of Android phones in the U.S., dropped the OS early on to develop its own competing platform. Samsung's Tizen watches started out looking goofy and packing features like built-in cameras, but eventually matured into the strongest rival to Apple's wearables. Galaxy Watch devices have regularly ranked among the best Android smartwatches.
Nevertheless, despite being compatible with other Android phones and even the iPhone, the likes of the Galaxy Watch are largely seen as accessories for Samsung handsets.
And while Samsung is in a stronger position than Google in terms of its wearables strategy, the new collaboration acknowledges that neither company alone can take on Apple. Each has unique expertise: Certainly, Samsung's silicon know-how will benefit the new platform, giving Google a viable alternative to Qualcomm for processors used in the new watches. And Google, platform holder of the world's most-used operating system, knows a thing or two about software.
It's tempting to imagine Google going cap-in-hand to Samsung and offering stacks of cash to effectively take over its Galaxy Watch series software — and sure, money very likely did change hands to make the new Wear OS a reality. But the new platform is also a better fit for manufacturers like Samsung with a strong design identity.
Source: Google
Unlike Android Wear or Wear OS, the new platform will be as customizable as Android itself (while hopefully avoiding some of the pitfalls of early Android's fragmentation.) The next Galaxy Watch will look and feel as much like a Samsung watch as any of the current models. Meanwhile, the Korean firm benefits from collaboration with Google on the software engineering legwork and the larger developer audience the new platform should command. In terms of sales, it also doesn't hurt to have Samsung as a major partner in this new platform; many non-Samsung watches may end up running on Samsung silicon.
On the Google side, the upcoming Pixel Watch (or possibly Fitbit Watch) will likely resemble the screenshots and animations shown at I/O 2021. And hopefully, it'll also perform a whole lot better than the current set of Wear OS devices. Creating an entirely new platform lets Google make a clean break from the legacy cruft of Wear OS as it exists right now — at the time of writing, Wear is basically a fork of Android 9 Pie and has been since late 2018. At the same time, Google will be looking to keep onboard major Wear OS partners like Fossil and continue to provide a turnkey smartwatch solution for smaller brands. Having a major silicon and display provider onboard will surely help with that.
We're still a few months off from seeing the next generation of Wear OS devices, which are likely to land alongside Android 12 later in the year. But when they arrive, we could be seeing the first serious competition to the Apple Watch in years. That's something neither Google nor Samsung could have achieved alone.
Android Central Newsletter
Get instant access to breaking news, the hottest reviews, great deals and helpful tips
Alex was with Android Central for over a decade, producing written and video content for the site, and served as global Executive Editor from 2016 to 2022.
We should probably see how it turns out first. But I would imagine it's Google that will get most of the glory, especially once the fall Pixel love fest begins.

Really don't get the concept of competing with the Apple Watch. Not like an Android user can make use of an Apple Watch. While an iPhone user can use of a Wear OS/Galaxy watch, why would they? Fitbit is a different story. They have a fitness story that spans mobile OSs. If they dilute that Fitbit brand, I bet they lose a lot of iPhone sporting Fitbit users to Apple Watch.

This is largely a press narrative as they compare every smartwatch to the Apple Watch even if it has a completely different purpose like Garmin.

It's a victory for Google. There are quite a few Galaxy Watch owners who just got screwed since there is no plan to update watches we JUST bought. Add to that the fact that we still don't have working blood pressure in the US and the talk of blood glucose being scrapped, Samsung won't see another dime from me until my current watch dies. Pushing the Watch 3 so hard while knowing they were end of lifing the damn thing for wear doesn't scream take my money.

It'll be a wash for Google if Samsung can't compete hardware-wise (e.g. the glucometer) with Apple. And for Samsung, they'd be relegated to afterthought status.

However this new partnership works out, one thing is for sure...wear os cannot get any worse, short of stopping working altogether. I switched to Android in 2017, and have been mightily impressed. So, in 2020 I figured it was time to extend my Android suite and hop on the wear os wagon. While the hardware is ok (Falster 3) the operating system is awful. System settings are complicated, there are virtually no apps worth downloading (ever tried to use Google maps on a 1.5 inch screen 😫), the graphics are poor, and battery life is less than a day even if you hardly use it. Also, it randomly resets certain features every other day. I use tilt-to-wake, but when the battery gets below 20% (which is normally by about 5pm every day) the watch switches to tap-to-wake. However, even when its been fully recharged, it doesn't default back to my tilt-to-wake setting. Instead, I have to dig into settings and manually change it. I'd like to believe that Samsung's hardware, software and os skills could do offer some serious upsides for wear os, because it feels like Google gave up a long time ago
Android Central Newsletter
Get instant access to breaking news, the hottest reviews, great deals and helpful tips
Thank you for signing up to Android Central. You will receive a verification email shortly.
There was a problem. Please refresh the page and try again.