New The Walking Dead mobile game teased: No Man's Land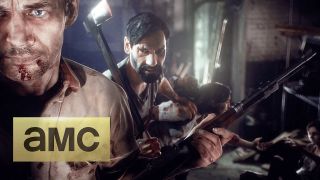 A cryptic teaser video has been released by AMC depicting an upcoming Walking Dead game for mobile called No Man's Land. It promises to bring some great-looking graphics to the table and the hard decision-making that we're used to from the Telltale games. There aren't a lot of details to run on, but here's what the press release says.
I'm reminded a little bit of the yet-to-be-released war survival game coming from 11bit called This War of Mine, and I'm curious to see which one comes out first, and how similar they end up being. Telltale's game was dramatic and hugely successful, while there was a run-and-gun title called Assault which wasn't quite as compelling. With any luck, No Man's Land will be just as more about strategy than anything.
No Man's Land is launching in early 2015, alongside the mid-season premiere of the TV show. What would you guys like to see from the next Walking Dead game? Are you up to speed on the TV series? What did you think of the previous Walking Dead Games?
Source: Next Games
Simon has been covering mobile since before the first iPhone came out. After producing news articles, podcasts, review videos, and everything in between, he's now helping industry partners get the word about their latest products. Get in touch with him at simon@futurenet.com.
Will someone please just make a good survival horror/open world zombie game already.

+1 Posted via Android Central App

+2 Posted from my Nexus 7 2013 running Android L or Samsung galaxy S5

State of Decay isn't too bad.. especially for $20. Or were you talking strictly about mobile?

I will need to look into that, and I certainly wasn't talking about mobile. Thanks. The closest I have had to what I am looking for was red dead redemption's undead nightmare. If you could mix that with the mass-effect, I might never get anything done again.

Didn't Day Z get a lot of praise? Kinda hardcore, I never tried it as I never even got into ArmA but I think they later released it separately rather than as a mod.

Different game style but project zomboid is pretty word Posted via Android Central App

And check out survive the nights on kick starter Posted via Android Central App

Looks awesome, but yikes- 2015?!? Is that Aaron Eckhart with the Axe? I just want more episodes for the season two game for Android for now. Well that and a 3 month visit to earth 2 were zombies and the stories you see on the WD are very very real.
Posted via Ash Williams Boom Stick!

It's going to be a IAP hell Posted from my Nexus 7 2013 running Android L or Samsung galaxy S5

What the heck is that alien head thing sticking out her backpack??
Posted via Ash Williams Boom Stick!

Early 2015 huh, I would say Dayz for pc, but it's in Beta and will probably be that way for years to come. Posted via Android Central App

I loved the last of us on ps3 Posted via Android Central App
Android Central Newsletter
Get the best of Android Central in in your inbox, every day!
Thank you for signing up to Android Central. You will receive a verification email shortly.
There was a problem. Please refresh the page and try again.