Google Play Store redesign rolling out with bottom navigation bar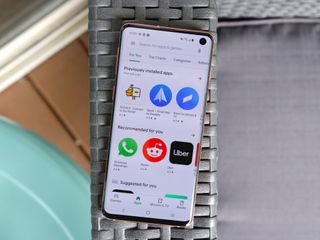 (Image credit: Joe Maring / Android Central)
What you need to know
The new Material Theme version of the Play Store has started rolling out to users.
It is available with the latest version of the app which can be downloaded from APKMirror.
Google Music has been removed from the navigation bar but can still be found in the pull-out menu.
The new Material Theme Play Store redesign is now rolling out with version 15.1.24. The refreshed design updates the Play Store with a clean whitewashed theme and drops the green. You might remember we first covered this back in April when the new design was discovered from an APK teardown.
Besides dropping all the green, it has also moved the navigation bar from the top to the bottom and removed the music category. No worries though, you can still browse music by opening it from the hamburger menu.
Some other immediate changes you'll notice include more rounded corners, a new font, and the new flat design that no longer uses a card interface, lines, or drop shadows.
The app pages have also gotten a major facelift, with the ratings and stats pushed to the top and an install button that now runs the entire horizontal length of the page. Not only that, but when you install an app the old download bar has been revamped into a circle that goes around the app's icon.
Overall, the new design provides users with a cleaner and more cohesive look which brings it up to date with Material Theme standards. If you've been following Google's other apps, you'll know we've seen similar facelifts for Gmail, Google Drive, Google Voice, and a few others.
If you're not yet seeing the new design, make sure you have version 15.1.24 of the app or download it from APKMirror. If you have the latest version of the Play Store and you still don't see it, try clearing the cache in the app settings.
Not only has the Play Store gotten a big UI refresh, but Google has also been making changes behind the scenes. On May 30, we reported on big updates to Play Store policies regarding sexual content, hate speech, loot boxes, and the sale of marijuana.
New policies from Google will make apps safer for your children
Android Central Newsletter
Get instant access to breaking news, the hottest reviews, great deals and helpful tips
LOL. And yet the search and menu buttons are still at the top. About par for Google lately I guess. Bottom is better, but why go halfway? Oh well.

I was just thinking the other day how odd that Netflix moved the search to the bottom, long ago, yet YouTube, YTMusic, and YT TV all still have the search at the top right. Very annoying when you are trying to navigate one handed.

The only way I could justify this side grade in design is that there is greater potential for a dedicated dark mode in the future.

Hope it gets a proper dark theme.

Yes! Why isn't dark theme part of this release?

Miss my windows phone. Keep watching'material design' materialize into it anyway.

I agree! I accidentally busted my 950XL a while back. Strange that Android is just now getting this stuff. And people thinking Android invented this stuff. So funny.

I don't care if it's on the top or bottom. I just want it to stay put.

An update with more white and without dark mode, maybe one day

You beat me to it. But i'm starting to wonder if blinding all of humanity is somehow part of Googles master plan

Would love to see a dark theme! Hate....hate all this white. At least give us an option to use a dark theme.

Are they going to add a feature to scan Google play cards to add money to my account instead of typing the redeem code

My PlayStore version is 15.2.23 and I still not getting refreshed UI!

I miss the Windows Store on Windows Phone and Windows 10 Mobile. Had dark theme available from the beginning. Yet Google seems to like white themes everywhere.
Android Central Newsletter
Get instant access to breaking news, the hottest reviews, great deals and helpful tips
Thank you for signing up to Android Central. You will receive a verification email shortly.
There was a problem. Please refresh the page and try again.