New Google Play Store app sighted on Google+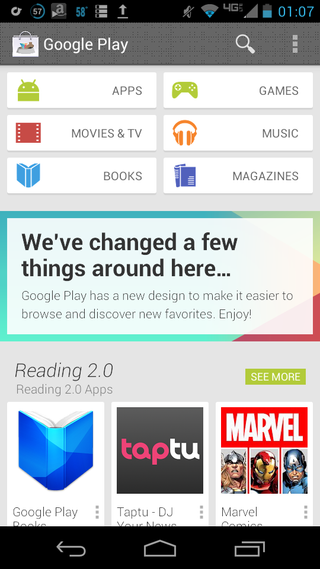 A visual refresh could be coming soon to Google's content portal
The last time the Google Play Store app got a major redesign, it was still called the Android Market. So we're about due a visual refresh, and it looks like a new version could be headed our way sooner rather than later.
YouTube's Eileen Rivera posted the screenshot above on Google+, showing a lighter, more colorful design with more prominence given to the main store areas, and larger app icons below. "Games" also gets its own entry, whereas before it was found under "Apps."
Right now it looks like Google's just "dogfooding" (opens in new tab) this new version of the Play Store among its employees -- check out the little dog bowl icon on the top left -- but if Googlers are posting pictures of the new app publicly, chances are we won't have too long to wait for the public roll-out.
Source: +Eileen Rivera
Alex was with Android Central for over a decade, producing written and video content for the site, and served as global Executive Editor from 2016 to 2022.
The dog bowl is in the top left next to Google Play. I thought I was going blind looking in the top right.

Me too, holy shit I was so concerned.

Same here. Looks like my wife isn't the only one who doesn't know their right from their left.

Not only did he get that wrong initially he also thought the dedicated games icon is new. It's been there for months already.

Alex why delete my posy all I did was ask what happened?

So will this be announced at the Google i/o? And is that 4G on a nexus device?

Not necessarily a Nexus. Lots of devices use the soft keys now (Motorola, for instance).

lol. anyone remember the galaxy nexus on verizon? That had 4G LTE.

I doubt it's a nexus....if you look at the 4g logo it's Verizon's....I'm guessing it's a Razr HD....I have one

plus it has the smart actions icon in the notifications bar, definitely a moto phone.

well, it is a motorola, since it has the smartactions notification in the top left

I want new redesigned Play Store!!!

Games already has its own section on the home screen in Version 3; it just isn't designed the same as Apps/Music/Books/Magazines/Movies & TV.

I must have missed something... my opening page of market already has a dedicated games entry... Well, someone got to it before i did.

There is a 'Games' section now but it isn't in line with all the other official sections of the store. The button looks different and sits where they could swap it out with something promotional at any time.

And they do. Isn't there some of the time on this HTC One in the UK.

That makes sense to me. The store fronts have to vary depending on country due to international trade rights, etc. Kind of like how a Wallmart in the US is different than a Wallmart in Germany.

http://www.androidpolice.com/2013/03/20/possible-google-play-store-versi...

Holy active notifications, batman!

How about some discounts to celebrate? Awesome.

It's about time. The Play Store needed some kind of Spring cleaning. Hopefully they won't have things in obscure places.

Yeah yeah yeah, there's a game button. Let's hope there is a game center.

And there it goes, the post has been deleted lol

What happened originally, Alex deleted the posts before I could read it

Droid-life leaked this and more weeks ago? Gotta give credit where it's earned..

Except that the version they showed off wasn't working 100% and the main page on the store was blank because it wasn't active yet. Don't expect credit where it is not due. Everyone ran this today.

Looks good! Hopefully we all get it sooner rather than later.

Here's my observations of the screenshot are this. Definitely a Moto device on Verizon. Interesting part of it is the nav buttons are stock android. The RAZR line has different ones. Interestingggggg
Android Central Newsletter
Get the best of Android Central in in your inbox, every day!
Thank you for signing up to Android Central. You will receive a verification email shortly.
There was a problem. Please refresh the page and try again.