Nest Thermostats get even smarter with Google Now integration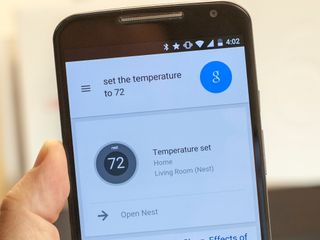 What you need to know about the new integration with Google and the high-tech thermostat
Google and Nest today quietly rolled out integration for the smart thermostat with the Google Now service. That means a couple things. First is that you'll know be able to use your voice to raise and lower the temperature on the Nest Thermostat. (And presumably you'll be able to adjust other aspects of it at some point.) Second is that Nest can now determine when you're coming home and adjust the temperature accordingly, just like your phone does when it shows you traffic or the estimated time of arrival. (And, indeed, this is functionality pretty much anyone could have seen coming when the $3.2 billion Nest-Google deal was first announced.)
The integration is still a little janky — and likely not completely finalized. But it's up and running on Android and iOS.
Here's what you need to know.
You have to give Nest permission to do any of this
First things first: You're still in control here. Your Nest doesn't know where you are yet, and you can't talk to it without giving it explicit permission to do so.
To start the setup process for all this, go to workswithnest.google.com. Click "Yes, I'm in," and you'll be asked to log in with your Nest username and password. (Yes, for some reason you still can't connect your Nest account to your Google account and just use single-sign-in like a civilized nerd.) That connects your Google account to your Nest (through the Works with Nest protocol), so one can talk to the other. Again, you'll to connect your account twice — once so it can predict when you'll arrive home, and again to control your thermostat with your voice. From there you'll choose which Nest you want to use the services with.
If for some reason you decide you don't want Nest and Google to play nice, you can unhook the two with just a few clicks.
A Google Now card will tell you what's happening
When you're headed home and your Nest decides you'd like it to be a little warmer when you arrive, you'll see a Google Now card stating as such. (We're still waiting to actually see one.) Makes sense, and is in line with what Google's been doing with its predictive services for months and months.
Controlling your Nest with your voice — just talk
If you've used Google Now and the "OK Google" hotwords before, you're pretty much good to go. "Change temperature to 72." Or some form of that. Raise. Lower. Increase. Set. Turn. There are a few dozen permutations of this (they're listed here), and it's just a matter of speaking.
Do keep in mind, however, that if it's the middle of the night and someone's sleeping next to you, it's probably a better idea to use the app — or to just get your butt out of bed and change the temperature yourself.
This works from more than just phones
We're talking Google and Google Now here, and that means you can set your Nest from more than just a smartphone. It works just fine from a tablet, and also from a Google search in a browser. (While going to the Nest site might be a smarter choice, remember this is about hotwords and voice.) Basically anywhere you can speak to Google is a tool for setting your Thermostat.
If you really want to peek into the future, consider this: You're in your home and have a Dropcam or two set up. Dropcam has a microphone. You say, "OK, Google, set Nest to 72." Dropcam hears it and passes it on to Nest, and the thermostat changes. It's possible.
It's not perfect yet
One thing to consider: While I can change the temperature using my voice, that assumes I actually know what the temperature it is. Obviously if it's figuratively freezing in my house, I'll be safe in making the change to an obviously warmer temperature. But for more discrete changes you're going to be better off using the app for now. An easy fix would be a confirmation dialog, perhaps, that also shows the current temperature inside the house.
Another little headache is that the card you see when setting the temperature by voice gives you an option to "Open Nest," but that tries to take you to the Nest website and not the app, which you have on your phone or tablet. (That's an easy one to fix, most likely.) And this is Day 1, and things obviously will grow and progress.
For now, have fun talking to your thermostat.
Pretty soon I'm going to have a hundred Google now cards showing at once.

"Set Nest to Home" and "Set Next to Away" do not work for me and others. One returns an error, the other simply returns results of a Google search.

This was the first thing I was thinking of too. Biggest use of the Nest app on my phone. Set to away and home. I don't change the temperature very often. Just use the automatic scheduling for that.

Now this is a good reason to get a Nest now. I have been waiting for this to roll out as my workplace has two Nest thermostats that would be nice to integrate to Google Now. Magenta is the new Yellow

I wouldn't, the current Nest is almost 2 years old. Hardware wise it's a dinosaur. Posted via the Android Central App

Is the comment above sponsored by Honeywell? Posted via Android Central App (Nexus 7)

I still ask myself this question today. Why did Google pay over 3 billion for a thermostat? Posted via the Android Central App

Why did they buy a mostly military robotics company aswell? They're expanding their control and influence into everything, creating the worlds largest corporate monopoly in history with massive amounts of power. The Europeans see this looming threat and have already started calling for their breakup. Posted from my HTC One M8 via Android Central App

Europe only wants the breakup of the search business. Different story Posted via the Android Central App

I will wait until it is not janky anymore...and then wait some more...

Doesnt work. When I attemp to tell the registration page "yes i'm in" It just errors and tells me An error has occured The requested service has not been authorized. Please authorize the service and try again.

I'm getting this same message, but i'll keep trying Update: Initially I attempted the connections via mobile device with no luck.
Tried again later on a desktop, success. Maybe give a computer a try in order to connect

Same thing here do it on a desktop browser just login to nest and goto the works with nest.

It assumes two things: that you've got a heating system controllable in that way....certainly not necessarily the case; and that your own warmth and comfort are that important to you....equally certainly not necessarily the case. Posted via the Android Central App

so happy i picked a nest up during blackfriday!

So, it works but what you cannot do is use the same command from my Moto360. Maybe after the 5.01 update??

It doesn't work from my gear live. I don't think android wear is supported yet. Posted via the Android Central App

Edit: It works when I set it up from a PC browser. It didn't seem to when I enabled everything from my phone though, odd. In any case .. AWESOME. This is very very very cool. I love this.

It would be great if one could ask Google what the current temperature is at home (according to the Nest t-stat at home) and Google would say it out-loud and/or show it on-screen.

Dang it! Knew I should've went Nest instead of Lyric :(

Sounds pretty cool once all the kinks are worked out. I really enjoy my Lennnox iComfort Wi-Fi thermostat that can access the five day weather forecast from the screen and has filter change reminders, all my HVAC company's contact info, etc. I'm guessing the Nest does all this through the app?

I wonder how it will know that I'm actually headed home, instead of, say, just moving around town in a similar direction as home. There are plenty of times I'll get the "XX minutes to home" card when I'm not actually headed home.

it sounds good I'm just wondering how much it cost. and does it start out free then they charge you for something if you let me know soon so I know stay on your page or not thank you have a good rest of the year
Android Central Newsletter
Get the best of Android Central in in your inbox, every day!
Thank you for signing up to Android Central. You will receive a verification email shortly.
There was a problem. Please refresh the page and try again.