Nest Thermostats get even smarter with Google Now integration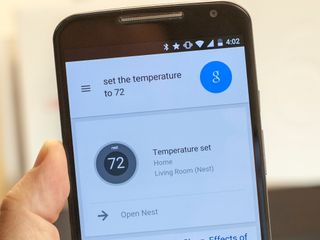 What you need to know about the new integration with Google and the high-tech thermostat
Google and Nest today quietly rolled out integration for the smart thermostat with the Google Now service. That means a couple things. First is that you'll know be able to use your voice to raise and lower the temperature on the Nest Thermostat. (And presumably you'll be able to adjust other aspects of it at some point.) Second is that Nest can now determine when you're coming home and adjust the temperature accordingly, just like your phone does when it shows you traffic or the estimated time of arrival. (And, indeed, this is functionality pretty much anyone could have seen coming when the $3.2 billion Nest-Google deal was first announced.)
The integration is still a little janky — and likely not completely finalized. But it's up and running on Android and iOS.
Here's what you need to know.
You have to give Nest permission to do any of this
First things first: You're still in control here. Your Nest doesn't know where you are yet, and you can't talk to it without giving it explicit permission to do so.
To start the setup process for all this, go to workswithnest.google.com. Click "Yes, I'm in," and you'll be asked to log in with your Nest username and password. (Yes, for some reason you still can't connect your Nest account to your Google account and just use single-sign-in like a civilized nerd.) That connects your Google account to your Nest (through the Works with Nest protocol), so one can talk to the other. Again, you'll to connect your account twice — once so it can predict when you'll arrive home, and again to control your thermostat with your voice. From there you'll choose which Nest you want to use the services with.
If for some reason you decide you don't want Nest and Google to play nice, you can unhook the two with just a few clicks.
A Google Now card will tell you what's happening
When you're headed home and your Nest decides you'd like it to be a little warmer when you arrive, you'll see a Google Now card stating as such. (We're still waiting to actually see one.) Makes sense, and is in line with what Google's been doing with its predictive services for months and months.
Controlling your Nest with your voice — just talk
If you've used Google Now and the "OK Google" hotwords before, you're pretty much good to go. "Change temperature to 72." Or some form of that. Raise. Lower. Increase. Set. Turn. There are a few dozen permutations of this (they're listed here), and it's just a matter of speaking.
Do keep in mind, however, that if it's the middle of the night and someone's sleeping next to you, it's probably a better idea to use the app — or to just get your butt out of bed and change the temperature yourself.
This works from more than just phones
We're talking Google and Google Now here, and that means you can set your Nest from more than just a smartphone. It works just fine from a tablet, and also from a Google search in a browser. (While going to the Nest site might be a smarter choice, remember this is about hotwords and voice.) Basically anywhere you can speak to Google is a tool for setting your Thermostat.
If you really want to peek into the future, consider this: You're in your home and have a Dropcam or two set up. Dropcam has a microphone. You say, "OK, Google, set Nest to 72." Dropcam hears it and passes it on to Nest, and the thermostat changes. It's possible.
It's not perfect yet
One thing to consider: While I can change the temperature using my voice, that assumes I actually know what the temperature it is. Obviously if it's figuratively freezing in my house, I'll be safe in making the change to an obviously warmer temperature. But for more discrete changes you're going to be better off using the app for now. An easy fix would be a confirmation dialog, perhaps, that also shows the current temperature inside the house.
Another little headache is that the card you see when setting the temperature by voice gives you an option to "Open Nest," but that tries to take you to the Nest website and not the app, which you have on your phone or tablet. (That's an easy one to fix, most likely.) And this is Day 1, and things obviously will grow and progress.
For now, have fun talking to your thermostat.
Get the Android Central Newsletter
Instant access to breaking news, the hottest reviews, great deals and helpful tips.