Nest Mobile for Android updated with tablet compatibility and stability improvements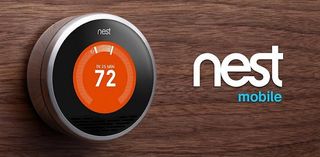 If you've bought yourself a fancy Nest thermostat, you'll want to go ahead and grab the latest software update for it that is currently rolling out. If you're an Android user though, Nest has gone a step further and addressed some of the concerns from owners looking to access their thermostat on the go. Previous versions of the mobile app were not compatible with tablets or even later versions of Android for that matter but a new version has been released and brings a whole slew of changes:
Now works with all Android devices (Android 2.2 "Froyo" or above), including tablets like Google Nexus 7 or Kindle Fire.
Improved speed and stability
Support for the 2nd gen. Nest Learning Thermostat
Support for System Match features (Early-On, Heat Pump Balance, True Radiant)
Ability to remotely lock your Nest
More info in Energy History
Nest Learning is now called Nest Sense
Now also available in French and Spanish
Overall bug fixes and improvement
If you're a Nest owner, go ahead and give it a go and let us know how it's working out for you. If you're looking to learn more about Nest and the recent updates, hit the source link below for further details.
Source: Nest
no monthly fees?
If that is the case I would get rid of ADT Pulse and switch to this....

Do you seriously have ADT Pulse solely for the thermostat, and not for security?

No monthly fees. Their website will walk you through checking to make sure The furnace and wiring are compatible. (apple type easy) There is also a 3m Thermostat that doesn't have quite the advanced learning capabilities for half the price or less. Depends what you need, my household has a strange schedule so the learning part doesn't work the greatest. Maybe it got better with this update. Very easy to install as well.

Well it finally loads on my nexus 7, but you cant adjust the temp from it. While this is kinda stupid they missed that I am happy I can atleast put it in away mode or remove it from away mode if needed.

Hmm. I can adjust the temp from my Nexus7. Weird.

Make sure you are in landscape mode... not sure that even makes sense on a tablet, I don't have one. On the phone app, you are limited in portrait mode, and have much more functionality from landscape... though I do not understand why that is.

Where in Canada I can buy this? Thanks.

The learning feature of the Nest, and the ability to change on the fly is why I picked this up at launch last year. My schedule changes daily, and the thermostat adjusts to that. With the new features (I like the new heating method, be @ 70* at 6 PM, instead of heat my house at 6 PM to 70*), I finally have exactly what I've been looking for in a thermostat. The energy reports are neat, though I still don't agree with the way they are reported in terms of how many "leaves" you have each month. I'm hoping they clear up the analytics a bit. All in all a great device, easy to install, easy to setup the network (you will have to login to your web based account to finish this), and easy to control.

I never had trouble using nest with a Nexus 7, or GS3. Maybe mine already had the update (I only bought it a few weeks ago).
Android Central Newsletter
Get the best of Android Central in in your inbox, every day!
Thank you for signing up to Android Central. You will receive a verification email shortly.
There was a problem. Please refresh the page and try again.