NBA Live '19: Everything you need to know!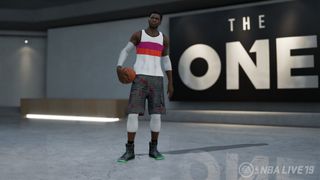 Basketball fans are getting ready for another exciting NBA season. Lebron James has moved to LA, and the whole league is about to get turned upside down.
There's no better way to feel like you're part of that action than with an annual sports game. NBA Live '19 is EA's pride and joy in that arena, and if you're wondering what it's all about we have you covered.
What is NBA Live '19?
NBA Live is a long-running franchise, reaching its greatest heights in the mid-2000s on the PlayStation 2 and the original Xbox. EA had dominated the sports genre in those years, but stiff competition showed the company had become quite stagnant, so much so that they lost a ton of footing. They not only suffered financially but also fell behind on innovation.
The situation reached fever pitch in 2014 when EA released a laughable game marred with bugs, unrealistic gameplay, and a shallow feature set. The snafu forced them to take the year off to rebuild the game from the ground up, and it wasn't until 2016 that the series returned.
NBA Live '19 is set to be the third game since the big rebuild, and the company seems to be taking the solid foundation they have and building on it to make a basketball game that just might be able to steal some of NBA 2K's thunder.
Build your career as The One
EA's goal for NBA Live '19 is simple: to make you the center of it. And by you, we mean your in-game character, who you'll make for the game's marquee mode called The One. Your superstar will start from the bottom and rise through the ranks to go however far you want to take him.
The One will be pushed by an original rags-to-riches story, complete with both on-court and off-court progression paths. For the on-court stuff, EA is adding a wealth of new abilities and player archetypes, including ICON abilities which are based on real NBA superstars and legends. These will be the most powerful abilities in the game and will likely only be rewarded to those who grind for them.
EA creative director Ryan Santos goes into a bit more detail about it here:
Once you're happy with your character, you'll be able to continue his legacy in other game modes, including The Streets and The League.
Hit The Streets with your squad
The Streets is where you take your character to compete when you're not actively chasing a ring. It's an online mode where players can team up in ProAm games to earn rank and rewards.
You'll play on a wide variety of real-world courts. There are legendary courts from all over the US featured in The Streets, and for the first time ever you'll also see some international courts from Paris, Rio De Janeiro, and more. EA hasn't revealed the full list just yet, but we're in for a regular stream of new courts to be added over the course of the year.
Similar to NBA 2K's MyPark mode, The Streets is mainly focused on 3v3 gameplay, where you and two of your buddies can go up against another squad. But if you're running solo, Live '19 lets you take in a squad of CPU players whom you can earn as rewards as you play. These squadmates will be actual NBA superstars and legends, so you'll want to collect as many as you can.
When you're feeling more ambitious, you can choose to take your player back to The League at any time to compete for an NBA championship. You'll practice and play in games to earn your scratch and help your team, and the rewards you get can be funneled back into your character with new abilities, attributes, and cosmetic upgrades to earn.
Off the court, your time will be spent building your social media presence to help keep your superstardom status. Sponsors will play air of your games, which will, in turn, help you gain more fans and get other NBA players to notice you. We're not sure how deep this aspect of the game will go, but it sounds like you'll be able to earn more rewards the more famous you get.
Gameplay keeps improving
It was important for EA to keep improving on the gameplay foundation established in the previous two games, and they're adding a few new things this year to keep the train rolling. Real player motion has finally arrived. It's a system that takes into account things like player weight and physics to make movements seem more realistic. The goal is to have a fluid and natural-feeling player movement system to give you total control as opposed to systems where you can sometimes feel stuck in an animation.
It's backed up by tons of new animations, as well as optimized player skeletons and player models. One of the benefits to real player motion will be your added ability to pull off moves with the left stick alone. The right analog stick is still used for pulling off advanced moves, but those who want to do basic stuff like left cuts, right cuts, and back steps will be able to do so on the same stick they use to control overall player movement.
Next up, off-ball gameplay is seeing some significant upgrades, something EA found especially necessary considering you'll spend a lot of time as a defender when you're playing modes where you only control one character. Whether it's squaring up to keep them from getting open or extending your arm into a passing lane, you'll now have more impact on the game when you don't have the ball.
Lastly, new "Dynamic Gameplay AI" will give players authentic on-court personalities. Each player will have a set of tendencies that can be triggered depending on how a game is going. A player with a hot hand may see his teammates passing him the ball more, and if he gets really hot, he'll even start trash talking. EA will do their best to incorporate real player behavior, too, such as Draymond Green's tendency to hard foul an opponent that is trash talking him or playing him too aggressively.
Where to pre-order
Pre-order NBA Live 19 right now, and you'll get access to The One edition for the standard $59.99 asking price. This comes with the base game, plus Joel Embiid as a squads player, his jersey, golden shoes, a golden basketball, his signature celebration, and a customized basketball court.
When can you play it?
NBA Live '19 lands September 7th, 2018 for PlayStation 4 and Xbox One. You'll be able to try out a free demo of the game starting August 24th.
Get the Android Central Newsletter
Instant access to breaking news, the hottest reviews, great deals and helpful tips.