MrMobile goes hands-on with the BlackBerry KEYone Special Edition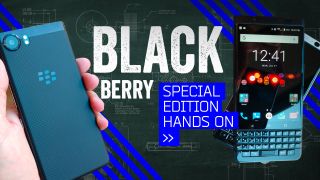 Normally, a new color option and a minor spec bump aren't newsworthy enough for a hands-on video. But the BlackBerry KEYone Special Edition (or, if you want to be all official about things, the "Limited Edition KEYone Mercury Black Device by BlackBerry made by Optiemus Infracom") is noteworthy for more than a new paint job. For one thing, the special-edition KEYone improves on the base model in RAM and internal storage, two areas it was especially lacking. And for another, it's assembled by an entirely different company.
Of course, there's more to the story, so click on through for MrMobile's BlackBerry KEYone Special Edition hands-on ... and be sure to check out all the BlackBerry KEYone Black Edition coverage on CrackBerry for all the fine details I missed!
Stay social, my friends
Android Central Newsletter
Get instant access to breaking news, the hottest reviews, great deals and helpful tips
Really liking the look of this one better

and I still cant walk out of a Best Buy today with the original KEYone. This one looks cool tho, thanks for the video.

Coming to US anytime soon? Didn't watch the full video, just skimmed through...

Currently India-only, with no currently stated plans to bring it to the US. Since it's apparently manufactured by a company that isn't TCL, I wonder if there would be some kind of contractual obligation preventing it from being sold in the US.

Thanks, I didn't think of the possibility of contracts and licenses; those always get in the way of great phones coming here to the US.

Phones too slow. Returned mine

I actually like the black and silver look better which is odd cause I love the black s8 - but different phones serve different purposes - would have loved extra RAM in my KEYᵒⁿᵉ though

I also prefer the Black sliver look. With my usage I have no issues with ram on the current model and the SD card slot means I don't really care about the internal storage bump since I already have a 64GB card in there. Nice to have more options but I wouldn't get rid of the OG model just to get this. If they would have gone with a snapdragon 630/660 plus the ram + storage bump plus Stereo speakers, OIS I would consider it.

Double post delete please!

Would love one of these if only just for the "Hey, what the heck is that you're carrying? A Blackberry?" reaction... No VoLTE, HDVoice, or Wifi Calling support on AT&T on any phone kills the deal for me now, though.

You can say Blackberry is the Pioneers and one of the Originals. The rest are followers..

And BlackBerry continues its great marketing campaign titled "Here's a great phone you can't buy"

I must be a wizard then because i've had mine for a month plus now.
Android Central Newsletter
Get instant access to breaking news, the hottest reviews, great deals and helpful tips
Thank you for signing up to Android Central. You will receive a verification email shortly.
There was a problem. Please refresh the page and try again.