Moving to Feedly? Here are a few more app options to access your feeds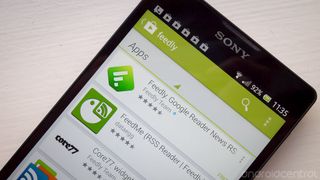 We're in a transitional phase, but there are a few great choices for Feedly RSS clients out there
While we've already voiced our position on which RSS reader is still at the top of the heap after the move over to Feedly, we know that not every app works for every person. In the move over to new back-end syncing solutions from Google Reader we've lost (or are in the process of losing) a whole lot of well-made clients. Luckily a few have stayed quick on their feet and have made the transition away from Google Reader so that users still have a few choices in the RSS client space.
Let's also hope that more readers can come out of the woodwork and offer even more options going forward, but for now there are still a handful of great options in the Play Store. Hang with us after the break and try a few more RSS readers on for size, and see if you can find one that fits your needs.
FeedMe
FeedMe is a nice basic and free RSS reader that now integrates with Feedly with the same basic sign-in function as the official Feedly app. The interface is simple and gives you a basic read-out of your RSS feeds, choosing to view either "unread" or "all" from the main interface. The app offers an ample number of settings to control sync and background updates, the number of items in your reading list, a light or dark theme, font size changes and many others.
Download: FeedMe (Free) (opens in new tab)
gReader
In contrast to FeedMe, gReader falls more into the "power user" space when it comes to managing and reading lots of RSS feeds. Now integrating with Feedly for its back-end, gReader has a bit more of a cluttered interface as a tradeoff for having lots of great options. The main navigation comes from a slide-in drawer on the left revealing feeds by folder, where you can then tap on one to view a listing of titles and first sentences. In this view you can star, mark as read, tap to view the whole article or perform a search. In the full article view, you get another full set of options including text-to-speech, zooming, sharing, viewing in an external browser, sending to Instapaper, sending to Pocket and many, many more.
The tweaks and options continue into the settings, where you can manage all aspects of the app from syncing and offline reading to notifications and the overall look and feel of the app. gReader won't be for everyone, but it certainly won't disappoint those looking for lots of options that can handle a little clutter. There is both a free version with ads and a paid version with no ads and a few extra features for $4.99.
Download: gReader (Free) (opens in new tab) / (Paid) (opens in new tab)
Reader HD
We're going to be brief with Reader HD, because while the developer has voiced that it will support both Ridly and Feedly before the July 1st shutdown of Google Reader, the app has yet to be updated with the proper support. We'll take the developer at their word and hope that the update comes this week, because Reader HD is another simple RSS reader that attempts to be as clean as possible in the delivery of your feeds. There's not a ton of flair here, just a basic folder layout that syncs your feeds and lets you access them by folder or by source. Let's hope this one doesn't get lost in the transition to new back-end services.
Download: Reader HD (Free) (opens in new tab) / (Paid) (opens in new tab)
D7 Google Reader
D7 Google Reader (with an unfortunate name now) is another client that has pledged that it is working with Feedly to integrate its new sync services on the back-end. As is the case with Reader HD, we've got just Google Reader sync to base our impressions on right now, and D7 is another simple client with a basic interface that lets you get at your feeds with minimal effort.
Download: D7 Google Reader (Free) (opens in new tab) / (Paid) (opens in new tab)
Feedly
As we covered in our tutorial for moving over your RSS feeds from Google Reader to Feedly, the first-party Feedly client is also available for free in the Play Store. It offers a basic set of features and a clean design that won't have you running for the hills. And because it is operated by Feedly itself, you're less likely to have any sort of issues going forward.
Download: Feedly (opens in new tab) (Free)
Android Central Newsletter
Get instant access to breaking news, the hottest reviews, great deals and helpful tips
Andrew was an Executive Editor, U.S. at Android Central between 2012 and 2020.
How about Feeder; really a good one!

I just wish Joaquim Vergès would update Minimal Reader to work with Feedly feeds. Such a nice simple and clean app with my favorite widget. Simple to read/auto-scrolling.

DoggCatcher is a top notch alternative!

Doggcatcher is great if you are listening to podcasts. I use it daily. It is atrocious for typical news feeds. Not even close.

Beyondpod just updated their beta to include feedly support. Has a built in migration tool, great app

Use BeyondPod daily ... LOVE IT! Love the SmartPlay feature and organize feeds for the ride into work each morning or during a workout.

Which of these has the best widget? That was one of my favorite features of Google Reader, I could easily browse headlines without opening the app. Posted via Android Central App

Press and gReader Pro both have scrolling widgets. My recommendation would be Press. Posted via Android Central App

Reader (linked in the article) has a couple of really nice looking widgets. Best I have found in the free choices so far...

How in the world do you not mention Press?

"voiced our position on which RSS reader is still at the top of the heap"
That is referring to yesterdays article about Press being the best RSS reader on Android. Click the link, you will see. Posted via Android Central App

That, and Press isn't even an option for those whose phones are still stuck on Gingerbread, which despite rumours to the contrary, is still a very large part of the market.

I like Scrollable News for the great widget. Thats one thing Feedly doesnt have, a great widget.

Press is quite intuitive but Feedly is complete for my needs and it looks great

Reader+ (formerly Reader HD) updated to support Ridly and Feedly today! looks like they did indeed make the deadline.
Android Central Newsletter
Get instant access to breaking news, the hottest reviews, great deals and helpful tips
Thank you for signing up to Android Central. You will receive a verification email shortly.
There was a problem. Please refresh the page and try again.