Xiaomi Mi 5 has already been pre-ordered by more than 16 million people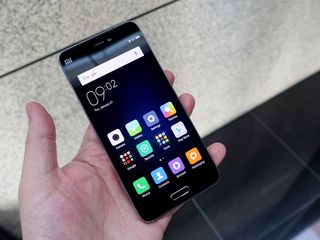 The Xiaomi Mi 5 has been pre-ordered by more than 16 million people according to an announcement on the company's official forum. The smartphone is set to launch in China on March 1, and with more than 16 million pre-orders it's turning out to be quite the popular choice.
Priced from just $300, the regular model has 32GB or 64GB of internal storage, a Qualcomm Snapdragon 820 processor with Adreno 530 GPU, 3GB of RAM and a 5.15-inch 1080p display. It's a remarkable device for the price tag.
See our hands-on with the Xiaomi Mi 5
There's no word on whether or not we'll see the Mi 5 hit other markets post-launch.
Source: MIUI
Anyone believing this? Posted via the Android Central App

Not really, but I don't really care unless they release a model for the US market with our LTE bands. Then I might pay attention as the price is hard to ignore for what the hardware appears to offer. Posted via the Android Central App

No reason not to believe it. They sell a **** ton of phones. Posted via the Android Central App

You know how many people live in China, right?

Not sure where you live, but China and India can pretty much be only market a company can be interested in and still sell most phones than anyone.

Yes. Let's see, China has 1.3 billion people or about 1/7 of the entire human population. Of course who wouldn't and I'll say thats mediocre Posted via the Android Central App on my Frost Nexus 6P

China... Posted via the Android Central App

Definition of a "Pre-Order" might be completely different from a US companies definition. For all we know a pre-order there might just be someone who fills out a name and email address and is contacted once they go on sale. Whereas in the US, they have to actually pay for it first to be considered a pre-order. I don't know how they did it. It just sounds like a big number, even for China.

no i tried, you actually have to pay for it. First come first serve

Incredible!!! Their cheap priced flagship phones are the best! Posted with ❤Love❤

what's there not to believe? by hardware specs it's as good as g5 or s7. if I were in China I would definitely preorder one. Posted via the Android Central App

Wow. Just.....wow. I don't even know how they got so many pre-orders. Then again, it is kind of a steal for what you're getting.

Well China does have over 1 billion people living the. 16 million is barely 1 percent of the population so I'd believe it. Especially for the price. Posted using my Moto Maker Moto X Pure Edition on Verizon... Unlimited Data as well...Android Central App helped as well ;)

Right...so people can believe 5 million iPhone preorders in the US, but can't believe 16 million preorders in China...by all accounts that's almost the same percentage... Posted via the Android Central App

Ah, right. The affordable price and the super high population of China does make for a winning sales combo. Hope they open it up to other markets eventually. Looks like a really awesome phone, especially for the price. A small loan of a broken G4

Does this thing at least make calls on T-Mobile here in the US? I would buy this even without LTE bands. Posted via the Android Central App

you would actually get calls along with 3g Internet, which is quite fast, even enough for youtube streaming. you won't be able to stream in hd...
I am thinking of getting one too. Posted via the Android Central App

I'd wait for us version. The right bands will keep you happy. But hey, if you get it for a good price then go for it. Posted via the Android Central App

They won't have US version. They only do China and India. Posted via Android Central App on Nexus 7

They announced at mwc that they will have a us version this time.

They did not announce that they would have a US version the only clear market they did talk about was China and India. Hugo said it's in there plans but no time line was given Posted via the Android Central App

Waiting for it to be released on India. Posted via the Android Central App

It's not hard to believe. There's 1 billion people in China soooo... Posted via LG H815

I really like the look of this phone. I'd definitely consider it if I was in the market for a new one. Posted via the Android Central App

Since it has a Qualcomm Chip u could root it and use a nvram flash to get more LTE bands. Posted via the Android Central App

There are a lot of "ifs" in between importing one and getting us LTE Bands. I wouldn't buy based on all those ifs until there is a proven test case and method. Posted via the Android Central App

Xiamoi is locking bootloaders now... Hope that changes or is hacked.

They are not locking anything stop lying! Posted via the Android Central App

http://www.xda-developers.com/xiaomi-locks-bootloader-on-recent-devices/

They are locking the bootloader. But they gave a reason for that and you can request an unlock code if you want to. Posted via the Android Central App

I'm probably in the minority, physical home button must go. Seems manufacturers are going the Samsung way, which makes sense, since they are number one. HTC and others. Posted via Nexus 6 running on any data plan I want

Yep, exactly. Watch for a bunch of edge screens next year lol Posted via the Android Central App

You're in a minority. I bought my wife a Meizu Note 2 last month and she only got it because of the home button. She didn't like the idea of having to find the power button to wake it up. Her previous phone was Moto G with a snap case. Posted via my Motorola Startac

Good luck on waiting, guys !

People the world is bigger than American. Travel sometimes and get out of your bubble. Why is it so hard to believe. That spells ignorance Posted via the Android Central App

I would say WOW, after looking at the specification of the phone I think Xiaomi Mi 5 will make high sales and reach to the sky in Asian Market. I would say Xiaomi should keep a fair pricing. There are lot of competitors in market comparing Xiaomi in price range, let's hope for the best. -M.R
https://www.o365cloudexperts.com

Is this the pre-order that just counts whoever signed up for it without any down payment and no obligation to actually buy it? Ya sure I'll "pre-order" one.

I wanna get one regardless if it doesn't support LTE bands here in the US. I already have my 6P and a Lumia device. Posted via the Android Central App on my Frost Nexus 6P

Take that sweet sweet profit, open a small distribution and service center in California and sell me a US version please!

Every other handset maker and carrier are breathing a sigh of relief this is not yet to the US. Who would not pick up one of these with the specs and price point? Apple and every other handset maker gouging the consumer would immediately be put on notice. It's a S7 or G5 or 6s for less than half the price. If Amazon carried this unlocked, carrier free and it had LTE bands I would have already pre-ordered one myself. Throw on Nova Launcher Prime, BlackBerry virtual keyboard, a good file manager and it would likely be as good as any Android Posted via Android Central App

If this was available state side I would have chosen it over the S7 Posted via the Android Central App
Android Central Newsletter
Thank you for signing up to Android Central. You will receive a verification email shortly.
There was a problem. Please refresh the page and try again.