MiHome Launcher [Android App Review]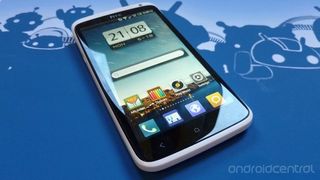 The MIUI ROM's by Xiaomi are an interesting take on Android, offering up something pretty different to everyone else. It isn't to everyone's tastes, but it's bright and colorful, simple, and very well designed. But, not everyone is into flashing ROM's and all that hack-foolery. We've already seen the MiLocker application hit the Play Store, and now the launcher has been separated off and released too as MiHome. There's a ton of launchers out there these days, but MiHome is pretty individual. We'll take you through it after the break.
First things first. There are two different apps in the Play Store for this one. Theres one for Gingerbread, and there's one for Ice Cream Sandwich, so make sure you download the correct version first. They are though, pretty much identical to each other. With that out of the way, once you're up and running, it really won't take long to get to grips with the ins and outs of this launcher.
MIUI often draws comparisons with iOS, and it doesn't take a genius to see why. Instead of having the app drawer we all know so well, all your apps are laid out across a number of homescreens. This is what sets it apart from other Android launchers, but at the same time could be the feature that puts people off the most.
It is fiendishly simple. There aren't dozens of custom settings that require trawling through menu after menu. Literally, setting MiHome as your default launcher is enough. OK, so there are some things you can change, like transitions, and wallpapers, but as we said, simple.
MiLocker is built into MiHome too, although can be de-activated. The themes 'app' takes care of the appearance, providing many, many different choices. The text is in Chinese though, so what they're called will have to remain a mystery in most cases.
Of course, Android does widgets, and despite bearing resemblance to iOS, MIUI doesn't do away with widgets. Along with including some of their own -- clocks, photo frames, their own search bar to name a few -- all widgets also work. The only thing that is difficult, is getting everything set up if you have 20 different homescreens that have become filled with application icons.
MiHome runs really smootly, and is really nice to look at. It's vibrant and fun, but at the same time it can be messy and frustrating. While folders are also included, the first launch resembles the bad old days of pre iOS4 iPhone homescreens. With a little time and effort everything can be organized to take up less screen real estate, but if you have a lot of apps, it isn't a task to take lightly.
It's good to see the MIUI launcher has been separated off from the ROM's, giving those who have always admired it from afar the chance to try it out without doing anything technical. That said, it definitely isn't for everybody. If you're a fan of something like Apex Launcher, this isn't likely to fit your needs.
Download: MiHome for Gingerbread (opens in new tab), Ice Cream Sandwich (opens in new tab)
Android Central Newsletter
Get instant access to breaking news, the hottest reviews, great deals and helpful tips
Interesting... I'm more a fan of minimalistic themes, I might have to give this a shot, just to try it out.

I'll use it when you can automatically sort icons like with Espier. It's just too much damn work otherwise to get it organized in any discernible manner...

It really isn't that much work. You create a FOLDER called APPS and drag all your icons in there. So easy. I ran this ROM for the longest time and that was my solution to the lack of an drawer.

the low resolution icons and graphics are a no-no for me

I have been using the actual ROM for over a year now and I love it. I think this launcher will give a lot of people the chance to see how awesome it really is.

Yuck . . . Never Liked MIUI and this isn't any better after I tried it...

I can't use a launcher that doesn't have (or have an option to have) an odd number of items in the dock and the app drawer in the center. Even with Gingerbread and Moto & Samsung phones I always made my phone this way.

Well, you can't have the app drawer icon in the center, since it doesn't have an app drawer. But I'm almost sure MiHome allows you to have an odd number of items in the dock (the launcher included in the MIUI ROMs based on ICS does, at least). BTW, I've seen a number of apps in the Play Store that you can use as an app drawer replacement.

You can have Up to 5 items in the dock. Also, try the app in the Play store called "Appdrawer".

6 icons. It can be a pain to get the sixth one in there, but you can definitely have 6 icons in the dock.

you can have an odd number of icons in the dock (up to 5 items, if I recall correctly), and if I'm remembering correctly, you could move all the app icons to a single folder and stick that in the dock, effectively turning it into an app drawer

That's exactly what I used to do when I ran MIUI. Worked perfectly. Loved MIUI, but couldn't live with the AOSP based camera app and the grainy photos it produced compared to the stock Sense camera in my Incredible 2.

'No App drawer' - I always hear this complaint when people talk about MIUI. Let me tell you - the app drawer is useless! What difference does it make if your apps are in the homescreens, or in an app drawer? You have to scroll through them in both cases. Putting all my apps in the homescreen allows me to organize them easily - e.g. different screens for media/social etc. And you can use folders as well. App drawer is like the 'all programs' list in Windows start menu - it is basically a long list of app names that's impossible to find anything in without a search.

Personally, I like the app drawer for the reason that there's many apps that I want installed, but use only rarely. When I want/need to use them, they're in the app drawer somewhere, but otherwise, they don't take up space on the home screens, which I like to keep to a minimum, holding only my most used apps. So, to each their own. I acknowledge your point, but I use the app drawer differently, and for me, it's still very much useful.

I probably wouldn't mind the lack of an app drawer if there were a way to auto organize or sort. Even little things, like a gap being created by removing an app would bother me. Otherwise, I thought MIUI looks nice and works well and I used it as a daily driver on the DInc for a long time.

Why not just make folders for the ones you don't use much, and keep the rest in the open? That's how I've been using MIUI for the past year and a bit. Got my folders for social apps, travel apps, settings, tools, web related and pictures. The ones I need are all on the homescreen. I know it takes forever to set up, but I only have 5 homescreens, one with a couple of widgets, the main one with a minimal clock, 2 with apps i use a lot and one with games. It takes getting used to but once you're used to it, you sort of think of it as a way of life. I always scroll through my homescreens on my tablet looking for my apps then I remember....App drawer.

tried it for a few days. interesting launcher replacement actually. for those days you're feeling a bit iOS-ish, this could be a good option instead. :)

I used it. . . . for 5mins. Then went right back to APEX. . . NEXT!

The name MiUI - The only reason MiHome is still on my phone. And I like using MiLocker from time to time. Other than that, MiHome is toally piece of junk.

I've been using the actual MIUI rom for over a year. The absence of an app drawer did initially take some getting used to, but it's not bad once you organize everything into folders. I have two screen with five folder, Apps, Games, Media, Tools, and MIUI (for rarely used items) if anyone was curious.

I like the look and simplicity, I just can't stand not having scrollable widget support.
Android Central Newsletter
Get instant access to breaking news, the hottest reviews, great deals and helpful tips
Thank you for signing up to Android Central. You will receive a verification email shortly.
There was a problem. Please refresh the page and try again.