The Mi Mix 2S gets a DxOMark score of 97 — the same as the iPhone X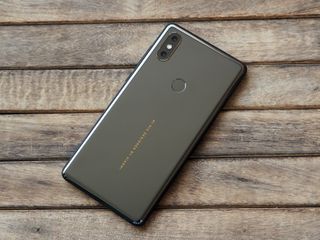 With hardware becoming commoditized, camera quality is increasingly becoming the differentiator for flagships. That's where DxOMark comes in — over the course of the last year, the website has become the de facto standard for measuring smartphone cameras. It's score is often touted by manufacturers during phone launches, and it's no different with the Mi Mix 2S.
During the unveil, Xiaomi CEO Lei Jun announced that the phone has picked up a DxOMark photo score of 101, with an overall score of 97 — the same as the iPhone X.
Like most other Chinese manufacturers, Xiaomi compared its latest flagship to the iPhone X, with Jun offering several camera samples of the two phones side-by-side. As you'd imagine, the Mi Mix 2S was clearly the better phone.
DxOMark echoed a similar statement, stating that the still image quality of the Mi Mix 2S is "among the best we've rated," and that the device offered "consistently good performance in all lighting conditions, super-fast and accurate autofocus, as well as bold color rendition." DxOMark even went on say, "this little gem from China is up there with the best:"
For a look at all the detailed findings, hit up DxOMark from the link below:
DxOMark review of the Mi Mix 2S camera
Interested in knowing more about the Mi Mix 2S and seeing how the camera fares in real-world shooting conditions? Read our preview:
Xiaomi Mi Mix 2S preview: Great hardware and vastly improved software
Harish Jonnalagadda is a Senior Editor overseeing Asia at Android Central. He leads the site's coverage of Chinese phone brands, contributing to reviews, features, and buying guides. He also writes about storage servers, audio products, and the semiconductor industry. Contact him on Twitter at @chunkynerd.
Also the same rating as Huawei Mate 10. Guess they're not good enough to be mentioned lol

And the P20 just destroyed everything on the DxO Mark. Maybe that'll get their attention

Still haven't posted an article about the P20 new Dxomark king either

If only Oneplus could reach these heights.

Seriously don't they feel any shame to copy the iPhone design? This year is so terrible, only Samsung kept its own design, I really wonder don't people feel shame to own a cheap copy of something else? It's like they don't have any R&D dpt and they just wait Apple to design what they will do....Disgusting....

Haha no they don't. China is like the capital city of the world for its stolen /copied technology from other foreign companies. The Chinese government doesn't care as long as it has its own domestic companies that can produce too. That's why they know they can rip off designs and etc. Huawei got where it is in their networking equipment so fast from the stolen and copied technology of Cisco systems.

By today's standards, this is far from a copy. After seeing some blatant copies of iPhone X (Asus, Sharp, potentially 1+), at least this one has some personality. And, above all, no notch.
At this point, it's not that the companies don't have any designers nor want to save. They blindly follow Apple on hype rather than anything else. They think that this is what customers expect, and they are partly correct here. X is ridiculously overpriced, so they want to capitalize on it.
However, saying that all companies do it except for Samsung is a huge overstatement. Sony changed its design, and even if uglier, you can't call it an iPhone clone in any way. And we'll see how other A-brands behave (unlikely to follow Apple either).

Unless they're referring to the camera set up, this really doesn't look like the iPhone X...

As a designer myself, in a different field, I can find so many ways to use a different design without give any reasons for anyone to call it a copy. The first 2 MIX they had an original own design, nobody said anything about it. I prefer the uninspiring design of the Pixel 2 than to have a copy of something else.

Who cares if the design is the same

Not the same design language as the X has the notch... This doesn't (Thankfully) also dual camera setups have been there long before the 10...

I do see your point, but the ability to copy and improve on the designs of others is literally the only reason the human race is where it is today, for better or worse, so it's an odd thing to feel shame over. After all, where would we be if we hadn't "shamelessly copied" paper and gunpowder from the Chinese? And look at the Romans, they are hailed as civilisation builders, but they invented almost nothing. And then there's that good old phrase "it's as American as apple pie" ... So... It's German or English, then? Lol.

People actually calling out companies for taking design ideas from Apple.... I like Apple and their products but let's not forget Apple got where it is today by taking other people's ideas and popularising them.

Exactly. As Jobs himselfallegedly said; "good artists copy, great artists steal". And it's not just Apple, Gates stole DOS, Zuckerberg stole Facebook...

Good points about history, but they didn't have copyrights that time! To argue a little, I can't see an improvement by having the front camera in that place and turn the phone all the time to use it, i prefer a slight bezel or a...notch. Real innovation could be if they find a way to do it without these sacrifices!

I agree it's kind of rectangular with a screen at the front and a fingerprint sensor on the back.
Just like an iPhone.
I bet they copied Apple with the processor and software too.

Well they did follow Apple with including the new gestures.

This looks far better than the iPhone eks, not even close actually but the rear camera set up and the software choices are definitely an attempt to piggy back off of iPhone eks.

well its mostly only the camera. and its just so many ways to put a camera if they put it on the middle and in landscape it will be copying LG. everyone copy everyone that's just how it works. why reinvent the wheel when what it already exists works?

Yes the camera position is the same but the Mi Mx 2 does not look like any iPhone I have seen. Xiaomi were doing bezeless before most manufacturers.

It's a weird sticking point really... There's basically two orientations to pick from for the camera, top left corner and top center. That hasn't really changed since phones have had cameras on anything with the slate or what used to be called a candy bar (I don't know, man. People are weird.) form factor.

All these tests are marketing. Nobody would buy a flagship with a worse score.

Do the Xiami phones support US carriers? And how is the QC, durability and battery on their phones? This looks interesting but I don't want such a large display. Thanks

I have a MI5… works great, just had to side load Google services and play store on it. Solid phone great battery life and software has been stable.

What is worldwide availability for this phone??
Android Central Newsletter
Thank you for signing up to Android Central. You will receive a verification email shortly.
There was a problem. Please refresh the page and try again.