The lure of the remote: why I stopped Chromecasting the second I got an Android TV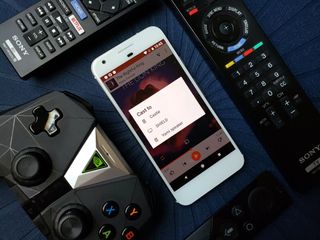 (Image credit: Ara Wagoner / Android Central)
We have so many choices when it comes to our entertainment. We can watch YouTube on our phones, our TVs come with "smart apps" of varying ease and intelligence, and then there are set-top and streaming devices like Roku, Google Chromecast and Android TV. There's a lot of ways to consume your media, and a lot of tools for it, but the most popular one isn't your phone or your tablet ... it's your remote. That's right, for tens of millions of tech users who grew up with TV and old-school cable, the siren song of the remote is just too powerful, and it keeps pulling me back in.
Once upon a time in 2014, I was in love with my Chromecasts. Set-top boxes and smart TVs were out of my fresh-out-of-college budget, but at $35 — and still $35 today (opens in new tab) — the Chromecast was firmly in impulse buy territory, and it was a snap to install and use. Back in 2014, the list of apps that used it was still relatively small, but for the apps that weren't supported, I could simply cast from my trusty Chromebook. The experience wasn't flawless, as my subpar router would often drop a connection mid-episode and force me to restart my cast — or worse, restart my episode — but it was cheap, it was easy, and 90% of the time it worked.
This love affair carried on for two years, and in that time I took on my parents' old 42-inch "dumb" TV, happy that it worked with the Chromecast. I looked at the apps on this Vizio TV back home and cringed. It took close to a minute for Netflix or YouTube to open, and even with a QWERTY remote, it still took forever to find anything to watch. I could already be casting what I wanted to see while they were waiting for the app to load, so why wouldn't they just use the Chromecast plugged into the back of their TV? I didn't understand why they'd settle for a slower, clunkier UI using the boring old remote.
Then I got an NVIDIA Shield TV as a Christmas present in 2015, and my Chromecasting days ended the minute I opened the box.
My Shield TV came with a remote and a game controller, and that controller soon became my best friend. Even though the Shield TV comes with Chromecasting built in, I've used it maybe two dozen times, and all of those times have been for music. Even though it takes me longer to find what I want to watch using a remote, it just feels easier to use the remote rather than pulling up app after app on my phone looking for something to cast. The remote is convenient, especially if my phone is across the room or being used for other tasks, like gaming or taking screenshots for my articles.
Now, this isn't to say that the remote on the Shield TV is something special. As a matter of fact, the actual remote experience pales in comparison to using the controller, as the D-pads on the controller are the best tools for speedy scrolling and seeking, short of flicking up and down on a touchscreen. And I can't deny it, a touchscreen offers a far faster experience for finding content, but when watching that content, Chromecasting doesn't offer the kind of quick playback control that remote-enabled systems do. Yeah, you can pause using the remote, but if you want to rewind, even just 10 seconds to hear the joke that got covered up by a timer going off, you have to pull your phone back out to seek. As someone who is notorious for skipping around in the episodes and movies she watches, this meant that even if the remote takes longer to get my content, I'll be able to watch it more easily once my urge to skip a scene strikes.
There is a rumor of a new Android TV dongle coming at Google I/O, and I'm all for bringing a solid, more-affordable Android TV experience to more people, because as successful as the Chromecast is, it is always going to be fighting the siren song of the remote. What I'd like to see even more than a new Android TV dongle is an update to Chromecast that would enable it to recognize and accept more remote commands than play/pause, because the best of both world would be a Chromecast or Android TV that allows you to find what you want to watch and Cast it from a phone, then allow you easy remote controls for playback like rewind and fast forward.
Well, I can keep dreaming, and as I dream, I'm going to go scroll through YouTube for some more distractions.
Ara Wagoner was a staff writer at Android Central. She themes phones and pokes YouTube Music with a stick. When she's not writing about cases, Chromebooks, or customization, she's wandering around Walt Disney World. If you see her without headphones, RUN. You can follow her on Twitter at @arawagco.
Android TV is nice but I wish there was more app support or at least sideloaded apps would work better. It's nice you can cast to it when the app isn't on ATV but it is on Android. But that's only nice if it works

Allowing the sideloading of regular Android apps could break a lot of things, and it would be a far inferior experience to casting to allow broken apps onto Android TV.

Android TV does not have good support in the UK, unfortunately. Strangely BBC iPlayer (probably the most used TV streaming platform in the UK) seems to have a vendor specific app for Sony TV and Shield TV, but nothing for other Android TV boxes (e.g. MiBox). There is finally an ITV Hub app, which I noticed a couple of days ago, which is a start, but also no All4 app. All4 doesn't even appear to Chromecast properly to Android TV, usually having various display issues.

I'm not gonna lie, I've long given up much of a cable/broadcast network presence on my Android TV (or in the rest of my life, really). I have Hulu for watching TV shows the day after, I have access to Netflix, Funimation, and Amazon Prime, and I've got YouTube Red and Crunchyroll's free service. Between all that, I find something to watch. It also doesn't help that I work during primetime viewing, so I have to timeshift everything anyway.

Love Crunchyroll. Good piece, Ara.

LOVE Crunchyroll. Watching anything good this season? I'm waiting for more episodes of Magical Girl Ore before I binge that delightful insanity, but Kakuriyo, Gun Gale Online, and My Hero Academia are awesome and I still need to watch Umamusune.

My Hero Academia, for sure. Haven't caught up on the new season.

The Nvidia Shield is a great device. Most of the apps that I use (DroidAdmin, Terrarium TV, Morpheus TV, Free Flix HQ, Mobdro, Solid Streamz, various IPTV apps) are sideloaded. But with Chromes use of Android apk's, I'm wondering how successful the new line of Chromeboxes will be, especially with the use of Intel's 8th gen CPU's.

Chromecasting may be technically easy, but it's still a pain in the ass when all you want to do is flip around or pause/play/stop, etc. I just find it annoying very quickly.

Yeah, that. I want to rewind 30 seconds or skip ahead past an awkward scene without having to get out my phone every time.

Agreed. My TV has both Chromecast built in along with AndroidTV. I prefer AndroidTV all day because it interfaces with the remote control. YouTube TV is best this way. I also enjoy hockey and NHL.TV for some reason doesn't have a native app for Android TV. Using the Chromecast was "meh" at best and seeking was a disaster. I got two ways to fix it using apps via Android TV. #1. Amazon Fire has an app (go figure). Sideloaded that app and voila it works. #2. Kodi with NHL.TV plugin. Voila. Both interface with TV remote and it's perfect.

When a coworker gave me a smart TV he didn't need anymore because he'd gotten a bigger one, I stopped using my Chromecast for almost everything except LAN videos because the TV's network video player is hot garbage and I already paid for lifetime Videostream premium.

While I generally agree the familiarity of a physical remote made (past tense for me) my Chromecast "affair" less enjoyable... The injection of Google Home voice control (and my Harmony Hub) reignited the "flame" of my relationship with my Chromecast devices. Controlling Netflix and other TV commands with my voice has me reaching for my physical remote less and less these days. I love being able to TELL Netflix to "go back 3 and a half minutes" or "skip 2 minutes or "start over".

I have the Chromecast and Fire TV Stick. The Fire TV stick has a remote. Guess which one I use most of the time....the Fire TV stick. Don't ask me why reaching for the remote is easier than reaching for the phone, but it just is for me. If I had to guess it is probably because I started in when the Chromecast was first released. It was a pain to grab my phone, unlock it, find the app and then interact. I know it has gotten somewhat better over the years.

More like Chromecast is always going to be fighting the siren song of Roku (and the remotes that come with them...). In the run up to getting a dongle/box of one kind or another I did my research, and I liked the Roku I really did but I ended up buying a Chromecast (yes, at $35.00 it is an impulsive buy...). I like my Chromecast, I use it nearly every day and yes it is quick and easy to find a video, rent the video if need be, and simply hit the icon to cast it. But I always hear about Roku and the thousands of channels and such and how more are being added all the time! There are even secret channels that if you know their code you can basically side load it onto your Roku. But I quite enjoy my Chromecast and don't plan on giving it up (except for maybe a Navidia Shield box...). Coincidentally, my Android music player of choice - PlayerPro- just got Chromecast ability. Just a few weeks ago it got updated and gained the ability, so now I can play tunes on my phone and cast it to my television. It'll show the album artwork, title and artist, so I just turn on the screen saver and turn up the volume a bit so I can do chores around the house and listen in stereo sound. I've got an older stereo that doesn't support blue tooth, casting and still has RCA jacks in the back as a testament to its age; so it's a neat trick to be able to play through my television and extend the life of my Chromecast...

I have a Chromecast on every TV in the house. (4)
Take one on holiday or when working away from home.
I have Netflix, NOW, as well as Amazon. Also Mobdro for live tv
Add to this all the regular UK TV apps all controlled from my phone (which I never loose) I really can't see how this can be improved.

only improvement i can see is if google releases a control app that centralises all casting apps on your device so you can access and control them all through one app.
But as it is it's fine

Agree. I bought a Roku 4k and I haven't turned on my Chromecast in weeks. The tactile remote makes for much easier use, plus the Roku app emulates it very nice. Outside of the YouTube app and music everything is easier. Even playing local files.

I will continue to use my phone, but it was a good read. We all have different preferences.

Find casting much easier to use than remotes. If the option to cast is available it's the primary choice for me

This. I HATE having to look for the specific remote in a 5 TV home. With my phone I can control every Chromecast though, even when I'm not in the room.
Android Central Newsletter
Thank you for signing up to Android Central. You will receive a verification email shortly.
There was a problem. Please refresh the page and try again.