Lumsing Ultrathin Wireless Keyboard review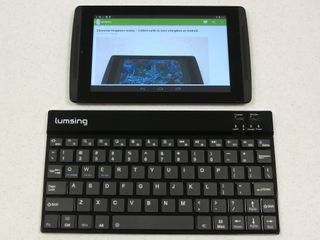 Android tablet users have no shortage of keyboards from which to choose. If you own a highly popular tablet like the Samsung Galaxy Tab S, you could get a keyboard case made just for that model of tablet. But someone like me who owns the less widely known (but no less excellent) Tegra Note tablet will probably have to look to universal keyboards instead of device-specific ones.
Seeing as how the Tegra Note is a 7-inch tablet, I recently decided to check out one of the smaller keyboards around: the Lumsing Ultrathin Wireless Keyboard. Lumsing's keyboard is extremely small and thin and works great with Bluetooth-enabled Android, Windows, and iOS devices. If you need portability and compatibility in a keyboard, give this one a look.
Size and shape
The Lumsing Ultrathin Wireless Keyboard comes in two colors: black and white. Black is currently sold out on Amazon though. The glossy top surface of the keyboard (just above the keys) shows smudges very easily, but otherwise it's a nice looking accessory.
A Lumsing logo occupies the top-left corner of the top face. The top-right corner holds a "Connect" button for Bluetooth connectivity, an Off/On power slider, and four LEDs: Caps Lock, Bluetooth, Charge, and Power. We'll discuss the charging and power functions in a bit.
The actual base (bottom side) of the keyboard is aluminum. By itself, the underside is smooth and featureless. But the keyboard comes with four clear adhesive rubber feet that users can attach to the base in order to prevent it from sliding around. I recommend making use of them.
This keyboard does not have a tablet stand, so you'll probably need either a tablet with built-in stand or a case with stand in order to use it. My folio case has a stand, so that didn't present a problem.
Lumsing's keyboard measures 5.11 x 9.5 x 0.18 inches (130 x 240 x 3 mm). For comparison, the Samsung Galaxy Tab 3 8-inch is 4.87 x 8.26 x 0.29 inches. This keyboard will have a slightly larger footprint than the average 8-inch tablet, but it's still very small. If Lumsing shrank the footprint any more, they'd also have to shrink the keys – a sacrifice that would impact productivity.
Not only is the Lumsing keyboard very thin, it's also fairly light. It weighs 6.7 ounces (0.19kg), just over half that of the 11.07 oz Galaxy Tab 3 and 11.2 oz Tegra Note.
Charging and battery life
The Lumsing keyboard charges via micro-USB. A charging cable is included in the package, but users will have to supply their own USB power source in order to use it. Not a big deal, especially given the keyboard's price. The Micro-USB port sits on the back right side of the keyboard, near the power switch and LED.
Charging the keyboard takes up to two hours. While it charges, the Charge LED will glow red. Once the light goes out, the keyboard is fully charged. The battery has a capacity of 280mA. That doesn't sound like a lot, but Lumsing promises 100-140 hours of uninterrupted use. The Charge light starts to blink when power runs low.
Although the keyboard has an Off/On switch, it also offers a power saving mode. This sleep mode kicks in automatically after 15 minutes of idle time. To wake it back up, press any key and wait three seconds. Sleep mode is handy for folks like me with a propensity for forgetting to switch accessories off.
Keys
This Lumsing keyboard has 78 keys. The keys are slightly smaller than those of a full-size keyboard, but still large enough for comfortable typing.
Included are one Ctrl key and one Alt (both on the left side), and two Shifts. The keyboard also has both Delete and Backspace keys. Tablet-oriented keyboards often leave out Backspace, which is silly considering how much more most of us use it than Delete.
The keyboard also has dedicated "IE" and "Mail" keys at right of the Spacebar. IE launches the user's choice of web browser and mail launches the email client of choice. At the top row, the Function keys perform useful shortcuts like Search, Copy, Paste, Rewind/Play/Fast-forward, and Volume Up and Down. No need to hold the Fn key to activate these shortcuts on Android. But Fn + Delete will toggle the screen on or off, and Fn + Ctrl switches to software keyboard.
The keyboard defaults to Android mode, but it also has several platform-specific key combinations for Windows and iOS. Fn + W or E will switch to those modes.
Android setup
The process of connecting the Lumsing Ultrathin Keyboard to an Android device is fairly simple:
Go to Settings and select Bluetooth.
Turn Bluetooth on.
Switch on the keyboard and press the Bluetooth button. The Bluetooth LED should start blinking.
After Android detects the keyboard, select it and Android will send a pairing request.
Android will display a series of six numbers for you to type on the keyboard. After typing them, don't forget to press Enter.
After a few seconds, the keyboard should be paired with Android. You're ready to type emails and leave positive comments on our articles!
You can test the keyboard by pressing Escape, which should back you out of the Bluetooth menu. Enjoy typing in various apps with keyboard support, or use keyboard shortcuts to launch apps and perform shortcuts within supported apps.
Overall Impression
The Lumsing Ultrathin Wireless Keyboard is a really slick accessory. It strikes just the right balance between size and function, with keys that are comfortable to use despite the keyboard's small footprint. It works with any Bluetooth-enabled tablet you throw at it, regardless of the platform.
The only thing I could want from this particular keyboard is a case of some sort. It doesn't come with one, so users will have to protect the keyboard on their own. But Lumsing says the keyboard is water-proof and dustproof, so it shouldn't be too hard to keep in working order.
The Lumsing Keyboard sells for only $17.99 at Amazon and is eligible for Prime shipping.
Get the Android Central Newsletter
Instant access to breaking news, the hottest reviews, great deals and helpful tips.