LogMeIn Ignition comes pre-installed on Toshiba Thrive, offers a free trial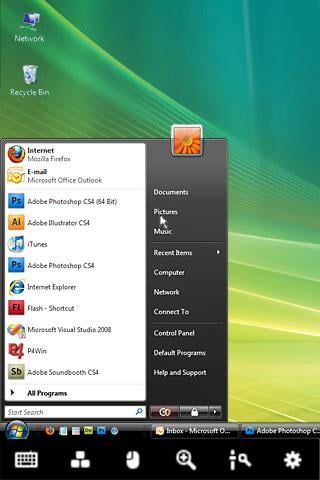 The widely popular app LogMeIn Ignition, which allows users to access their computers from their mobile devices, is coming pre-installed on Toshiba Thrive tablets.
The service, which costs $29.99 normally, gives users a 45-day free trial, after which they can purchase for a discounted price of $24.99.
Do you have a Toshiba Thrive? If so, are you excited about the free trial and discount? Discuss it and more in our Toshiba Thrive Forum.
If you don't have a Thrive and are interested in the remote app, please find links to it after the break as well as the press release.
LogMeIn Ignition App Pre-Installed on New Toshiba THRiVE Tablet
WOBURN, Mass., July 11, 2011 – LogMeIn, Inc. (NASDAQ: LOGM), a leading provider of cloud-based connectivity solutions, today announced that a trial version of its popular remote access app, LogMeIn Ignition for Android, has been pre-loaded on all new Toshiba THRiVE™ Tablets. The pre-installed LogMeIn app gives Toshiba THRiVE Tablet owners a free 45-day trial of the service. After the trial, users can purchase the app for a discounted, one-time payment of $24.99.
LogMeIn Ignition for Android is a remote access app that lets users access and remotely control their PCs and Macs directly from an Android tablet or smartphone, providing access to computer files, programs, and applications from virtually anywhere with a 3G or Wi-Fi connection. The app is consistently among the highest rated and top paid productivity apps on the Android Market.
Additional details on the app are available on LogMeIn's website or on the Android Market.
"Remote access has quickly become a necessity for consumers as they look to bridge the information divide between traditional PC and Mac environments with new, ultra mobile tablets," said Andrew Burton, LogMeIn's vice president, Access & Management. "By working together, LogMeIn and Toshiba are bringing the best in mobile apps directly to the Toshiba THRiVE Tablet customer."
About LogMeIn, Inc.
LogMeIn (NASDAQ:LOGM) provides cloud-based remote access, support and collaboration solutions to quickly, simply and securely connect millions of internet-enabled devices across the globe — computers, smartphones, iPads™, Android tablets, and digital displays. Designed for consumers, mobile professionals and IT organizations, LogMeIn's solutions empower nearly 12 million active users to connect more than 100 million devices. LogMeIn is based in Woburn, Massachusetts, USA, with offices in Australia, Hungary, the Netherlands, and the UK.
How about instead of a free trial, you just make it a reasonable all-the-time price. $30? Are you kidding?!?!?!

A Trial = BLOATWARE . . . If I want it i'll just download it. If its not a full version don't put it on the device!

It's ridiculous how much I'd like to use this app and it's equally ridiculuous how disgusted I am by its price. Considering there's free alternatives in the Market, I don't know what LogMeIn are getting at.

I've used all of the main ones. SplashTop, Remote Desktop Client, and LogMeIn. The best one by far out of those three is Remote Desktop Client. It is a bit expensive at $24.95, but well worth it. LogMeIn has a very annoying interface.

I have to agree with others... I absolutely HATE bloatware and those disguised as "free trial offers" that you cannot delete from the OS are the biggest pain in rear! If I wanted the darn thing, I'd buy it... but no way am I shelling out $24.95 for ANY app unless it can wash my car, walk my dog, make my coffee, and tuck me in at night! I work for a major hardware manufacturer, and I understand prices are subsidized by additions to software... but c'mon developers... stop dangling carrots in front of my face and then tell me I can have the first bite for free, but then have to buy the whole cart-load of them, even if I only want another nibble from time to time....

LogmeInIgnition is a quality remote support tool. Other options are RHUB, Bomgar, GoSupportNow, GoToMyPC etc.
Android Central Newsletter
Get the best of Android Central in in your inbox, every day!
Thank you for signing up to Android Central. You will receive a verification email shortly.
There was a problem. Please refresh the page and try again.