Logitech's new car mounts bring smart hands-free to Android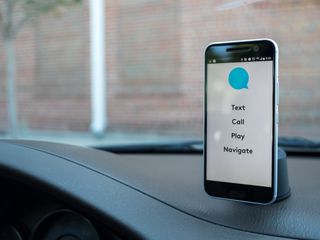 Logitech has announced a new pair of hands-free car mounts that work in concert with a voice-controlled app to keep your eyes on the road and your hands on the wheel.
ZeroTouch is available either as a vent mount ($59.99) or a dash mount ($79.99). The free app (opens in new tab) then connects with the the mount via a small metal plate or a disk hidden underneath a case, triggering a Bluetooth LE connection. When you remove the phone from the mount, the ZeroTouch app shuts down, so you only have to use the voice commands when you want.
Read: Our Logitech ZeroTouch review
ZeroTouch focuses on four basic hands-free operations — text messages, phone calls, navigation and music playback. You also can share your location via voice, with built-in Glympse support.
ZeroTouch is available today at Logitech's website, or on Amazon.
See at Logitech (opens in new tab)
Press release:
Logi ZeroTouch Turns Any Car Into a Hands-Free Connected Car Smart Car Mount and App Help Keep Drivers' Eyes on the Road
NEWARK, Calif. — May 11, 2016 — Today Logitech (SIX: LOGN) (NASDAQ: LOGI) introduced the Logi ZeroTouch™ Air Vent and Logi ZeroTouch Dashboard smart car mounts for Android™ smartphones that trigger Logitech's voice-controlled app when you dock your phone in the car. With this combo you can hear and respond to an incoming text, and operate select apps such as navigation and music, completely hands free. Together, the car mount and app give you the best features of a connected car, without buying a new car.
"New car owners can experience the luxury of a connected car, but there are still tens of millions of older cars on the road," said Bracken Darrell, Logitech president and chief executive officer. "As we look for ways to design products that are thoughtful solutions to human needs, we realized there was an opportunity to turn any car into a connected car. The result is the Logi ZeroTouch. The smart mount and app work together to give you the best features of a connected car, while keeping your eyes on the road. We believe ZeroTouch will play a crucial role in turning the look down and text, into the look up and talk."
To get your car connected, simply snap your phone to the magnetic air vent or dashboard mount to automatically trigger the Android app, and speak freely. You can use your voice to place calls, text back and forth, stream music using Spotify®, initiate directions with navigation apps, such as Google Maps™ mapping service or Waze, or easily share your location with friends and family through Glympse® location service – all without ever touching your phone.
Through natural language understanding, using the app feels like talking casually to a person next to you in the car. A simple hand gesture quickly wakes up the app to initiate a text or command, and to eliminate errors, the app reads your text back before sending. The app automatically informs you of incoming texts, and you decide if you'd like to listen, respond or cancel without ever looking at or touching your phone. Or, depending on the streaming music app, you can request specific artists, songs, playlists, or genres, and give commands like "pause" and "skip."
Availability
The ZeroTouch Air Vent and ZeroTouch Dashboard are available today at Logitech (opens in new tab) for a suggested retail price of $59.99 or $79.99 respectively. For more information, please visit our blog (opens in new tab) or connect with us on Facebook.
About Logitech
Logitech designs products that have an everyday place in people's lives, connecting them to the digital experiences they care about. Over 30 years ago, Logitech started connecting people through computers, and now it's designing products that bring people together through music, gaming, video and computing. Founded in 1981, Logitech International is a Swiss public company listed on the SIX Swiss Exchange (LOGN) and on the Nasdaq Global Select Market (LOGI). Find Logitech at http://www.logitech.com, the company blog or @Logitech.
Please don't block the "Watch it later" for YouTube embeds :/

Don't think that's anything we've done. We just paste the code from YouTube into our CMS.

A more inexpensive alternative is to head to amazon and buy a vent mount for less than 10$ and install an app called drivemode or automate.

I had done that over a year ago with set of Kenu Airframes, one for each car in the family. My Moto phone already sports the voice enabling, though it too is often annoying in the way it works, so I've selected the features I want and turned off others. Bonus for not having to stick some mag dot on my phone and hoping it doesn't fail suddenly while I'm driving.

How is this different than using any mount and saying, for you all, "Ok Google" or, for me "Hey Cortana?"

I just watched Logitech's video on it: obviously for folks who don't know what their phone can do right out of the box.

I agree. You're basically over paying for their app. Posted via the Android Central App

So true. Ignorance is very expensive or very lucrative depending on what side of the equation you are on.

"This app is incompatible with all of your devices." Nexus 6.

I guess for people that don't have any self-control or will power. And have to touch the phone while driving.but like somebody already said get a 10 $15 dollar phone mount and just say Ok Google. And most phones have the option where they read the text. Sent via Tandy Color Computer
-----------------------------------------------
before you see the light, you have to deal with the darkness

Mount = $10
Logj logo = $59 Posted via the Android Central App

I will never go back to a car dock that doesn't have built in Qi charging. It is soooo nice to just put the phone in the dock and voila! it's charging. Come back to me when Logitech makes one of those and I'll be all over it.

Please link a good magnetic Qi mount

Way to expensive for what it is. And sorry but the video want very good either, keep waiting to see a demo and then bam it was over without ever showing what the app (that you are paying high dollar for) in action. Posted via the Android Central App

Was thinking the same thing. They honestly didn't show how it worked other than giving the phone a high five. Sent via Tandy Color Computer
-----------------------------------------------
before you see the light, you have to deal with the darkness

Rip off.Waaaay overpriced. Posted via the Android Central App

Phil, they need to give you a raise so you can get something better than that 2005 Civic. Great video tho
Android Central Newsletter
Get the best of Android Central in in your inbox, every day!
Thank you for signing up to Android Central. You will receive a verification email shortly.
There was a problem. Please refresh the page and try again.