Livestream for Google Glass is surprisingly good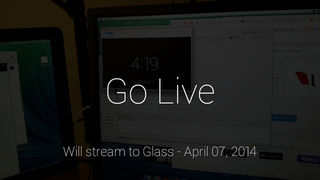 Battery and heat may be a bigger hurdle than a data connection, though
Apps for Google Glass — Glassware, don'tcha know — can be hit and miss. And quite often it falls into the latter category. Livestream today put forth its official piece of Glassware, and it's surprisingly good. That is, considering it makes it possible to stream video live from your face, from a $1,500 wearable whose battery is but a fraction of what you have in your smartphone.
Consider our interest piqued.
That's not to say Livestream for Google Glass is perfect — it most certainly is not. It's not an officially sanctioned piece of Glassware yet, meaning you have to sideload it. Livestream tries to make that as simple as possible with some scripted installers though. (And while we'd venture to guess most who have Glass are perfectly capable of installing apps from terminal, it's a nice gesture, and well done.)
But before you venture out into the world to stream all the things (again, from your face), you also need to consider that Livestream events (for now) must be created in a traditional browser and then paired to your Glass. That sort of kills the mood — "Hang on, honey, I have to start the event and then pair this sucker" — or if you're looking to use this to cover news, you'd have to have it ready in advance. Not insurmountable hurdles by any means, but hurdles that currently stand in front of Live stream.
Once you're up and running, however, it's a simple thing. Point face. Shoot. You can choose to share the event to Facebook beforehand (if you've logged in with Facebook), and there are three quality options. Adaptive is, well adaptive. And then you have options for 640x360 at 600 kbps, or 325x288 at 300 kbps.
And you know what? It's not horrible. Neither is the drain on Glass' minuscule battery, another surprise. We only lost around 10 percentage points after about 8 minutes of use. (On a solid Wifi connection, though.) Heat is another matter, however, as we had Glass shut down pretty quickly after testing. (That's not an uncommon scene for apps that use the display and camera at the same time, we've found.)
The end result? The future, eventually. One big question to ask yourself, however: Why stream from your face, with a low-resolution camera and tiny battery, when there are better options? And is recording and uploading after the fact that difficult anymore?
Get the Android Central Newsletter
Instant access to breaking news, the hottest reviews, great deals and helpful tips.