Liam Neeson can now give you driving directions in Waze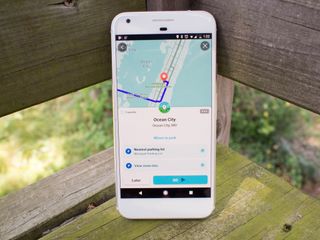 There are a lot of reasons to use Waze, but one of the app's most entertaining and unique features is the ability to have navigation directions read aloud by a number of different celebrities or even your own voice.
Now through January 14, you'll be able to have your directions read to you by none other than Liam Neeson.
Neeson's voice is being added to Waze as part of a promotion for the upcoming film The Commuter, and you can enable it by going to Settings -> Voice Directions -> Liam Neeson.
It's a shame good old Liam won't be around forever, but if you've got some last minute holiday shopping to go out and do, you might as well have former Jedi Knight and world's best dad guide you to your destinations.
You can now use your own voice for turn-by-turn directions with Waze
Joe Maring was a Senior Editor for Android Central between 2017 and 2021. You can reach him on Twitter at @JoeMaring1.
But can he give distances in miles and YARDS yet?

I have a particular set of skills.
I will find you and I will kill you.

Can someone get Morgan Freeman to do this? And maybe Mark Hamill, when you're going the right way he's Luke Skywalker, if you miss a turn he does the Joker voice.

I'd go the wrong way all of the time if that were the case.

Morgan Freeman did his voice as a promotion for London has Fallen

That's correct! I had his voice on there. I've also had Kevin Hart and Arnold Schwarzenegger while promoting their films. Celebrity voices are so much fun. I wish I could get an Al Bundy voice over.

"I don't know where we are, but I will find you, and I will kill you."

Just installed this on my Pixel 2 XL and can't find that option in the voice choices.

Make sure you are using Release 4.34.0.1

I found it, just needed to figure out how to get into the settings.

How did you find it I can't get it in settings

Still waiting for Deckard Cain.... http://us.blizzard.com/static/_images/games/april-fools/ss105.jpg

Personally, I prefer driving directions from Antonio Banderas. That guy can make anything sound good.

Was really hoping Waze would bring back R2-D2 & C3PO would come back to tie in with the new Star Wars movie.

"Turn left at the corner, and then, they're going to take you." "Damn it dad, I've been kidnapped like 6 times now. I need a new dad."

I want a sexy deep female voice. Maybe someone like Kathleen Turner.

Sadly only the standard voice directions, so far. Even after you reach the end of the drive.

James E. Jones... please!!

I would pay money if they would make some of these permanent.
It is nice to have them for a little while though.
Android Central Newsletter
Get the best of Android Central in in your inbox, every day!
Thank you for signing up to Android Central. You will receive a verification email shortly.
There was a problem. Please refresh the page and try again.