LG's mobile division continued to lose money in Q4 2017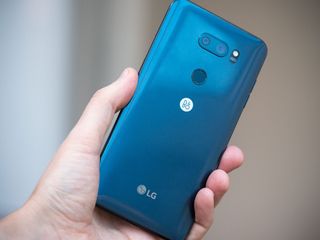 For quite a few quarters, LG's mobile division has been bleeding money. Phones like the G6 and V30 prove that LG is capable of making quality products, but the sales figures that it's been seeing simply aren't good enough. LG just released its financial performance for Q4 of 2017, and as expected, its mobile department reported a loss for the 11th quarter in a row.
LG saw mobile revenues of $2.77 billion in Q4 and $10.52 billion for all of 2017. However, despite these seemingly high numbers, the company is still faced with quarterly operating losses of $192.33 million.
A new CEO was assigned to LG's mobile division last November, and we'll be interested to see if new leadership is what LG needs to turn things around. Development for the LG G7 has been quite rocky so far, with conflicting reports coming out regarding the phone's naming and release date. LG needs to really hit it out of the park in 2018, and while I'd love to see the company dig itself out of the hole that it's in, it'll be faced with stiff competition from Samsung, Google, and others.
Despite losing money with its mobile operations, however, LG as a whole actually had a pretty solid last quarter. Q4 revenues are reported to be 15% higher compared to last year, and full-year profits for 2017 saw an increase of 85% from 2016 thanks to LG's televisions and other home appliances.
LG publishes patents for two foldable phone concepts
Joe Maring was a Senior Editor for Android Central between 2017 and 2021. You can reach him on Twitter at @JoeMaring1.
The funny part is that Google is actually making money from LG's mobile division

May be start making better phones instead of average phones compared to competition like G6 and V30.

I got the G6 during launch week. I got a great deal on it. Within two weeks the vibration motor died. I got a replacement. Within a few more weeks the same thing happened. I got a replacement for the replacement. A month went by this time and then the vibration motor once again died. Maybe this is why? I mean shotty hardware. I had my Note 4 for 3 years and never had an issue like that. It is still running great. I now have a Galaxy s8+ and I won't be going back to LG.

Not surprised. LG is a 'try hard'.

They only have themselves to blame for it. Stop announcing phones 6 months in advance of release. You lose all the hype and interest.

I just don't feel a since of passion from LG anymore. Do they even want a mobile presence in the world anymore?

The LG G2 was such a great phone, but it's been all downhill since then. Bought a G5 and it hasn't gotten an update in over a year. F*ck LG

It's sad because they're the only ones that took audio seriously. Ugh.

If they wouldn't have had those stupid regional exclusive features for the g6 it would have sold much better the g6+ should have been the launch version of the g6. Also when they announced the V30 they should have provided a release date instead of waiting so long to release the V30.

Maybe it's because they aren't focusing on good software backed by innovative hardware for the mid range segment to drive sales. LG's mid rangers aren't up to snuff and they definitely aren't getting enough attention when it comes to updates.
Android Central Newsletter
Get the best of Android Central in in your inbox, every day!
Thank you for signing up to Android Central. You will receive a verification email shortly.
There was a problem. Please refresh the page and try again.