LG V30 hands-on by MrMobile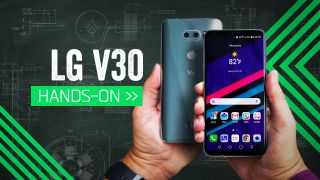 If you thought the LG V30 was going to look like its predecessors the V20 and V10, join the club! I was expecting another steel-sided monster from a key grip's toolbox with gaff tape patching the scuffs. Instead, we get this: a spit-polished glass sandwich of a smartphone that's much lighter in the hand than you expect. Factor in LG's first AMOLED screen in ages; the latest version of the company's super-wide-angle camera; and wireless charging and a Hi-Fi Quad DAC on every version … and you might start thinking that the LG V30 is the most competitive phone to come from the company in years. Only the full review will tell for sure, but I'm gonna go out on a limb and say that you'd be right.
Click on through to the video above for MrMobile's LG V30 Hands-On, and check out Android Central's LG V30 Hands-On while you wait for the full LG V30 review coming soon!
Stay social, my friends
Voice recognition. Improved f/1.9 wide angle lens. OLED display with easier to reach shortcut UX. Water resistance, wireless charging, and improved audio capabilities. I can live without removable battery for all that the V30 gains in its omission. Really loved my V20 but its time to move on to the future.

It's looking good, and I'm pretty sure I would prefer this over the S8. You mentioned improved audio capabilities... is that compared to the V20? And if so, do you have a link to the specs?

Does it have portrait mode with its dual camera set up?

Very disappointing. 4Gb RAM , smaller no removable battery.
Android Central Newsletter
Get the best of Android Central in in your inbox, every day!
Thank you for signing up to Android Central. You will receive a verification email shortly.
There was a problem. Please refresh the page and try again.