LG reports record Q1 profits despite struggling smartphone division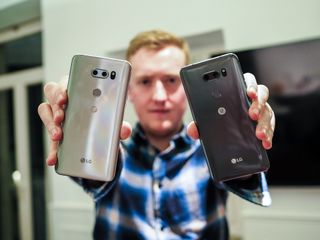 Just ahead of the G7 ThinQ unveiling, LG's released its financial results for the first quarter of 2018. Looking at the company as a whole, Q1 saw total sales of USD 14.1 billion and operating profit of USD 1.03 billion.
With sales up 3.2% and profit increased by over 20% from Q1 last year, this is LG's most profitable first quarter in history and the biggest quarterly earnings since Q2 of 2009. LG attributes this success largely to its Home Appliance, Air Solution, and Home Entertainment divisions, each of which saw double-digit margins for their most profitable quarterly earnings ever.
However, things aren't so hunky-dory when it comes to the company's Mobile Communications (aka smartphone) operations.
Although losses are down compared to this time last year, sales of USD 2.01 billion still resulted in a net operating loss of USD 126.85 million. To hopefully reassure investors, LG commented –
LG's set to announce the G7 ThinQ on May 2, and while we're expecting it to be a powerful and capable phone, will it be enough to help LG stand out against competition from Samsung, Google, and Apple? Sound off with your take in the comments below.
Android Central Newsletter
Get the best of Android Central in in your inbox, every day!
Joe Maring was a Senior Editor for Android Central between 2017 and 2021. You can reach him on Twitter at @JoeMaring1.
It's a known fact that the appliance division has been carrying the mobile division for a very long time. I really wish them luck with the LG G7 Thin Q. Maybe this will finally be a success for them!

Their OLED TV's have been doing very well, which makes it odd that they did a mediocre screen for the Pixels. I can't comment on the V30 screen because I have not seen one.

Making TV screens isn't the same as making mobile screens. LG makes great OLED panels for TVs but they still have a lot of R&D to do on mobile.
Exactly the opposite happens with Samsung. They have the best displays for mobile on the smartphone market...but their TVs are so bad that they gave up on OLED and have been trying to come up with crap as an alternative (like QLED).

Good news....helping my portfolio.

Ya know, all LG would have to do is bring back the removable battery & IR blaster. Then the g7 thin q would sell boatloads. It's a very nice thought but won't ever happen. Very sad!

LOL. yeah because that'll help the company when it didn't when they did have it.

Pretty sure the best selling phones have never had that combo.

Wife has the G5, and swaps batteries twice a day. Happy owner of a V20, and I swap batteries every 2 days (extended ZeroLemon) and use the IR Blaster... The market does not serve people like us...

Really? I take it you've only been in the smartphone market a couple of years?

Only for a few. Most people don't care.

Their TV panels are amazing. Won't buy any other brand. Their smartphones on the other hand, seem like an after thought.

I think it does people good to be reminded of this. The way some commentator belly-ache on here you'd think LG was on the brink of bankruptcy because they specifically dislike their smartphones, which has always been so obviously patently nonsense.

I think the Software Upgrade Centre, if done correctly, can finally change things for them. It would give their phones an advantage above the Galaxy phones. We could all do with the Pixel like software support, LG has a much bigger global presence. But here's a thought, why not release the G7 Thin Q with as Android One device?

This is so important and will be a decisive factor in a phone's ability to make sales. Pixels first now Nokia getting monthly security updates and 3 years of OS updates. When there's very little differentiation between flagship phones, service and support comes to the front. I hope LG joins Pixel and Nokia. That will inspire more. After all, shouldn't regular updates be a priority? Part of the package? They haven't been and I welcome the new battleground. It is only good news for us smartphone owners.
Android Central Newsletter
Thank you for signing up to Android Central. You will receive a verification email shortly.
There was a problem. Please refresh the page and try again.