LG Optimus G Pro sales surpass 1 million in Korea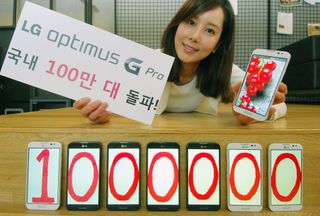 Average daily sales of over 8,000 push total sales to 1 million in just 4 months
Since its introduction to the Korean market back in mid February, the Optimus G Pro has passed the 1 million sales mark according to LG. The manufacturer claims that this is the fastest it has reached the 1 million device milestone in its own country, hitting it in just 4 months with average daily sales of over 8,000 for the period. LG Says this tops its previous record sales of the Optimus LTE in Korea, which took a full 7 months. Naturally LG gives the credit to the number of features it packed into the Optimus G Pro, from the hardware side with LTE and a large HD display to the software UX improvements it has included and upgraded.
LG isn't talking about the sales figures of its Optimus G Pro elsewhere in the world, but these sales figures in its home country are certainly promising.
Source: LG
Android Central Newsletter
Get instant access to breaking news, the hottest reviews, great deals and helpful tips
Andrew was an Executive Editor, U.S. at Android Central between 2012 and 2020.
Cue the Samsung trolls saying "it took how long?".

Nope Posted via Droid RAZR M on the Android Central App

I suppose we no longer have to queue up the Samsung haters now do we?

I own this phone since last Friday. Came from an HTC One that I used for 3 weeks and an S4 before that for a week, both awesome phones in their own way but I have t say that the G pro is slightly my favorite of them all. Love the screen and performance of it, amazing device.

The LG Optimus G Pro, or as I like to call it the LG Optimus Samsung Galaxy S3 G Pro.

Congratulations LG you guys have done a lot of good for android (nexus⁴) and you guys deserve some recognition for once. In my opinion LG is by far the most underrated OEM and they don't deserve it (HTC). Posted via Android Central App

Their sw support is really bad. But HW is nice. I still have O2X and with CM 10.1 it's still very good phone.

I don't get why people would think this wasn't true. It's a solid phone. It puts up a great fight with the HTC One and the Samsung GIV.

Given that its size is closer to that of a Note 2, It isn't really in the same size class as One & GS4.

Kinda sad how much this phone is ignored today. Even the Note 2 still has a lil buzz. Isn't this the same gen as the S4 and HYC One? Posted via Android Central App

No, it's a phablet. It should not be compared to those devices. It will likely get a mention again when the GN3 comes out for comparison.

I can see why: awesome software features and amazing hardware! Plus, the UI is customizable and mostly stays out of your way. Only a handful of things would I change, but all for aesthetic reasons. Posted via Android Central App

I haven't Noteced anyone using one of these.

Look at the yellowish tone of the screen of the far left one's, gross.

nothing to do with the screen....mAn

I have never imagined that LG could beat Samsung in his own home i.e. Korean market. Congrats to LG and I love this LG Optimus G Pro.

Dear LG, You might sell a few more of these in the US if it wasn't exclusive to AT&T. I had cash in hand ready to buy your phone before it was announced as a carrier exclusive in the US. I went to see it in person at the AT&T store just to make sure it was everything I wanted and more. I wasn't disappointed. It's too bad it's not available on my carrier. (UMTS 1700/2100) So here I wait with my Galaxy Note II; I guess I'll just be getting the Note III when it comes along since apparently you don't want my money. Sincerely,
A T-Mobile user

Having been to Korea recently, I'm kind of skeptical about the numbers, particularly LG's ability to sell 8,000 units per day. These may be the number of units shipped, with dealers holding the inventory, but not the numbers that have actually made it into the hands of consumers. We also don't know what their selling price was, as they could've simply priced it low to give dealers incentive to stock up or give promotions just to move the product. Not saying it's a bad phone, but I just can't see that many available consumers buying it in that span of time unless there was some unusual circumstance.

LGOGP is a fantastic phone out of the box...it just works.
I moved over to T-Mobile with mine and the sales people were freaking out over it.

I realize it's a picture so it's not going to look the best, but does the screen really wash out like that when tilted?

the picture is photoshopped...
Android Central Newsletter
Get instant access to breaking news, the hottest reviews, great deals and helpful tips
Thank you for signing up to Android Central. You will receive a verification email shortly.
There was a problem. Please refresh the page and try again.