LG Optimus Black looks set to receive Android 4.0, eventually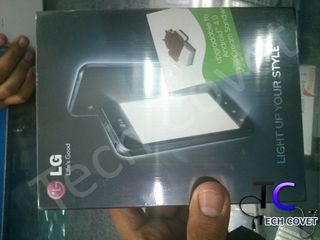 Will they, won't they, Android update stories are one of the more frustrating topics to read about. Particularly, if you happen to be a proud owner of a device which seems to be teetering on the edge of getting an update or not. When it comes to updates, LG owners are all to aware of the pain, and the waiting, and the pain. While making great hardware, it is absolutely no secret that LG is less than positive with software updates.
The latest LG news comes courtesy of the guys over at Tech Covet. While official information is often scarce, in this case it is the retail packaging that's doing the talking. This new, sealed Optimus Black proudly wears a sticker saying that it will be upgradable to Android 4.0. Huzzah!
Still treat this with a healthy pinch of salt though. Above all, it's just a sticker on a box. We're not saying it's all a marketing ploy to get the device into peoples hands, before a "sorry, you won't get ICS" statement comes out, not at all. But, until we see the software pushing out to devices, and with LG's track record, it's difficult to get overly excited just yet.
Source: Tech Covet via GSMArena
Android Central Newsletter
Get the best of Android Central in in your inbox, every day!
Thank you for signing up to Android Central. You will receive a verification email shortly.
There was a problem. Please refresh the page and try again.