LG made $440 million in Q1 2016, but continues to struggle with mobile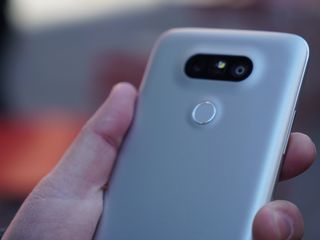 LG has published the company financial report for Q1 2016 and while things aren't looking too good for its mobile division, LG managed to win big in both home appliance and entertainment. This resulted in LG posting an operating income of $440 million. That said, we're still early days with the LG G5, so we'll have to see how the smartphone impacts the Q2 report later this year.
Mobile shipments for LG marked 13.5 million in Q1, which was reported to be 12% down on last year. The company also notes that losses were encurred due to investment in high expense G5 marketing. This led to the division losing $170 million. Interestingly, it was LG's home appliance and entertainment units that came to the rescue pocketing more than $360 million and $290 million, respectively.
As touched on above, we'll be eargerly awaiting the Q2 report to see how LG's mobile division fares with a few more months to ship its new handsets.
Get the Android Central Newsletter
Instant access to breaking news, the hottest reviews, great deals and helpful tips.
Please have the V11 this fall Posted via Android Central App

All they had to do was improve on the G4 on the software front. Posted from my Nexus 6/Nexus 7 2013/Surface Pro 3

No not really.... They needed the new processor and other things too.. But they really shouldn't have changed the looks as they did and make the launcher as they did. Posted from my. AT&T LG V10

Well better internals of course lol. Posted from my Nexus 6/Nexus 7 2013/Surface Pro 3

I think for their mainstream flagship, they could have done what HTC and Samsung did for their flagship. Not as in a radical overhaul like the H10 or an incremental hardware upgrade aiming to rectify the flaws of its predecessor like the GS7, but rather, a mix of both. Try new materials to get that "upmarket" feel while improving the flaws on the G4, such as some software elements and the whole "bootloop" fiasco. As for the modular design, I still think they should have done so on a niche device first. Seeing how it is implemented in the G5 makes me think it should have been in a niche device first in order to iron out the kinks.

And the hardware.. #TeamFrosty Nexus 6P

All that development time and money on the stupid modular pieces. This will be a rough year for them indeed if the first quarter was bad.

But to mention the fact that this doesn't leave project Ara in a good situation. Posted from my Nexus 6/Nexus 7 2013/Surface Pro 3

Project Ara looks more attractive then the LG model. By far it's not a horrible project but the design aspect was messy including the build qualities #TeamFrosty Nexus 6P

And with the backlash from reviews it's been getting with the G5, things aren't looking much better. At least V10 seems to be doing alright in that department.