LG Home 4.0 is available, and a concession for G5 owners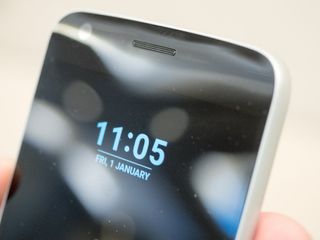 LG's default user interface on the G5 has been, to say the least, polarizing. Those who know a thing or two about launchers (we're a small but vocal minority, to be sure) haven't exactly greeted UX 5.0 — with its lack of a proper app drawer — kindly. Sure, you can get a app drawer back with the oversized "EasyHome" option, but most folks under 65 (sorry, Grandpa) aren't going to go for this option, with its huge fonts. And we could just download any of our favorite home screen replacements from Google Play, but then folks wouldn't have anything else to complain about.
LG, in a sort of 11th-hour concession, slipped into a promo video for UX 5.0 the addition of a third option — one with a proper app drawer.
It's here, it's called LG Home 4.0, and we've taken a look at it.
First things first: You're going to be downloading this from the LG SmartWorld app — LG's own app store. It's probably already loaded on your G5, so all you need to do is fire up the app, and search for "LG Home 4.0." (Or use this link.)
Hit the download button, sit back and let things install, and you've got the new LG Home 4.0 option. (It's worth noting that it's named different than what was in the LG promo video a week ago.)
Do that, and this is what you get:
Behold — a more traditional Android launcher. You've got a 5-by-5 grid atop the static icons. The app drawer button can be moved from the center location to any of the five bottom slots. Hit it, and you'll find all your apps, with widgets just a tab away. There's also a search function, and you'll find sorting options behind the overflow menu. You also can hide and uninstall apps from here, and this is where you'll also find the Home 4.0 options.
LG's Smart Bulletin feature (which isn't turned on by default in any event) works with the new launcher, too.
A long press on the home screen brings up more viewing options and another way to drag apps and widgets onto the home screen. You also can set your wallpaper from here.
Is any of this better than the default UX 5.0 that comes on the G5? That's subjective, for sure. But I've been using the G5 for a few weeks now and prefer a proper app drawer of some sort over a "Springboard"-type paradigm.
And in any event, way too much ink has been spilled over this. Don't like a phone's default launcher? Install a new one. LG's just given us its own alternative here.
LG Home 4.0 is available for the G5, LG Stylus 2 and the LG K8.
And lest you forget what's being replaced, here it is — the default launcher on the LG G5:
Get the Android Central Newsletter
Instant access to breaking news, the hottest reviews, great deals and helpful tips.