LG Home 4.0 is available, and a concession for G5 owners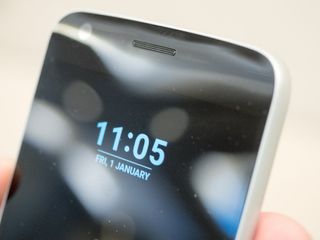 LG's default user interface on the G5 has been, to say the least, polarizing. Those who know a thing or two about launchers (we're a small but vocal minority, to be sure) haven't exactly greeted UX 5.0 — with its lack of a proper app drawer — kindly. Sure, you can get a app drawer back with the oversized "EasyHome" option, but most folks under 65 (sorry, Grandpa) aren't going to go for this option, with its huge fonts. And we could just download any of our favorite home screen replacements from Google Play, but then folks wouldn't have anything else to complain about.
LG, in a sort of 11th-hour concession, slipped into a promo video for UX 5.0 the addition of a third option — one with a proper app drawer.
It's here, it's called LG Home 4.0, and we've taken a look at it.
First things first: You're going to be downloading this from the LG SmartWorld app — LG's own app store. It's probably already loaded on your G5, so all you need to do is fire up the app, and search for "LG Home 4.0." (Or use this link.)
Hit the download button, sit back and let things install, and you've got the new LG Home 4.0 option. (It's worth noting that it's named different than what was in the LG promo video a week ago.)
Do that, and this is what you get:
Behold — a more traditional Android launcher. You've got a 5-by-5 grid atop the static icons. The app drawer button can be moved from the center location to any of the five bottom slots. Hit it, and you'll find all your apps, with widgets just a tab away. There's also a search function, and you'll find sorting options behind the overflow menu. You also can hide and uninstall apps from here, and this is where you'll also find the Home 4.0 options.
LG's Smart Bulletin feature (which isn't turned on by default in any event) works with the new launcher, too.
A long press on the home screen brings up more viewing options and another way to drag apps and widgets onto the home screen. You also can set your wallpaper from here.
Is any of this better than the default UX 5.0 that comes on the G5? That's subjective, for sure. But I've been using the G5 for a few weeks now and prefer a proper app drawer of some sort over a "Springboard"-type paradigm.
And in any event, way too much ink has been spilled over this. Don't like a phone's default launcher? Install a new one. LG's just given us its own alternative here.
LG Home 4.0 is available for the G5, LG Stylus 2 and the LG K8.
And lest you forget what's being replaced, here it is — the default launcher on the LG G5:
Get the Android Central Newsletter
Instant access to breaking news, the hottest reviews, great deals and helpful tips.
At least LG is giving people options. Gold Platinum Galaxy Note 5 on Marshmallow

This phone is train wreck. Posted via the Android Central App

I was a fan after it was announced. Even thought it was better than the S7. I was wrong.

First-impressions are hard to erase. And first-impressions of the G5 are NOT rosy.

Same Posted via the Android Central App

I agreed with you prelaunch. I tried an s7 but missed my V10s one handed operation (LG's is just better specifically the keyboard) and found I really disliked having a physical home button versus on screen buttons. So I retured it an preordered a 5 thinking I would just go back to my V10 if I hated it. Maybe it was low expectations but I love the G5. The size is much more manageable than the v10, its is smoking fast, and battery life thus far has been decent, and it charged so fast I'm not super worried about it. Overall I'm a big fan so far.

That makes me happy to hear, considering I'm coming from a v10. Gets here on Wednesday and we'll see what happens. Posted via what ever tickles me at the time.

+1 I handled an s7 last weekend and it screams polish and solid hardware. The g5... Not so much. What a mess. Posted via the Android Central App

I think the module thing is one and done Posted via the Android Central App

Seems more fitting on a lower-volume device to me, really.

I don't mean to sound negative but I wouldn't be pleased if I was an LG user. I mean it's UX 5.0 now, why not just an option with the app drawer UX 5.0 style? Cause 4.0 looks like sh*t to me Posted via the Android Central App

Pretty sure you don't download ux4.0 it stays ux5.0 and this is just a launcher for "home 4.0"

Another good reason to stick with HTC... Looking forward to the HTC 10 Posted via the Android Central App

Or ... Install a quality launcher from Google Play? Posted via the Android Central App

That's not gonna alleviate all the other issues with the phone, though. Posted via S7 edge

What other issues? Posted via the Android Central App

Check Android Police's review. Posted via S7 edge

Build quality and battery life.

Don't forget backlight bleeding. (I live by 3 words. fastboot flashing unlock)

The G5 is an OCD persons nightmare.

And the crappy battery extension that trickle charges Posted from my Nexus 6/Nexus 7 2013/Surface Pro 3

Wait they are still making phones? I troll I troll haha Posted via the Android Central App

A terrible UI to go along a disaster of a phone. I never though I would see the day where a Samsung product - the S7 - would make me so happy I actually dumped an LG product - the G4 - and didn't even give the G5 a shot. There are absolutely zero things in the G5 that appeal to me. The main thing the G4 had going for it - the camera - wasn't really upgraded on the G5. It's basically the same camera of the G4. They just gave you an extra camera. Everything else is either the same or even worse. From UI to build quality. It has a nice pair of cameras. That's it. Well...that is, if the phone lives long enough for you to take advantage of the cameras. Because given the disaster these first units have been as well as the disaster the G4 quality control also was, I think we'll see the G5's motherboard also dying in a couple of months or going into an unrecoverable bootloop. Or something like that.

The UI isn't really that bad on the lg g4 nor was the build quality. That being said the v10 was an awesome phone all around. However the lg g5 does look like a meh phone

I actually have a G4. The motherboard died out of nowhere after less than 4 months. And I'm not an isolated case. So yeah, the build quality was crap on the G4. As for the UI, yeah the G4 was bad but this is even worse. My only problem with the V10 is that it should be half the size it is for me to consider it acceptable.

More 505s are failing. An S/N 510 and 511 also failed.

Mine's a S/N 508 so you can also add that one to the list.

I also happen to be the unlucky one with the 505. And my 512 unit is starting to fail. :(

Definitely not a good first impression given the quality issues.' I still think the phone might have potential if the quality issues are sorted, but right now, it has a faded finish that hasn't been polished yet. That said, it doesn't stop some users from being satisfied with their devices and I'm happy for them. Unfortunately, from what I've seen and experienced, it doesn't cut it for me. :(

I agree.G3 to an S7edge with a bit of playing with a moto x pure in-between. Very satisfied. Posted via the Android Central App

I have a G5...I love it. I love the camera, battery life, and the lack of the app drawer. It forced me to organize all my applications, and now it is all a flick and a tap or two away. Posted via the Android Central App

Yeah I'm not sure why people are bashing this phone before it's officially released or the AC review is out. I suspect there will be some crow eating next week. Posted via the Android Central App

They've probably seen the Android Police review. You should check it out; it's a bit critical, but that's good. Posted via S7 edge

The phone was already officially released. And just because AC takes longer to review phones it doesn't mean reports on it haven't been already released. And they're all pretty bad.

It has already been released, and it's been getting some less-than-stellar first-impressions from quite a number of users so far.

I have a very strong feeling that most bashers are samsung fanboys. hahahah

Your feelings are terrible, then.
Because I will gladly bash the G5 and I'm much more of an LG fan than I will ever be of Samsung. Unfortunately, for the great that LG is in everything else, they're terrible at phones. And I speak from personal experience.

Bashing it NoNexus style? xD

Hey I loved the G2. That phone had great battery life. I've enjoyed my G3 and my wife got the G5 and so far we like it. Hopefully that feeling continues. It definitely has some good things going for it, but I think they wanted to stand out too much rather than polish what they already had.

this, basically. i've been using the G5 for two weeks now and it's fine. i'm not sure i like the design more than the V10 (because i like the v10's rugged build vs G5's slippery feel; plus once you go with a bigger screen it's hard to downsize) but the phone is way faster, especially the finger print scanner. LG's new software is also much cleaner and plain, so the only issue is the no app drawer thing. i mean, most of the videos making a fuss about the G5 build quality is nitpicking. one dude claims you can cut a finger on the "gap" where the modules connect when in reality you couldn't even fit a hair through that "gap". i'm sure the S7 is a fine phone and functions well, but the placement of the back button (right of home button) is just one of the dumbest things ever. it literally goes against human logic. imagine if you're using a web browser to back up a page, you have to click on the right arrow instead of the left. it'd drive you insane, right? and physical buttons -- i'd rather have on screen buttons that i can customize (for example, on LG phones, i can add an onscreen button to bring down notification shade with a tap. i'm not sure about the S7 but i know you can't do that on the S6, so you MUST bring your thumb to the top of the screen to bring down the notification panel, and with a bigger phone that means using two hands or readjusting your grip awkwardly. come on samsung fanboys, try it, try holding your phone with one hand and bring down the notification shade without having to readjust your grip in a way that leaves your phone vulnerable to slip out of your hands for a split second)

I'm also loving my G5 though I'm using Google Now Launcher. No organization going on. I have no complaints. Posted via my LG G5

The only thing I dislike about this device is no app drawer. Looks too much like an iPhone and I really hated that. I can deal with the battery issue because I can replace it. Honestly, it isn't great but it isn't too bad. Also my S7 Edge is the first Samsung devicemi have ever had that has great battery like and HTC hasn't figured out anything regarding battery like.

You do know this article is about adding the app draw back right? Posted via Android Central App

Reading is important, lol Posted via S7 edge

I get mine today. I am excited to see how it feels. I have had several phones the last 2 years currently on a moto, and I was thinking about trying Apple for the first time in a while after playing with ios9 lack of app drawer made sense to me. One less button.

You know, I really wished this thing had a proper theme engine and a DPI changer like on the Galaxy S7. Also, LG. We need to talk about the LCD.

I believe the problem people have/had with the lack of an included standard app drawer is that they expect it to be on board from the manufacturer when purchasing a new device.Saying you can get one from the play store is fine,but a lot people don't want the extra steps and that is if they even grasp the concept.Most people don't follow and enjoy Android centric sites,but they do know their previous Android phones have had it and don't understand why this new phone would not. Posted via the Android Central App

Exactly this. Unlocked Marshmallow Nexus 6 on Verizon. I'm a happy guy.

I'm still on the fence about getting one or not. The T-mobile one still seems the most appealing one though. There also seems to be too many defective ones going through which also makes me nervous about getting one. Posted via the Android Central App

Wait for a bit to see if the quality issues get ironed out. The price will also drop in a couple of months. I'd suggest waiting for a bit.

Honestly, don't. There are better options out there and more better options will certainly come out soon too.

Will this be available on the LG K10? Posted via the Android Central App

Can anyone upload the APK? Wanna see what other devices may be able to run it.

I seriously hope I don't regret this device. Gets here on wednesday..... Posted via what ever tickles me at the time.

FWIW I preordered mine and while the camera isn't quite as good as my s6e, I'm really enjoying it. Knowing that AOSP ROMs are around the corner and even if I stick with the stock ROM, it's going to get more timely updates for security than my s6e did has me happier than I was.

Yeah, having heard that the bootloader is super accessible with T-Mobile I'm actually a little more excited (don't know if any rom will play nice with these modules). That's one reason I can't go to sammy, locked down to tight and no roms! That and I hated the s6e Posted via what ever tickles me at the time.

You're dreaming. My S7 edge just got April's security patch. What's the V10 or G4 on? Posted via the Android Central App via T-Mobile 4G LTE-A on a Samsung Galaxy S7 edge

Your s7 just got the patch. My s6e is still on Lollipop with the Dec 15 patch. Marshmallow seems to be rolling quick to even the G3. I'm saying with the s6e I've been watching Samsung repeatedly drop the ball on pushing updates.

Your s7 may have a fancy security patch but my v10 is running a custom clean de-bloated rom with xposed framework....i have great battery life, no YouTube ads, no apps I don't want and more things that I do want. Take that Samsung. Posted via what ever tickles me at the time.

:D Posted via the Android Central App

I honestly wish you good luck.

Luckily I have a grace period and 2 more jump on demand options this year just in case :-) Posted via what ever tickles me at the time.

I don't know why, but I was expecting issues with the G5 and its release. Hopefully things get sorted for those that jumped. My G4 has been flawless since a December purchase. Love it and still consider it to be a great purchase right now (new). Be interesting to see how this plays out for LG.

I have a G4 and have been looking for a clock/weather widget that is nice and clean like the one pictured. Anyone know if I can get that one on my G4?

This is why I only buy android phones that are stock, moto x pure FTW!

The only concession I want is adoptable storage.

LG, I beg of you, don't go down the path that HTC has blazed. Unlocked Marshmallow Nexus 6 on Verizon. I'm a happy guy.