The LG G6 is almost certainly going to have Google Assistant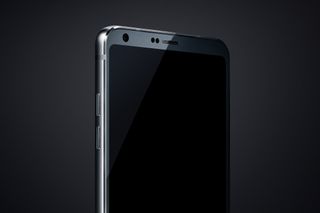 The LG G6 is almost certainly going to have Google Assistant, according to a teaser released by the company this week.
The company is spending the weeks before its MWC-based announcement hyping up particular aspects of its flagship. We've already learned that the phone will be waterproof, and have a screen with very slim bezels, and now there's reason to believe Google Assistant — or some form of artificial intelligence — will be included.
One of the more pervasive rumors since the LG G6 was pre-announced has been the expansion of the Google Assistant into third-party manufacturers from Google's own Pixel lineup. We've seen that the company is willing to offer the service to other devices in the form of the new NVIDIA Shield Android TV and the LG Watch Sport and Style, so there's no reason to believe that the G6, made by a company with whom Google has a very good relationship, won't be the first third-party phone with Assistant.
We'll have to wait a few more weeks to be sure, though: the press conference is set for February 26.
Android Central Newsletter
Get instant access to breaking news, the hottest reviews, great deals and helpful tips
Daniel Bader was a former Android Central Editor-in-Chief and Executive Editor for iMore and Windows Central.
dunno why I'm more interested in the G6 as opposed the Galaxy S8 tbh.. Even with the 821. something must be fishy somewhere. Maybe it's because the S8 just generally sounds underwhelming tho.

LG is finally making a high quality phone and teaming with Google instead of developing their own crappy solutions to what Google already does well. I.E. S-Voice vs. Google search. I've had just about every Samsung phone and I am sure my next phone will be a Pixel 2 or G6. Athough Samsung makes great hardware they have always make the "Android" solution worse software-wize..

For me LG is the phone I am looking forward to the most. I got the G5 after moving from the lumia 950xl and I have been nothing but impressed with it. A few of my work colleagues have a Samsung, iPhone, and a few other devices and this lives up to what they do and the Duel camera on the back is amazing for me when we have taken snaps vs the others it's come out the best of them all. It's not quite the quality of the 950xl but not far off. That alone is a selling point for me.

Do you use the GPS much on your G5 ?
I use my smart phones for my fitness tracking , walking/cycling ,mine drops GPS signal often , which is really annoying , it's not a problem I have had with other branded phones /note 2/note 4/6P .
I'm a bit torn with the G5 , in some ways it's a very good daily ,
I love the combined finger print sensor and on off switch , and the dual camera as you mentioned is very handy.
For me though the build quality known issues , and the GPS problems which I have also seen mentioned elsewhere ,
I'd be a bit cautious buying another LG Smart phone.
The IPS LCD is pretty average too imo(especially if you had a Samoled before ) .
Hopefully LG ups it's game with the G6 .

Never had an issue with the GPS. I only use it for satnav though I have a ms band for fitness. Used the GPS for maps on my Moto 360 the other day and did not have any issues to.

I'm in the same boat really. I was all for the S8, but the fingerprint scanner location has left me second guessing it. The normal Samsung bloat, and Bixby (or whatever) are almost tipping the scale to the G6. If the G6 had the 835 rather than the 821, I would be all over it. I am really interested to see the performance and power consumption comparison between those two SOCs. That might be enough to tip the scales back in Samsung's favor. Luckily the G6 is rumored to be released just a few weeks before the S8 (in the US at least), so it won't be a long wait to compare the two.

dont forget Samsung is working with the company that created siri and now they are known as Viv. Samsungs hardware and software combined with that is going to be the next best thing when it comes to voice commands on your phone.

What about my nexus 6p....

Us Nexus owners are getting no love. We're supposed to get Assistant soon, but sometime AFTER the G6.

Too bad so many 6p user go the route of using it in stock form, missing out on the true capability of the 6p. I've been rocking Google assistant and the Pixel Xl camera since beginning of year with my rooted and custom ROM 6p.

I always thought the whole point of a Nexus was to stick a custom ROM on it. I remember when I had a N4, I had flashed CM on it within 20 minutes of opening the box and it only went back to stock to sell. The N4 was the last Nexus for me as you shouldn't have to flash a phone to get decent software on it. However with the Pixel it looks like Google have realised that software features sell phones.

Definitely feel what your saying, the 6p probably my last Google phone. Note 8 is in my sights.

Whatever. If it doesn't come with an 835 processor it's a fail.

If it's priced too high, maybe. If it's priced right, however, maybe it's not so bad.

Are you serious??😑, the Snapdragon 835 is not even in consumers hands, heck the Snapdragon 821 that is inside the LG G6 is not in consumers hands, how in the world do you make an early judgement on a unreleased product? How do you know it'll be a fail if it don't have the so-called latest and greatest SOC? how do you know the SD835 will be a beast in real life? Is it because the spec sheet told you? are you a person from the future who had foreseen the failure the LG G6 will have due to using a 5-Month old chipset? This is the type of mindset that needs to die within the Mobile Technology Space, every single time a manufacturer releases a new processor after 2 months or so of their predecessor being commercially available in devices, it is quickly knocked down as either DOA or FAIL if a OEM decides to use that chip. Granted, there is nothing wrong with wanting the latest and greatest in Technology, the problem lies with some people quickly knocking down a product that has a very capable chip (if the OEM optimize their software to work friendly with the SOC) before it is even in that person's hand. It's not like LG had a say in the matter either with what choice of chipsets to use, Samsung The Glutton hoarded all the initial chips for their Flagships. All in All, Optimization is what is key, not the numbers of a thing, withholding judgement on this matter would be a sound choice for us to make.

Well said. Simply stated, none of us have any idea how either chipsets will perform in any of the upcoming phones. Everyone needs to calm down.

Agreed! In fact, I just moved down in chip hierarchy due to making battery life a higher priority. The Snapdragon 625 in my Moto Z Play seems to forget that it is supposed to even use battery. To those that make having the latest chip as their highest priority, I understand. To say a phone being released is not good enough (hard to know before release) because it does not have a chip that is not even available is just silly.

That's not a apple-apples comparison. 625 is low performance chip, it uses A53 which doesn't even touch flagship level performance. Obviously it will consume less battery. Any midrance SOC with mere A53 cores have very good batterylife. But that doesn't make much sense as the performance is not comparable with flagship SOCs. Samsung uses the similar A53 core SOC in their smartwatches now.

I'm much less concerned with the supposed performance boost of the 835. I'm much more excited about the power savings 10nm brings.

SD 835? I'm waiting for the SD 850, now that is a beast.

Meh, while I will take Google Assistant over Bixby any day, it still sucks for the most part. I imagine this time next year it will be much better but this isn't a huge selling point honestly. Easily the least impressive aspect of my Pixel, yeah I even like the design more than Google Assistant.

Fantastic, more ways for them to track your every move and what you say.

Sorry, but no more LG for me after the bootloop mess that is the G4. Looked at Samsung (S7 Edge) and Nexus 6P, never looked back.

And there goes the "boot loop" comment. Every LG article has at least one.

And every Samsung article has the "exploding phone" comment. It does get boring doesn't it.

I have had 4 LG phones, the N4, G2, G3 and G4 (the G2 is still in a drawer somewhere, I should fire it up as I miss the back buttons) but the G5 left me cold. The G6 might be worth a look but we need to actually see it and not judge it on what number the SD processor has (although saying that I hope the S8 in Europe has the Exynos SoC and not the SD 835). Google Assistant? I couldn't care less.

I'm still kicking myself for forking out the cash for a unlocked G5 when there is still no Nougat update to speak of. All four major U.S. carriers have updated to nougat and LG left the RS988 owners out in the cold.

Now the weird the carrier phones for it before the unlocked models. What's also weird is I didn't get the G5 from AT&T because my LG3 AT&T phone never got updated to marshmallow please don't tell me all LG3 AT&T phones got updated.. I took it right to AT&T and they said this model is not eligible for update yet and it's 2017 so.. You just never know..

Will the assistant assist you in informing you when your brand new LG G6 will get stuck in a bootloop??? 😂😂😂

I am going to wait for the Galaxy S8 Plus, If it's as good as its rumored to be and doesn't explode then it will be my next phone. :)
Android Central Newsletter
Get instant access to breaking news, the hottest reviews, great deals and helpful tips
Thank you for signing up to Android Central. You will receive a verification email shortly.
There was a problem. Please refresh the page and try again.