The LG G5 gets 360-degree wallpapers — and they're gorgeous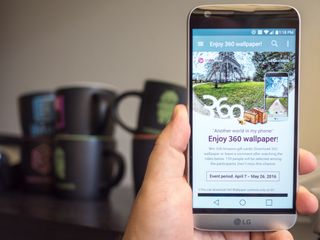 There's a lot of stuff going on when it comes to our home screens. Apps. Folders. Widgets. And for years we've had the option for live wallpapers — animations that can interact with our touch, or just show cool things. (Fun fact: We did this Super Mario live wallpaper video nearly six years ago.)
Now we've got 360-degree live wallpapers on the LG G5.
This all comes as part of an update through the LG SmartWorld app store, which should already be loaded on your phone. (In fact, the "360 wallpaper" app had already loaded itself onto my phone through the LG Update Center.) Open SmartWorld and look for the "Enjoy 360 wallpaper" banner. Tap it and you'll go straight to that section. From there you'll see more on these wallpapers, and instructions on how to install them. Scroll all the way to the bottom and you'll find the wallpapers themselves. (Alternatively, you can just search SmartWorld for "360 wallpaper" and you'll be taken straight to the goods.)
Tap a wallpaper, download it to your phone, and you're good to go. (SmartWorld is still really slow for me for downloads, though.) You can apply one of LG's wallpapers directly from SmartWorld, which right now is the easiest way to do things. LG's own instructions for installing through the Gallery app don't work just yet.) Alternatively, you can to the following:
Long press on the home screen.
Choose "Home screen settings.
Choose "Wallpaper."
Choose "Live wallpapers."
Choose "360 wallpaper."
Choose "Edit"
Now choose "Image"
And now you can either choose something out of your gallery — which is where you can find the 360 wallpapers you downloaded — or anything LG had pre-installed.
And as you've guessed by now, you can use any sort of 360-degree picture for this sort of thing, including ones that you've taken yourself through Photosphere on the Google Camera app or LG's own 360-degree photo mode.
When you hit Step 4 above, you'll also notice three options. By default, the wallpapers are set to move as you move the phone. It'll also have some inertia, and keep moving after your stopped moving the phone. The third option lets you turn on gesture scrolling. (Which is what I used to make it easier to show the example above, which I took with the LG 360 CAM In New York City. And that's why you see the folders distort.)
One final little trick answers a question I've had for weeks. When you make the "zoom in" motion with your fingers on LG's home screen, you end up with a look at your wallpaper, with all of the apps and folders hidden. That didn't make much sense before. Now, it does. Giving a quick peek at a 360-degree wallpaper is much cooler than a static image. We still don't know what this is going to do to the battery on your phone, but it's a fun way to enjoy 360-degree photos and maybe show off to your friends a little.
Kinda cool! Posted via the Android Central App

Wondering what kind of hit that will take on the battery. Posted via the Android Central App

The already mediocre battery*

Yeah bc 5 to 6 hours of SOT is definitely mediocre lol. Posted via the Android Central App

You know, I hear that all the time @ battery hits on live wallpapers. I use lives on my Note 5 and 3 about 50% of the time. I've never noticed a difference vs static wallpapers. My theory is that I simply don't spend that much time actually navigating the app drawer or launcher during the course of a regular day. Even if lives used 50% more battery, then overall it would have little on no effect on battery life if you only hit the launcher for 2-3 seconds 20-30 times in a day. If I was spending significant time setting up the launcher, moving tons of icons around, or tinkering with settings etc, then maybe. But for daily use going between regular apps, this is not the case.

That is bad ass. hmm. found a few apps that do this. downloaded photosphere hd live wallpapers. able to use pics from gallery.

This does, too. I just used a Photosphere from years ago.

i was talking about every other android phone. i didn't know apps like these were available.

I don't understand... what's the point of this? Gimmick to the first degree imo! And also, LG doesn't even support the Flex 2, a 2015 flagship, they won't get my money any more.

What's the point? Uhhh, maybe it's just really cool? Or are you saying we aren't allowed to have fun with our phones :P Blackberry Priv
Nvidia Shield "Portable"
Sony Xperia Z3 Tablet Compact

Butt hurt. Galaxy s7 edge

That's gonna be a major battery eater. Posted from one of my various Nexus devices.

It's not. They've had downloadable 360 Wallpapers since day one and I've used one for the last week and a half. It's barely noticeable. The bigger problem was that it made a little nauseous as a passenger in a car.

A wallpaper that drains my battery?

You spin me round right baby right round like a record baby....

Very cool, I'd love this.
Android Central Newsletter
Get the best of Android Central in in your inbox, every day!
Thank you for signing up to Android Central. You will receive a verification email shortly.
There was a problem. Please refresh the page and try again.