LG G Watch R could retail for 299 euro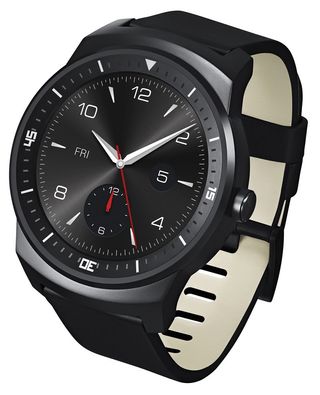 On the heels of LG announcing the G Watch R, a German press release for the new smartwatch may have let slip as to just how much you can expect to shell out this fall should you want to get your hands on one. According to the release, the G Watch R will retail for a "recommended" price of 299 euros — a full 100 euros over the cost of the G Watch. As always with these types of devices, regional rates apply. The G Watch R will most likely be more expensive in the U.S. as well, but probably not the straight conversion of $393 in this case.
The release also states that the G Watch R will be available in Germany from October (which we pretty much knew already), so just a few more months before the R officially hits the streets. We'll be live and in color at IFA in Berlin to grab plenty more on the G Watch R however, so stay tuned.
Source: LG; Via: Android Police
By day, Adam is a writer for multiple Future Publishing brands with over fifteen years of experience. He's expertly researched and written hundreds of articles ranging from mobile phones to mobile homes to baby mobiles. By night, he's a gadget geek, avid disc golfer, 80s nerd, cord cutter, cook, husband, dad, and memory collector.
My decision is made. 360 it is then. I'm not paying over $300 for a smartwatch, no matter how stylish or good looking it is. $250 is my limit.
Posted via Android Central App

€299 usually equals $299. Don't ask me where the conversion rate goes. Only some executive with a big bonus knows the answer to that one... :D

its the 19% tax(VAT) they charge on goods. its has nothing to do with some executive big bonus.
This €299 includes VAT so the actual cost is €249 which is ~$329 depending on the conversion rate. In the US all product is priced without tax. So the conclusion is R is expensive

It is an additional 20% VAT (in most EU countries). But normally the US get cheaper prices so I would also expect $299.

My choice is made Galaxy Gear Solo wins period. Nothing else matters. From my Galaxy Note 3 on T-Mobile via Android Central App

Plain and simple! Lol. But seriously, what is better about the Galaxy gear? Posted via Android Central App

Don't feed the troll... Posted via the Android Central App

Its a great looking watch. Don't worry about the price. Best Buy, etc will have them on sale after not enough sell at full price. This looks like a $200 watch to me, or as hopefully Best Buy will put it, $199.99. Posted via the Android Central App

Aaaaaaand fail.
Most tech enthusiasts are fairly "cheap", unlike watch enthusiasts. Anything over $300 is downright pushing it. Posted via the Android Central App

Anything over $200 is pushing it for me. Especially for beta products. Hopefully by next year the prices will come down a bit. Even with all of these new announcements, I would still take a Pebble Steel if it would drop below $200, maybe closer to $150.

This render makes it look much better than the others I've seen. Pity it looks like it'll be so much $$ Posted via Android Central App

LG would be foolish to price this at, or above the price of the 360. I'm thinking the original one will drop to $179 and the G Watch R will be $229 here in North America (Ok, 249 Canadian) Posted via Android Central App

not going to happen anytime soon. maybe in 6 month

Yeah I doubt they'll price it more than $25 over the 360... It might go to $275 if the 360 does indeed go for $250, something like that, otherwise LG is just plain bananas... Price will easily stomp all over personal preferences over styling, price it too high and people will either buy the cheaper alternative or wait for the next great thing.

The OG G Watch is already $199 in Ontario with Telus. I'm hoping it will drop even further.

These manufacturers have gone insane with Smart Watch pricing. I don't mind paying $400 or more for a nice watch, because it will last for years. These 1st gen watches will be lucky to get 2 years of use. Posted via Android Central App

Yup. 150 is about my limit if I were to get a smartwatch. There just isn't enough added function to justify more. Posted via Android Central App

And then I stopped caring Posted via Android Central App

$400 US? Well, then. That's a good way to kill off a product with such potential.

You should include the price of the Moto 360 in Germany.

this is the best looking one to date...if i had an android phone and wanted a smartwatch, i would have to seriously consider this one...

I'm so conflicted. I love attractive tech, and I LOVE watches. This looks pretty premium and nice. But for me, good watches need to have sentimental value. I remember from whom I received every watch in my collection. These smartwatches, on the other hand, will be like any piece of tech: fleeting. Next year, LG will release the 2.0 version, and the old one will quickly fall into obsolescence. If taken care of, a true watch will last for your entire lifetime. You will make memories with it, remember who gave it to you, remember where you bought it. "I was wearing my ____ watch when I was married" or "I was wearing _______ watch when I scored that big job." I don't know. Maybe I'm just unnatural, but although I consider myself both a tech and a watch enthusiast, I don't think I want these two worlds to merge, at least not yet.

dont be blinded by the premium look. The watch face is photo shopped. close the watch face with your hand and thats the device

That's exactly what I thought. That's not a real face, just a photoshop to make it look awesome. Now it might look that good in a real pic but I am skeptical.

Yeah they can kiss my ass for all that.. I'd rather get a new tablet anyway.. Posted via Android Central App on The Nexus 5

That would probably translate to $299 but that would still be a little high...

First sentence...On the "heels" :-) 1+1/N5

They would be stupid to price it at €299. That equates to £247 which would put it more than £75 dearer than the 360 if that goes for $250. Quick way to kill it off IMHO. Unlike normal watches these will be out of date in less than 18 months. People may want to change their phone every year but who replaces a watch that often? Might use it as loss leader to sell more phones though. Posted via Android Central App

Wonder where Apple will pitch the price of the iWatch? Not likely to be cheap. Posted via Android Central App

Nothing is official yet everyone is complaining. Maybe they shouldn't have said anything yet about pricing Posted via Android Central App

On the hells of LG announcing the G Watch R,
On the hells
hells

"We want premium products" vs. "Not gonna pay over 250 bucks"... People...

+1.........they killing me Posted via Android Central App

+1 Posted via Android Central App

$250 is my max. Sorry LG, Moto 360 it is.

Wow...I don't think I'd pay more than $150 for any second display device like these "smart" watches. This thing is going to cost as much as a Nexus 5? No way... I am one of the people who thinks the Moto 360 isn't very good looking though so what do I know.

Well.... Normally, European pricing equals the U.S. price, take for example the Nexus 5 which costs $349 / $399 and 349 € / 399 €. Same goes for basically every smartphone or smartwatch. Though VAT is - contrary to the U.S. - always already included here in Europe. One could think the conversion might work the other way round as well, but either way 299 is a hefty price tag for a secondary device / accessory.

I'm not liking this design. Looks like a cheap sport watch. Don't you guys think that circle thing (the one with the strips and numbers 15, 30, 45) will get in the way when swiping that small touch screen?

I'm presuming the 15,30,45 are still part of the screen, and so you can change them out, or it would deflect from a more cool face. other images don't have the bezel effect. that said it still looks like a $30 watch I had in the 1980's... not classy at all.

I bought a flagship phone (Xiaomi MI3) for that price with shipping and screen protector included. Not paying that for a watch lol

I was in Best Buy yesterday.... and no one... and I mean no one were looking at the smartwatches... Posted via Android Central App
Android Central Newsletter
Get the best of Android Central in in your inbox, every day!
Thank you for signing up to Android Central. You will receive a verification email shortly.
There was a problem. Please refresh the page and try again.