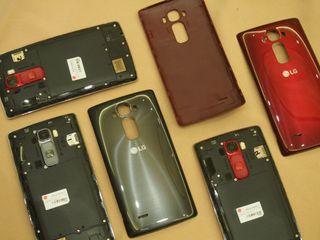 The LG G Flex 2 takes what we got from LG's first flexible phone and pumps it up for 2015. You get the same sort of look and feel — a large-ish phone that bends but doesn't breaks when you put pressure on it. But LG has addressed many of our chief complaints of the late-2013 model and has brought forth a phone that sits nicely between the LG G3 and what we expect to see in the company's flagship device for 2015.
These, now, are the complete LG G Flex 2 specs.
Swipe to scroll horizontally
| Category | Features |
| --- | --- |
| Display | 5.5-inch 1080x1920 Plastic OLED (403 ppi) |
| Operating system | Android 5.0 Lollipop |
| Processor | Qualcomm Snapdragon 810 at 2.0 GHz |
| RAM | 2GB or 3GB LPDDR4, depending on region |
| Storage | 16GB or 32GB eMMC, microSD card |
| Rear camera | 13 megapixels with OIS+, laser autofocus, dual flash |
| Front camera | 2.1 megapixels |
| Network | 3xCA, 300Mbps theoretical max |
| Battery | 3,000 mAh non-removable with quick charging |
| Size | 149.1 x 75.3 x 7.1-9.4mm |
| Weight | 152 grams |
| Connectivity | Wifi 802.11 ac, Bluetooth 4.1, USB 2.0, NFC |
Android Central Newsletter
Get instant access to breaking news, the hottest reviews, great deals and helpful tips
LG seems to be stuck on that 3,000 mAh battery... Posted via the Android Central App

3000mAh sounds like good sweet spot for a 1080p 5.5in phone. Add in the quick charge tech and you've got yourself some nice battery life.

That's about right for a 1080p screen that size...

With it running the 810 and only a 1080p display...battery life should be pretty great actually.

It's battery life should be great. And it's performance should be insanely fast with the SD 810 too Posted Via the Unrivaled Note 4

3000 mah battery should be good enough. I got OnePlus One running on a 3100 mah (though slightly larger but on a Snapdragon 801) lasting good 3 days on a single charge with light to medium use. Flex 2 has 810 clocked at 2.0 Ghz. It should put out an excellent battery life if properly optimized by LG.

Yeah, and after a year of heavy use (500 charge cycles) that non-replaceable 3000mah battery will feel more like a 1500-2000mah battery(!) Unlike my 1-year-old Note3, whose battery I just replaced, since I'm keeping it another 6 to 12 months. Night & day diff. Can't wait until Li-Ion batteries are replaced by a tech that doesn't degrade over time, then I might consider an internal-only device.

DDR4 ram? That's not a typo? Posted via Android Central App

Man I need this phone like right now! Posted via the Android Central App

Nice to see the Snapdragon 810 reaching the market! DDR4 RAM is faster, right? Posted via the Android Central App

Faster yes, but more significantly, more power efficient!

I bought a Flex (first gen) and promptly exchanged it and then promptly returned it. Even though the phone was excellent its 6 inch screen was not bad (even though it was slightly larger for a normal use and handling) the curved screen made it look smaller than it actually was. Reason I exchanged/returned it was the display. I guess this P-OLED is not mature enough like SMOLED. Looking at the screen it seems like there is dust on the inside of glass. But that's how the screen is. I exchanged it for a new phone and that had the same problem. Some reviews mentioned this issue too. So I returned it for a LG G3. Looks like Flex 2 is using the same screen technology. I hope LG has figured out a way to improve the display panel. If they have, then I am in for one when available.

16 GB of storage shouldn't exist in phones anymore.

Don't know how they still get away with it, it's not like we don't all know how cheap storage is now a days. Posted via Android Central App

Love it just need to know were my micro goes lol

Every time you offer the specs on a phone, nowhere to be found is the gpu. Why are you half-assing the specs?...
Android Central Newsletter
Get instant access to breaking news, the hottest reviews, great deals and helpful tips
Thank you for signing up to Android Central. You will receive a verification email shortly.
There was a problem. Please refresh the page and try again.