Lenovo's Yoga Tablet 2 Pro is 13.3-inches, QHD and has its own projector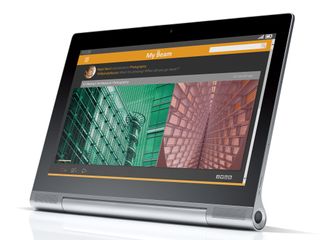 Lenovo's most impressive Android tablet to date isn't lacking on the hardware front
Lenovo is back with another crack at Android tablets with this, the latest and greatest in its Yoga line. The Yoga Tablet 2 Pro, to give it its full title, isn't any old slab, it's a 13.3-inch, QHD tablet with the same sort of adjustable kickstand seen on previous efforts.
Besides being pretty large and having an impressive sounding display, the Yoga Tablet 2 Pro also houses its own integrated projector which Lenovo says is enough to create a 50-inch "home theater experience" on any flat surface.
On the hardware front here's a rundown of what we're looking at inside the Yoga Tablet 2 Pro:
Category
Features
OS
Android 4.4 KitKat
Chipset
Quad-core Intel Atom Z3745 (up to 1.86GHz)
RAM
2GB
Display Size
13.3-inches IPS
Display Resolution
2560x1440
Cameras
8MP f2.2 Rear
1.6MP Front
Internal Storage
32GB
External Storage
microSD
Connectivity
Dual-band Wifi (2GHz and 5GHz), Optional 4G LTE in select countries (Not U.S.)
Dimensions
333 x 223 x 3.7-12.6 mm
Weight
950g
Battery
Upto 15 hours on a single charge
Audio
2x front large-chamber speakers with 1.5W output each, plus a 5W rear JBL®subwoofer for a total 8W surround system. Dolby® Audio, Wolfson® Master Hi-FiTM
Projector
40-50 Lumen Pico Projector with WVGA (854x480) Resolution
The tablet has been created in partnership with Ashton Kutcher, the celebrity Product Engineer who is no stranger to Lenovo products. And, while it carries the same design language as the previous Yoga Android tablets, the Pro adds a fourth 'mode' on top of being able to stand, tilt and hold it.
Hang, presumably refers to hanging the tablet up using the kickstand folded out flat and something supporting it through the hole. If you're brave enough to hang up a tablet that weighs almost a kilo, that is, though there are certainly circumstances that you may want to, such as the example given looking at a recipe while it hangs up in the kitchen.
The Yoga Tablet 2 is certainly an interesting looking device, with some great sounding hardware and a definite slant towards media consumption with the combination of the sound system and QHD display. Lenovo also claims to have packed it out with their own "premium apps" including a product walk through featuring a 4D Ashton Kutcher. If you like that sort of thing.
Pricing wise the Yoga Tablet 2 Pro should retail around the $499 mark, though at the time of writing there's no word on exactly when it'll be available. We'll be going hands on with the Yoga Tablet 2 Pro shortly, so stay tuned.
I always like the idea of a big android tablet, but unfortunately they're just not as fluid and quick as a normal laptop or even a chromebook. Web browsing is still really stuttery to load pages. Scrolling is terrible. Maybe L will address it but I doubt it n5

and why are you comparing a android tablet against a laptop and a chromebook..just curious to know ... a tip - use naked browser for browsing
https://www.androidcentral.com/e?link=https%3A%2F%2Fwww.anrdoezrs.net%2F...

Because apples and oranges taste the sane when your taste buds don't work ~My $0.02~

Looks sweet. A projector built in.

A 4D product walkthrough by Kutcher? So, what, can we touch him? Smell him? Feel his sweat spray across us?

NO and I don't want to smell Kitcher either. BUT this looks interesting. I would like to read reviews of this tablet

15 hr battery life (probably really about 10-12 hours) with a tablet this large and with that resolution is pretty amazing. I definitely want to see some reviews on this device (performance, projector quality, etc.)

Look at the last line I in that spec chart. The projector has a wvga resolution. That doesn't look good on a 4 inch screen. How bad will it be at up to 50 inches on your wall?

It's not for watching HD movies. It'd be great for school use. In fact, we had to create a PowerPoint presentation in my marketing class last night and then present it. Instead of sending our presentation to our professor so he could display it through the projector it'd have been much easier to project and display it myself. This is just one instance where this tablet would have been super useful.

Definitely interested in the hands on review. I have been all set to buy a nexus 9, but this might make me reconsider.

The projector is pretty horrible by any home theater standards. 50" at that resolution is going to look awful. I really don't like them marketing it as a "home theater experience" when it is really a "home theater on the go." A novelty item at best that probably added $100 to the price. I do like the design though and if the battery life is to be believed, that is impressive.

I have alreday purchased my first - and subsequently last - Atom powered tablet. Will not do that again. Posted via the Android Central App

I'd like to see more focus on projectors. I think it could be the next big innovation if it can be done well and not drive the prices ludicrously high. I don't like watching media or showing people things on my tablet, but a projector could fix both of those things. Posted via the Android Central App

You are kidding, right? Did you check the specs on this bad boy? $499 is a bargain.

Time to sell my retina mini and get this. Ashton did play Steve Jobs in a movie somewhere I heard. Posted via the Android Central App

That's a VERY nice tablet for $499 and goes up directly against the Samsung Tab S 10.5, pretty much blowing it away on specs from the Atom CPU to the bigger screen to the projector. Would be nice to see this in Windows but they are probably waiting on Windows 10. Still, if you are looking for a high end media consumption device, this looks very appealing. P.S., Lenovo screens are notorious for some pretty bad light bleed, buyer beware.

Hey Lenovo, a STYLUS would have been nice, just sayin.

I am still holding my breath for 14nm Intel tablets that might be amazing.
Android Central Newsletter
Get the best of Android Central in in your inbox, every day!
Thank you for signing up to Android Central. You will receive a verification email shortly.
There was a problem. Please refresh the page and try again.