Leaked newsletter shows Sprint will shut down WiMax network on Nov. 6, 2015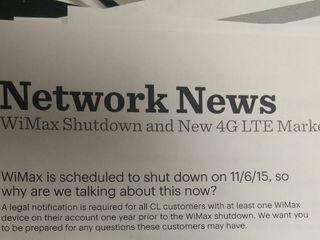 Sprint had already revealed that it planned to shut down its WiMax network sometime before the end of 2015 several months ago, but now a leaked newsletter from the wireless provider that was sent anonymously by an Android Central reader confirms that the WiMax shutdown has an exact date: November 6, 2015.
The newsletter also says that letters about the impending shutdown will be sent to Sprint's CL accounts starting this Monday, October 6. That letter will include a note stating that smartphones that work on both WiMax and Sprint's 3G network will continue to connect to the 3G system. It will also contain some alternative low cost or no cost smartphones that work on Sprint's 4G LTE and Spark networks.
180 days before the WiMax shutdown, Sprint will sent notification letters to its IL and prepaid customers and the carrier will continue to provide information on this event as the exact date gets nearer. All in all, Sprint sounds like it will give all of its WiMax customers plenty of time to find alternatives before the shutdown happens.
Now my question is, how will this effect those of us on Clear's wimax services.

You will need to find a new provider. Chances are that Sprint will offer some sort of plan to try to keep you. Posted via the Android Central App

i would hope maybe something more like a new router from them instead of a new provider, lol, but i guess i may find out, might just start checking into it now, instead of waiting till then.

I would bank more on a new provider than a new router. Clearwire financially failed. You may see Sprint do something in Rural areas where there is more than excess capacity and they have done a trial with Dish; but they bought Clearwire and the leased EBS/BRS spectrum for their wireless customers not to be an ISP.

I would imagine that they would switch you over to Sprint on LTE which has similar if not better coverage where WIMAX is currently live.

I will miss my unlimited clear service. Fortunately, it's more luxury than necessity for me.

and thus is how i feel, though i swear at times the service sucks anyways, it's a pain to watch youtube and just regular website video's with the constant buffering i get on wimax, and that's with their $55 plan which was supposed to be better then the previously plan i had with them, but no, still sucks.

My clear service has always sucked at home. I have it more for the office where they refuse to allow any personal use of company resources. Me and half dozen of my closest friends have been tearing up that hotspot for a couple years. I get about 5 Mbps download pretty consistently in a high rise with huge windows. At home i'd be lucky to get a tenth of that speed.

That's why I jumped ship a couple months ago. Couldn't be happier either.

Warrenisit, may I ask who you jumped to. I'm thinking of jumping also. If you prefer not to say I understand. Thanks for any reply

LTE should be faster but sadly not unlimited.

The same way it hit all those FreedomPOP customers who got themselves cheap EVO 4 Wimax phones, you'll be either going down to 3G or getting a replacement phone.

Good ol' days Posted via...The One

What about FreedomPop? lol Posted via the Android Central App

I was about to ask that. I know they have some LTE devices. They will probably sell the WIMAX devices until next October :). Posted via Android Central App

You give them too much credit! I imagine they keep selling them into 2016! But seriously, I'm sure they will offer current users some bad deal to move to LTE (which is not available free).

I'm sure they'll offer something, but 3G will still work on those phones. I only use cellular on my EVO now when I leave the house with it. Great to have free service as a backup.

Yeah. Kinda like the way they sold LTE phones a year before LTE went live in the Seattle area. What a joke Posted via Android Central App

Would you rather they didn't sell LTE phones until the network is live in your specific area?

Wow aren't you a fool Posted via the Android Central App

I thought they had stopped selling WIMAX devices last year.

Somebody getting in trouble. Leaking documents Posted via the Android Central App

Welp, 7 million Evo users are gonna be piiiiiiiiiisssed!!! Those poeple will not give up their 1st gen Evos for nothing, trust me, i tried as much as i could while i was still around over there. Posted via Android Central App

My mother in law refuses to give up her og EVO. By then she probably will but she's had it for years and uses an extended battery. She always says it does all she needs it to do Posted via...The One

good riddance to this miserable network. remember when that SOB Hesse had the audacity to charge an extra $10/month for "premium" data?

Lmaoo, I remember. Posted via the Android Central App on my T-Mobile LG G3

+1 Posted via Nexus 7 2013 or verizon Galaxy S5 or maybe one day moto 360

Even for people who lived in markets that didn't have WiMax service. Posted from my Nexus 5, behind seven proxies

Because the 10 dollars wasn't for WiMax it was for smartphone data. Posted via the Android Central App

News about Sprint phasing out WiMAX started leaking in like early 2012. When they made the decision to go with LTE as it became the dominant 4G wireless technology in the United States, it became necessary for them to make the switch and eventually phase it out. This article, while informative, shows a leak where Sprint will need to inform WiMAX device holders of the impending network shutdown. It's about time--WiMAX could have been a good 4G competitor, but only if other companies were interested in it enough to invest and want to share and offer it like an MVNO or something. Some did, but then they switched to LTE. It would have taken T-Mobile or something, along with Sprint and other corporations wanting to resell 4G wireless internet, to keep it funded, expansive, and around. Posted via Android Central App

I used wimax during my evo 4g days. Good memories.

Good by and good riddance. Posted via Android Central App

Wow. Only till Nov 2015? Started the 4G generation in this country granted. But a severally outdated tech. Posted via the Android Central App

What are cl and il customers?

Company liable and individual liable Posted via Android Central App

Also I didn't know wimax was still in operation. I have decent memories of using it lol

I didn't either until I had to use an evo3d a few weeks ago. Still pulled decent speeds. But then again, I was probably the only one using it. Posted via the Android Central App

Sprint is for suckers. Posted via Android Central App

That's coming from a Cubs fan. Go Sox! ;) Posted with my MotoX, no case needed.

Indians baby. Also didn't the cubs and Sox have the exact same record this year lol Posted via...The One

No that's T-Mobile. People actually thinking they are getting a good deal. Posted via the Android Central App

Ah wimax still running? I wonder why sprint network was so slow! Posted via Android Central App

Sprints network isn't slow. Nice try. Posted via the Android Central App

@Westoncory - In my area it definitely is.

When I took my new job, I inherited the previous guy's Sprint USB air card. I was never able to get it to "see" the WiMax signals even after firmware updates and new software on the computer. The company got me a Verizon MiFi to replace it. No contest. Posted from my XT1080M

They should just shut it all down and go away. Posted via Android Central App

Yeah, fewer competitors always works out well for consumers. Dolt.

Idiot Posted via the Android Central App

Columbus,Ohio coverage map for LTE is ZILCH only active on th outter cities, so I presume until WIFAX is shut down will they convert the towers in the capital city to LTE...LOL and people still pay for sprint in this area that is funny

You don't know what you are talking by about. Posted via the Android Central App

All the clearwire customers who use a lot of data will just buy an unlimited verizon plan on eBay lol

'But I don't understand...WiMAX is the future!' -- said no one ever.

Said by someone in 2010 Posted via Nexus 7 2013 or verizon Galaxy S5 or maybe one day through my moto 360

Makes me nostalgic about the Evo 4G days...not just over the phone. Good times Posted via the Android Central App

Remember when Sprint offered their new WiMax for an extra 10.00 network fee....LMAO

Sprint will cease operating the CLEAR 4G (WiMAX) Network and Clearwire Expedience Network on November 6, 2015 at 12:01AM EST. Don't get left without internet service! Message us on facebook Search for: "wainternetproviders " today to find an alternate provider soon!

One of the people who lost Clear service because of this? See if Conexa covers your home! Unlimited Home Internet, free WiFi modem, no contract, no credit check! http://www.GetConexa.com
Android Central Newsletter
Thank you for signing up to Android Central. You will receive a verification email shortly.
There was a problem. Please refresh the page and try again.